Shipping services
Express Delivery

Delivery in Mailbox

Same Day Delivery
Special services
Pakkeboks Service

Customs Clearance Facilities

Warehouse Management
Technology services
Posten App

Return Labelling and Printing Service

Real-Time Order Tracking
About

Posten Norge
Founded in January 1647, Posten Norge was initially just called 'Postvesenet', which is Norwegian for 'The Postal Service.' In 1933, Postvesenet was renamed 'Postverket,' which also refers to 'The Postal Service' in Norwegian.
It was finally termed 'Posten Norge' in 1996 for the first time and has been called so ever since. It used to be the national postal service system of the country until recently when other stakeholders - Posten and Bring, became a part of it. Posten Norge or Posten Bring currently has a delivery network of around 30 post offices and 1400 retail outlets.
While Posten looks after the delivery of mail and small packages to individuals, Bring fulfills corporate and ecommerce orders. Posten Bring's logistics services include - Parcel & Cargo, Mail, Courier & Express, Project & Offshore, International Cargo, Warehousing, Address Verification and Customs.
Parcel & Cargo offers next-day delivery of domestic and international shipments and consignments of varied weights. Express and night delivery is available for packages weighing a maximum of 35 kgs. Whereas, Business Partload and Groupage features can pick up and deliver consignments weighing 3500 kg and 10,000 kg respectively. These 2 services, however, are not time guaranteed.
The Courier & Express service provides same day delivery of urgent packages within Norway and across the world. Customers must book their pickup time in advance and fill in the customs form to ensure hassle-free delivery. The weight, dimensions and contents of the parcel must also be listed.
Project & Offshore Logistics covers all the needs of any medium to enterprise-grade business in terms of cost-effectiveness and supply chain agility. This service helps in the distribution of bulk items directly to the industrial or corporate site. It can also ship items or equipment of unusual dimensions (too long, too high, etc.). International cargo is suited for businesses looking to transport a big load of products in the fastest and cheapest way.
Posten Bring has many solutions for this, like, LTL/FTL transportation across Europe, air freight, sea freight, rail transport, and intermodal shipping. It has a final option called Recycling Transport, especially dedicated to transferring waste products to the correct location.
The carrier offers 2 types of warehousing solutions - Shelfless, for online retailers and 3PL. The former service will pick up and store all your products in warehouses across the country and sync its systems with your inventory. The business's products will be displayed on the biggest ecommerce marketplaces for a global reach. Posten Bring will also take care of all returns and exchanges.
With 3PL, Posten Bring will look after the end-to-end management of your business, including storing, picking, packaging, selling, inventory strategy and management, and more. Customs clearance also comes easy with Posten Bring because it offers a customs advisory panel to help businesses ascertain customs duties for every country they ship to.
The information provided here offers only a peek into the vast repertoire of services offered by Posten Norge. Whether you are a Nordic business looking to expand domestic reach or capture the global market, Posten Norge is a powerful carrier to partner with. ClickPost comes integrated with Posten Norge. Businesses can gain access to the Posten Norge tracking API and receive real-time order status updates by integrating with ClickPost.
FAQs about

Posten Norge
1) What is the 'Pakkeboks' service, and how do I avail of it?
'Pakkebox,' also known as Parcel Box, is a self-service mail facility that can be availed all over Norway, even in your local neighborhood. As a part of this initiative, there are parcel boxes in over 1300 locations all over the country. You can use the Posten App to receive information about your shipments, which can then be easily retrieved and picked up from the parcel box.
2) How to return an international shipment via Posten Norge?
To return a Posten Norge parcel, customers must book a return request and choose their preferred return method. Posten Norge offers home pickups and parcel center returns. Customers can track the status of their returns/exchanges by entering the tracking ID or AWB number in the tracking field/portal.
| | |
| --- | --- |
| API | Description |
| Manifestation and shipping label generation API: | Automatically generates AWB number and prints shipping label for order processing |
| Track Shipment API: | Monitors the movement of every shipment on inbound and outbound journeys |
| Cancellation API | Cancels an order after confirmation |
| EDD API: | Displays the estimated delivery date of a package according to the pin code |
| NDR Action update: | Starts the failed delivery management process by triggering carriers |
| Return Web-hooks: | Accepts or rejects customer return requests |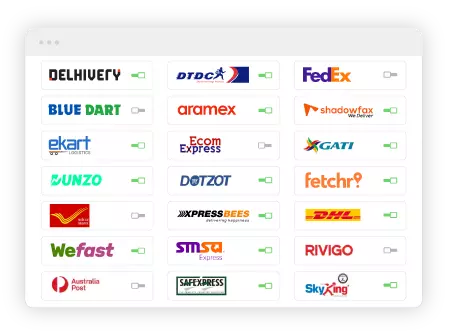 Step 1 - Select The Courier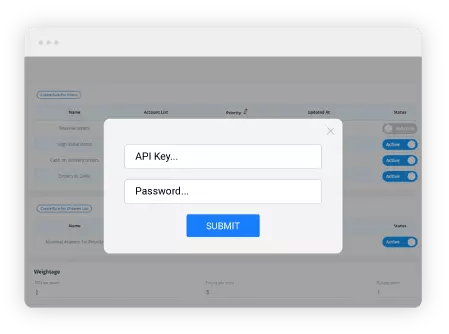 Step 2 - Enter API Key