Shipping services
3-7 days delivery

Air Freight
Special services
Hyperlocal delivery

Premium Packaging
Technology services
API integration

Service Point Locator
About

The Courier Guy
The Courier Guy is a South Africa-based courier service provider that has been ruling the logistics industry for almost two decades. Their main goal was to provide the best-in-class shipping solutions to make the customers' lives easier. They have achieved this goal to a great extent. As of now, The Courier Guy has 170 kiosks and 22 depots nationwide.
Starting from local to national to international, this courier company has covered almost every corner of the world. When it comes to local shipping, the courier guy offers three premium services. These are Same-Day Express, Local Same-day Economy, and Overnight Delivery.
If you go for the Same-Day Express shipping solution, you'll benefit from 90-minute delivery in major centers and hyperlocal delivery to the end customers. So, you can go for this solution with some extra charges if your customer has requested priority shipping.
Now, if you go for its Local Same-Day Economy solution, it'll deliver your product by 17:00 on the exact same day. Therefore, if you have semi-urgent delivery needs, you can pay for this solution. However, in case you have commodities over 2 kg and need a cost-effective solution, we recommend you go for overnight delivery.
For its national shipping services, too, The Courier Guy offers some excellent solutions like Sameday Express Service, Overnight Courier service, and Road Freight service. The Sameday Express and Overnight courier solutions are great for improving customer satisfaction. The main reason is it takes only a few hours for order fulfillment - no matter where your customers are across South Africa.
Its road freight solution is another premium service for sending consignments over 7 kg. In fact, it's the cheapest solution integrated into its national shipping service package. Within its international shipping services, it offers delivery options like courier documents, non-courier documents, and air freight.
The International Freight service offered by The Courier Guy is appropriate if you're looking to ship products over 30 kg. Plus, all its international delivery services are available every working day of the week. So, it's a good chance to enhance your reach in the global marketplace.
To ensure the safety and security of your parcels, it has also added premium packaging services. These include boxes, pallet wrapping, flyers, stickers, and padded envelopes. As a result, you can easily deliver perishable goods to your end customers.
Moreover, The Courier Guy integrates with some world-leading eCommerce platforms like Shopify and WooCommerce. Consequently, you don't need to go back and forth with your carrier service provider and eCommerce system. You can avail of these services with a single click.
Service Point Locator is another great addition offered by The Courier Guy. Just enter your region and search the area; it'll fetch the service centers near your location. ClickPost has an easy API integration with The Carrier Guy. So, you can go for this integration to get all these premium logistics services at your fingertips.
FAQs about

The Courier Guy
1) What are the ways to get a quote from The Courier Guy?
If you already have an account with The Courier Guy, simply click the "Quick Quote" button and fill out the details. Now, if you haven't yet signed up for it, log in to their homepage and click on the "once-off portal" to get a quote from them.
2) What are the estimated delivery times for all the services offered by The Courier Guy?
Different shipping solutions provided by The Courier Guy have different delivery times. For example, its international delivery takes 5-7 days, while its hyper-local delivery takes only 8-16 hours to complete a delivery. Likewise, its Economy Delivery solution ships your products within 3-4 days.
| | |
| --- | --- |
| API | Description |
| Manifestation and shipping label generation API: | Manifest automated shipping by creating bulk shipping labels and generating AWB no. |
| Track Shipment API: | Track your shipments in each step of their journey via pull & push APIs |
| Cancellation API | Cancel orders immediately when your customers request |
| EDD API: | Provide your customers with the estimated delivery date to win their impulse buys and enhance the consumer experience |
| NDR Action update: | Immediately take action on updated failed deliveries and make them successful by fetching customer feedback |
| Return Web-hooks: | Manifest hassles-free reverse logistics |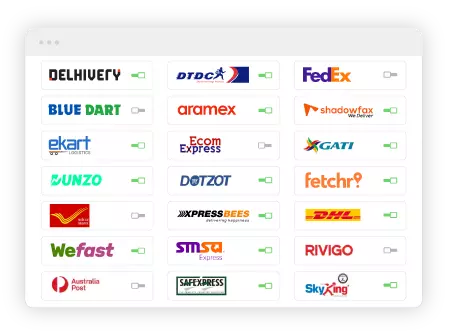 Step 1 - Select The Courier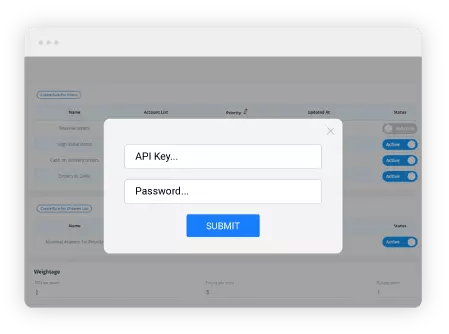 Step 2 - Enter API Key