The global retail eCommerce sales amounted to 3.53 trillion US dollars in 2019. According to surveys, eCommerce revenues are projected to grow to 6.54 trillion US dollars in 2022. But with the COVID-19 outbreak, we're moving faster towards the projection that was predicted.
As consumers choose to make online purchases more than brick-and-mortar stores, businesses across industries have an opportunity to grow. But at the same time, it's a lot of competition for consumer attention.
From times when the consumer had the choice to purchase from a brand or two; now they have at least ten brands offering them competitive deals on the same products. And the brands that succeed, are the ones that are able to keep up with the ever-changing consumer expectations.
But that's not all. There are always competing eCommerce giants like Amazon!
Because no matter what, that's the one online retailer most consumers will always have the option to buy from.
COVID-19 has changed consumer behavior forever
Continuing on our line of thoughts above, here's a look into how each of us has changed how we interact with brands and how we choose who to buy from.
1. As consumers, we want to buy from brands with more stock
We're turning into shoppers who don't just want to make one-time purchases. We want to be able to come back to the same brand and buy again if the need be. Call it the need for wanting to associate with only brands that seem reliable, instead of a one-off. The reason why we choose to purchase from Amazon time and again is knowing how they would always have stock available.
2. As consumers, we want to buy from brands that can deliver orders faster
Imagine making a purchase and not knowing when the order would get delivered. Or imagine having placed an order of a product you need in a week. But getting it from the brand 3 weeks later. You're either going to cancel the order due to the delays, look for alternatives or continually follow-up with the brand asking about the order status. This is why we as consumers, are choosing to buy from brands that can guarantee a faster delivery.
Another shift in consumer behavior is choosing to buy from local brands to be able to get their orders faster.
3. As consumers, we are experiencing order anxiety more than ever
Continuing on our point above, we as consumers are facing what we call 'order anxiety'. We're increasingly expecting brands to proactively communicate with us throughout the consumer journey. Right from emails to SMS to Messenger alerts, we want to be notified of the order status at all times.
Simply put, brands will have a tougher time keeping up with expectations. They will need to implement strategies from day one to keep their customers engaged throughout the lifecycle.
You know the problem. Now let's tell you the solution.
Tackling the change in consumer behaviour with Eshopbox and ClickPost
Staying on top of your inventory with Eshopbox
Retailers can leverage the Eshopbox automated inventory management and order fulfilment systems to reap the following benefits:
1. Real-time inventory view and segmentation
Retailers can keep track of multiple inventories through actionable dashboards, these segmented inventories include:
Sellable inventory - how much stock is available for selling
Inward in progress - how much stock is on the way
Outward in progress - inventory blocked against orders in process
Retailers can use this data to make informed decisions such as improving cash flow by selling against inward inventory and deciding when to proceed with inventory replenishment.
2. Accurate inventory synchronisation
Eshopbox has direct integrations with marketplaces like Amazon API integrations, Flipkart, Myntra, and more. Also, shopping carts like Shopify, Magento, Woocommerce, and more. It ensures the relay of accurate inventory across multiple sales channels so that you can:
Maximise sales opportunities by automatically syncing the same inventory pool to multiple sales channels
Update changes in inventory across all sales channels, in case of a stock out, the update happens instantly, mitigating the risk of overselling
3. On-time order processing
Retailers can take advantage of Eshopbox automated order fulfilment system to meet the peak demands and complexity of direct-to-consumer and direct-to-business orders. This is achieved by:
Streamlined pick-pack techniques
Aligning courier pickups for ready-to-ship orders to ensure timely delivery
Enabling priority pick and pack for orders requiring faster turn-around-times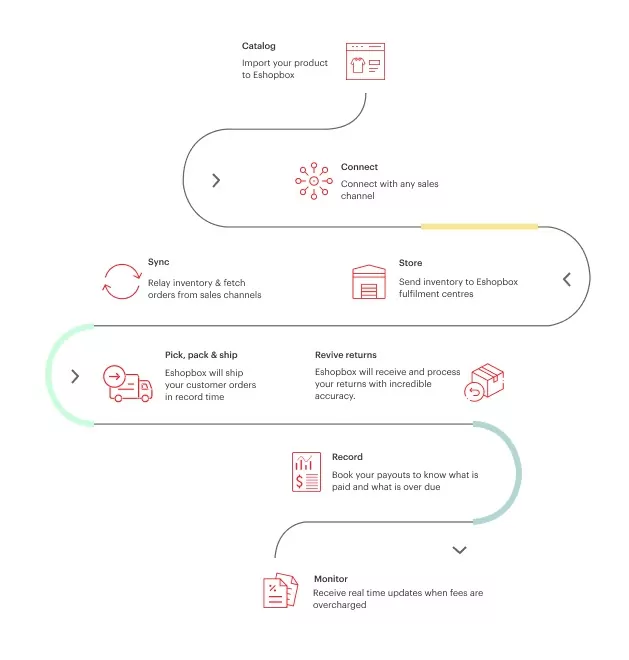 Ensuring timely order fulfilment with proactive customer communication
1. Logistics partner recommendation engine
Clickpost provides you with a unified API platform to bring collaboration and visibility while leveraging logistics intelligence to reduce exceptions and real-time tracking with predictive analytics to enhance customer experience The logistics aggregator platform brings the performance data from all your logistics partners onto one dashboard. It then uses machine learning to recommend the right courier partner for every order, helping you ensure faster order fulfilment and reducing your logistics costs.
Dynamic courier partner allocation to reduce logistics costs based on 50 signals such as serviceability, payment modes, invoice value and other parameters
Ensure serviceability with real-time sync of pin codes for every logistics partners
Make data-driven decisions to lower your logistics costs and RTO
Automate exceptions for operations efficiency
2. Automated order status notifications (email and SMS)
With ClickPost, you're able to address the customer's expectations of proactive communication about their orders. The logistics solution sends automated order status notifications to customers on email and SMS, keeping them up-to-date at all times.
Lower your WISMO calls with real-time order shipping updates on email and SMS
Increase your NPS with timely customer feedback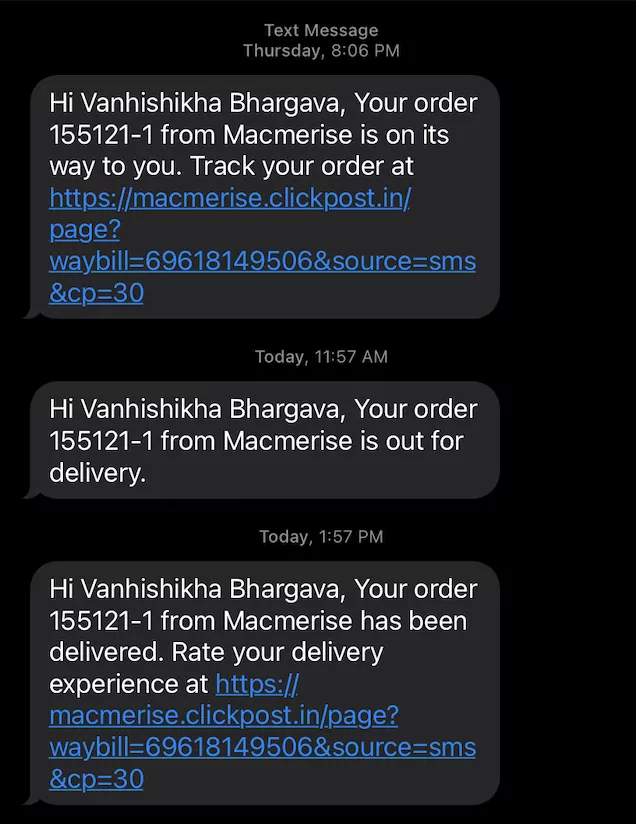 3. Branded order tracking pages
Retailers can now reduce their WISMO calls by not just automating order status notifications, but also offering customers a branded tracking page. This is where they can see their order details, along with where the order has reached, keeping them up-to-date without them having to reach out to customer support.
Lower customer order anxiety with branded tracking pages
Cross-sell and upsell products to increase repeat customer sales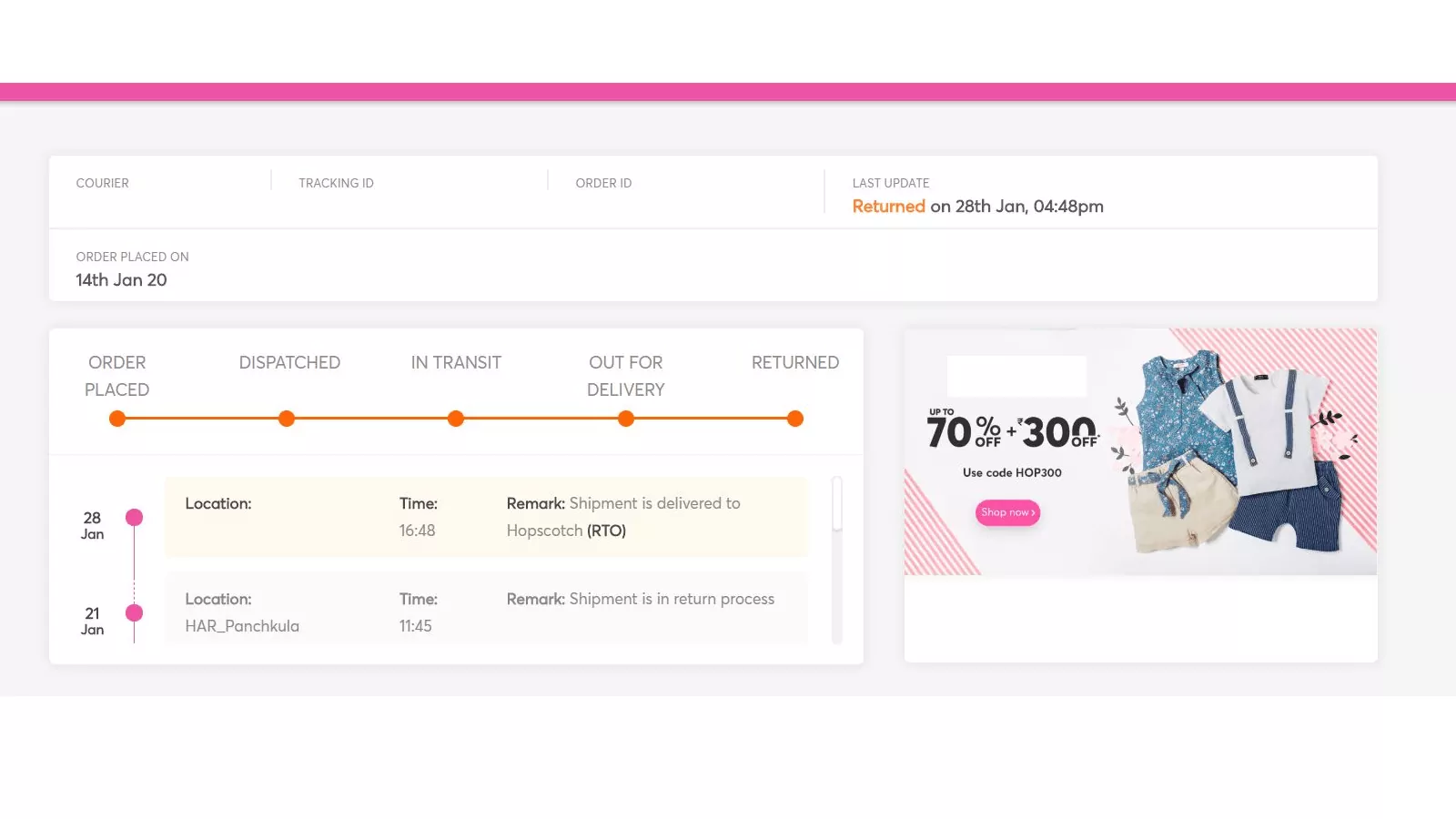 4. Automate and simplify returns
Simplify return requests with a branded, self-service solution that removes friction and creates an opportunity to recapture lost revenue. Because no matter how optimized your logistics are, there are still chances of delays at the last-mile and you don't want to lose a customer at that point.
Reduce customer service calls with a self-serve returns dashboard
Convert return requests into exchanges and an opportunity to sell with timely communication
In-depth return intelligence and analytics to understand customers
Automate return processing with seamless logistics management
Optimize your refunds cycle to prevent negative customer feedback
Does your store really need to level up with Amazon?
TLDR; Yes.
According to Retail Dive, consumers have become more loyal to brands post-COVID-19. But at the same time, their loyalty is dependent on their experience with available inventory and the post-purchase experience.
So it is no longer about who offers the best deals and discounts alone. It's about who can ensure the products they need are in-stock and readily available. And who can ensure their needs are met in a timely manner, without having them to worry about the order status or regretting their purchases.
To tie your inventory and post-purchase experience for customers, ClickPost has integrated with Eshopbox. The integration ensures a seamless flow of data to keep you on top of things when it comes to delivering an experience that matches up to Amazon!