Ever made a purchase online and then regretted it because either the product didn't live up to its expectations or the post-purchase experience till the point of delivery made you too anxious? You're not alone.
Gartner recently published a post talking about how common purchase regret is. While most businesses will make sure that they personalize a shopper's experience until they convert, a lot of them don't have the post-purchase interaction figured out. That's where high RTO rates happen.
What is purchase regret and why do you need to pay attention to it?
Purchase regret refers to the buyer's remorse after making a purchase. While it sometimes has to do with the investment they had to make, most times it is associated with how they feel after making the purchase - especially online. This is because of the time gap between them completing the purchase and the product getting delivered to their doorstep.
For context, think about the last time you made a purchase online. Now the store didn't really mention when the order will be delivered. All you have as information is that the 'order will be shipped in 7-14 days from when it is placed'.
Is it going to be 7 days? Is it going to be 14 days? Or is it that your order will be shipped after 14 days?
With so much confusion, you're probably going to start panicking after 7 days. You're going to either drop emails or call the brand to know where your order is.
Soon, you'll go from wondering where the order is to regret having made the purchase in the first place - especially if it is a high-value product.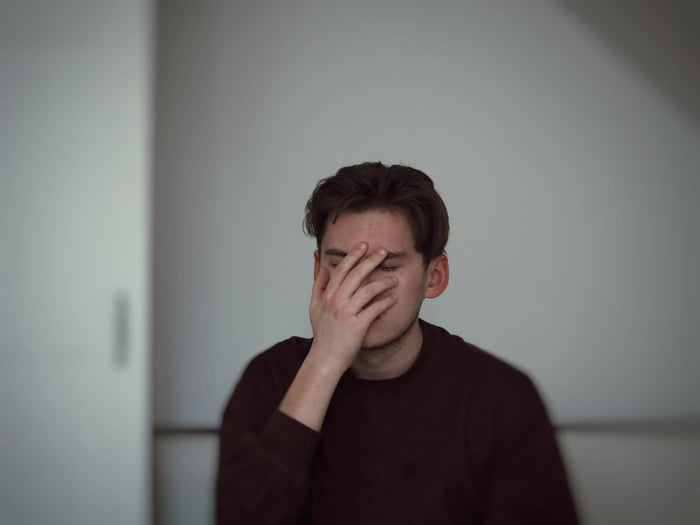 Order anxiety is quick to turn into purchase regret.
Purchase regret often results in:
High WISMO calls at stage 1 (where the order anxiety is building up)
High order cancellation rate at stage 2 (where the shopper has lost hope on receiving the product)
High return rate/ RTO at stage 3 (where the order finally reaches the shopper but they see no value in it)
If this isn't bad enough, think about how this will impact the next purchase a consumer makes. They'll either think a hundred times before even exploring to buy more from you, or they'll simply seek a competitor instead because they don't want to go through the whole cycle of order anxiety and purchase regret.
What's worse? They'll also start talking about this purchase regret or the negative shopping experience with your store.
According to a survey, 54% of respondents stated that they share a bad experience 5 times more than a good interaction with a brand. The reason being that they don't want their friends and family to make the same mistakes as them when it comes to making online purchases.
So you're not just losing on a repeat customer, but also word of mouth marketing.
TLDR; your land and expand strategy is a failure even before it launches.
What can you do? Prevent the order anxiety and purchase regret from creeping in, by focusing on keeping the customer up-to-date about their orders, making their post-purchase experience more engaging.
Related Post:- Top 10 Best Post Purchase Customer Experience Software
Preventing purchase regret with proactive customer engagement
No, we're not talking about constantly emailing your customers with ongoing promotions, deals and sales. While that's a great strategy to pull their attention towards other products on your store, it's simply wrong timing and the wrong approach.
This is a customer who is still waiting to receive the product.
They don't know where their current order is to even consider making another purchase from your store.
That's where implementing a customer engagement strategy comes into play. Here's how:
1. Branded tracking pages to keep purchase regret at bay
Purchase regret starts when the customer either finds a better alternative to the product they've just purchased or a better price on another store. The one way to keep them from not being able to see the value in the purchase they've made is to reinforce it. But how do you do this post-purchase?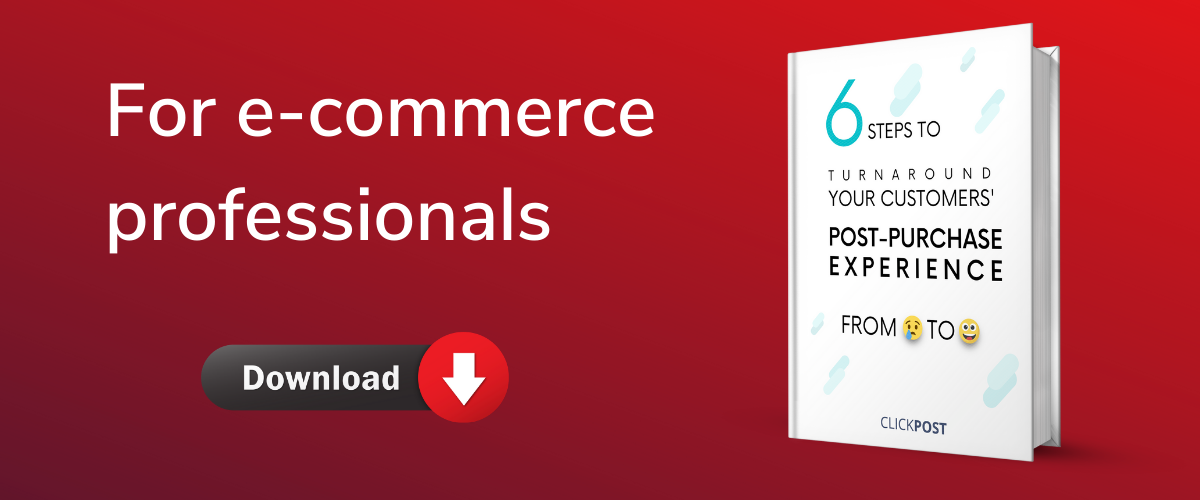 By bringing them back to your store site more frequently and making it easy for them to track their purchases. This is where a branded tracking page comes into play.
With a branded tracking page, a customer can come back to your store at any moment to see where their order has reached. This does two things to address the problem of purchase regret, keeping it at bay.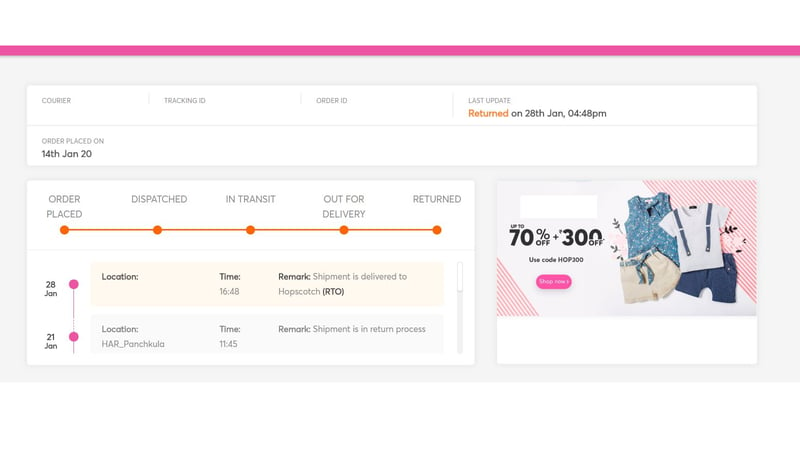 One, when a customer is easily able to track their orders, they build trust in your brand and your branding further reinforces how their decision to engage with your brand was worth the value of the purchase. This also makes it easier for them to revisit the product page to see the value it offers, clearing any doubts about the order they may have post-purchase.
Two, when a customer sees a branded tracking page, they automatically associate you with being a more 'established' brand than the one they may have seen a competing deal on. Every online shopper is obviously dubious about making purchases from a fairly new store, doubting their capability to deliver a good product in time.
2. Proactive order status notifications to keep order anxiety away
Typically an online store generates a waybill number that the shoppers need to use to track their order on a third party website, which is the courier partner's site. So this involved the shopper either logging into their accounts on the store or accessing their order shipment receipt on email to copy the waybill number, find and open the courier partner's website and then paste the waybill number to track their order.
Sounds like too much to do to track an order, right? Add to that the interface that your courier partner's website offers - more often than not, they're not as bothered about how user-friendly the website is.
This results in either the shopper avoiding tracking their order or simply not being able to navigate through the steps. Either way, it builds order anxiety.
By automating your order status notifications, you can address this issue easily. All you need is a smart customer engagement module like ClickPost hooked into your system to send automated alerts on email and SMS. Right from the point of the order confirmation, to the order being shipped, in transit, out for delivery and to finally being delivered, your customer gets proactively notified about their purchase.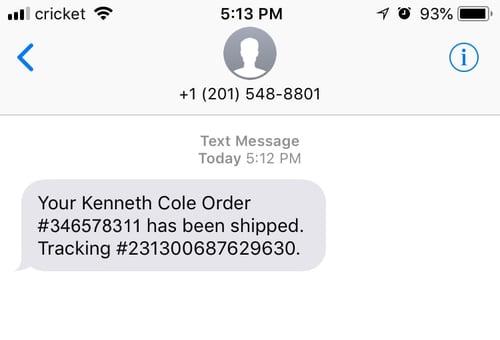 No order anxiety. No purchase regret.
They know exactly where their order is and when it's going to reach them, without going through the hassle of tracking their order using a waybill number.
3. Personalized product recommendations to keep customers engaged
With the purchase regret and order anxiety in check, your store is already 80% in the direction of offering a great shopping experience. You have the customer coming back to your site to track their order status on the branded tracking page. You also have them constantly updated and engaged with automated notifications, which also lead them back to your store to either know more about the order status. So what more can you do to seal the deal for the future?
Use this opportunity to cross-sell and up-sell products to increase customer engagement and boost your repeat sales.
The branded order tracking page, contrary to the one your courier partner offers, is a great placement for you to recommend more items to your customers. You can introduce them to similar products that come with more features or those that complement the purchase they've just made.
Instead of the traditional email marketing tactic of sending product recommendations post-purchase, upselling and cross-selling on the tracking page is like assuring the shopper of the previous purchase and convincing them to make a new one, at the same time. This makes your pitch more convincing and the shopper becomes more likely to convert on the upsell or cross-sell campaign.
How important is it to address purchase regret?
Unless you're okay increasing the cost of service to cater to the ever-growing number of WISMO calls, losing customers to competitors or simply having to tackle a high RTO rate, addressing purchase regret and order anxiety is important. And all it takes is implementing an intelligent logistics solution that enables you to put all the strategies mentioned above, into place.