The global beauty industry accounts for $500 billion worth of sales in a year and millions of jobs, directly and indirectly. But with the COVID-19 outbreak, the course of the world changed and so did that of the beauty and makeup industry.
The beauty industry has remained resilient to recessions and similar invents due to the provision of high margins and recurring purchase patterns. But during the first quarter, the industry saw its net sales decrease by 32.7%.
McKinsey identified two reasons for this drop. One, COVID-19 severely hampered the import and export aspect of the industry, disrupting their supply chain and logistics. Two, with nowhere to go, consumer reliance on cosmetics drastically reduced.
Other problems associated with the drop in sales in the beauty and cosmetics industry include the closing down of salons and physical stores, which also led to many makeup artists and hairstylists losing their jobs.
Simply put, COVID-19 is likely to leave a lasting impact on the multibillion-dollar industry. Serving some of the largest brands in the beauty industry, we at ClickPost have seen the business priorities shifting overnight due to the pandemic.
At the same time, McKinsey also reported that while store sales went down, online ordered beauty products are swiftly increasing. There is a huge demand for protection, skincare kits, and homemade beauty products, as consumers choose to go organic, wanting to live a sustainable lifestyle. You can see this trend rising with the many online-streams of new launches, reviews, and DIY videos from beauty influencers and more.
The online demand for beauty and cosmetic products has been so great that Nielsen recorded 23% of retailers reporting products going out of stock.
The current trends are a clear indication in the direction of the future of beauty. Even the top 20 cosmetics and beauty brands that held 90% of the market share offline will be moving their focus to online channels, as stated in Nielsen's The Future of Beauty Report.
What does this mean?
as shoppers become conservative (or something similar), they will look for brands that cna provide a 'reliable'....
While there's still hope for the cosmetics and beauty industry to cope with the COVID-19 slow down faster than the others, the change in consumer behaviour will result in skewed baskets that will tip more towards skincare and hygiene segments. As shoppers become more conservative and conscious, they will look for brands that can provide a 'reliable' shopping experience.
Adjusting to the new normal with a customer-centric approach
1. Strengthening your online presence to assist informed purchases
The Nielsen report on the future of beauty states that the top 20 brands that hold 90% of the market share offline, have only 14% presence online. But with the shift in consumer behaviour, there will be a slowdown in walk-ins at brick and mortar stores, leading to consumers looking for no-contact ways to interact with the brand. Cosmetics and beauty brands will need to focus on strengthening their online presence and making themselves digitally available to help consumers make the right purchases.
Here's industry-leading, Estee Lauder listing the different channels that a consumer can use to contact them, on their store. This gives the consumer the confidence that the brand is available to help just as they were in-store, considering the high value of their products.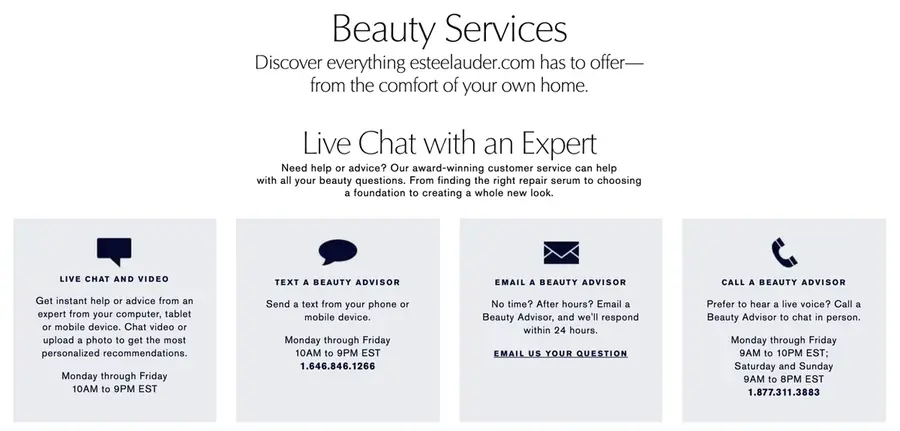 2. Making returns easier and customer-friendly
A lot of consumers have been relying on the look, feel, touch, and trial of products in the beauty and cosmetics industry. With the move to online purchasing, it is becoming difficult for them to access their products. No matter how descriptive you are on the product pages, the chances of them wanting to return or exchange an item have increased.
Business Wire reported that while there has been a steady increase in online sales, there is also a backlog of returns that retailers need to deal with. This has impacted the customer experience being offered by the brand, resulting in customer walk-outs.
To avoid losing customers to the competition, especially with more businesses moving online, beauty and cosmetics businesses will need to adjust their return policies. They will need to communicate these policies across multiple digital touchpoints to address ambiguity around the same. But more importantly, brands will need to make the process of requesting returns more self-serve and easy for the consumer.
For example, Sugar Cosmetics has a self-service returns flow set up that also includes a section that shared information about their returns policy.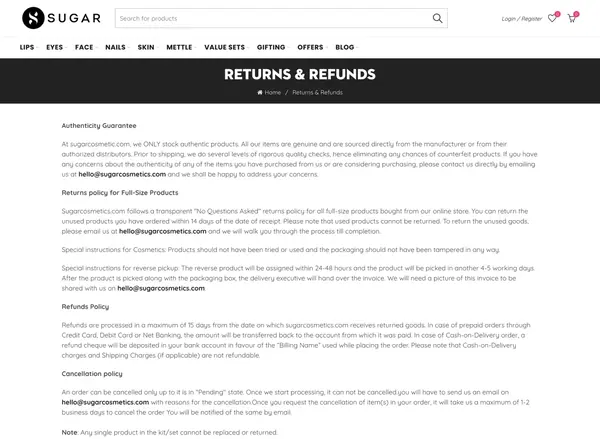 There is an obvious slowdown in processing returns and issuing refunds due to additional precautionary measures being taken at distribution centres. Due to this, beauty and cosmetics retailers will need to over-communicate to customers about the status of their return/ refund requests. This includes sending them a timely email and SMS notifications. Such a process can reduce customer support calls on the business front.
3. Reducing order anxiety with branded live tracking pages
Have you ever cancelled your order because you didn't know when you would receive it or you couldn't track where it was? Your customers are no different - especially now when they're aware of supply chain issues and potential delays in order deliveries. The only way to reduce order anxiety and hence, WISMO calls and cancellation requests, is to make order tracking easier than before.
Instead of expecting your customers to use their order IDs and waybill numbers to track their order on a third-party website, you can provide a branded tracking page on your own store. The customer can then visit the store at any given point of time to track their order, without having to struggle on a delivery site.
Here's how Nykaa has worked on reducing order anxiety of its customers with a live tracking page:

4. Proactive communicating with customers to keep them up-to-date
Keeping your customers informed at every step of their journey with your brand is important. COVID-19 has a major impact on the supply chain and logistics across the globe, which is going to take a while to come back to pre-COVID-19 efficiency. This means customers will experience delayed order fulfilment for a while. But that does not mean you're not the first one to tell them about it.
While a branded tracking page is a great way for them to keep a tab on their order, it is also important for you to proactively communicate with them and set the right expectations. This can also help shoppers plan their future purchases accordingly, further enhancing their shopping experience with your brand.
A few ways to do this include:
Updating them about COVID-19 policies and procedures including safety precautions you're taking, changes in inventory, etc by including a dedicated section on your store site, sending them a notification on email, SMS, social media and other digital touchpoints.
Providing them with an estimated delivery date at checkout, keeping in mind known delays such as changed packaging procedures, transportation delays and other parameters.
Automated order notifications on email and SMS so that they can stay up-to-date at all times, without having to visit the store site to track their order.
When you proactively communicate with your customers, it gives you an opportunity to win their trust. So be it a delay in order fulfilment or change of policies at the last minute, make sure you're the one initiating the conversation.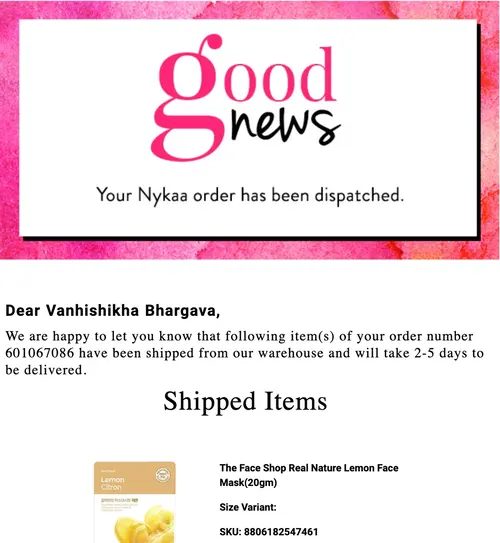 According to Retail Customer Experience, about 20% of your store's visitors would abandon a purchase because of delivery anxiety. Not knowing when their order would be delivered or not having a simpler way to track its status can not just put off the new customers you're driving in by spending thousands of dollars, but also put off your existing customers.
In addition to the same, beauty and cosmetics brands can optimize the delivery experience using customer inputs, which can also prevent fake delivery attempts and delivery issues.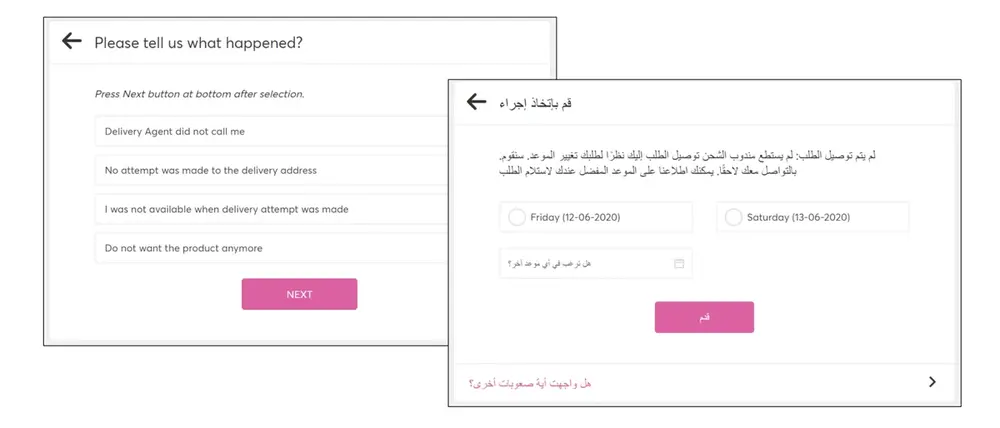 Brands like Sugar Cosmetics, Nykaa, Mod Waves Cosmetics, and many other leading names in the industry are tailoring the customer experience they offer to the post-COVID-19 needs, making it more concern-centric with holistic logistics solutions like ClickPost.
To learn more about how ClickPost can help your cosmetics and beauty brand grow amidst the COVID-19 chaos by delivering a seamless experience to shoppers, schedule a personalized demo with one of our eCommerce experts.