The Complete Guide
Shopify Returns Management and Exchanges Apps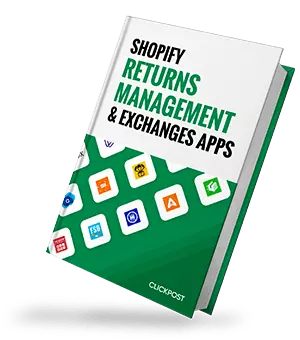 A Shopify returns management and exchange app is a versatile mobile app that allows ecommerce businesses to offer a hassle-free returns solution to their customers. Returning an item is often a dreaded experience. You have to know if the retailer will accept your return, figure out how to package it, and then go through the hassle of shipping it off.
There are many Shopify returns and exchanges apps that make returns easier by helping businesses manage them from start to finish. Some apps allow you to print barcodes so shoppers can scan them at home before sending anything back; others automate invoicing and credit card processing so you never have to deal with any paperwork again.
As an eCommerce business, you know that customer satisfaction is key to your success. Offering hassle-free returns and exchanges is one way to keep your customers happy. And yes, Shopify returns and exchanges apps can help you with that. With the help of our logistics veterans and industry experts, we have curated the most comprehensive list of Returns Management and Exchange apps for Shopify. Stay tuned!
3. Detailed Review of Shopify Returns Management and Exchange Apps
1. AfterShip Returns Center
4.8
The AfterShip returns management and exchange app reforms the post-purchase experience of Shopify customers by making it easy and absolutely hassle-free. This Shopify returns app makes returns and exchanges a profitable aspect of eCommerce. With AfterShip's mobile app for Shopify returns and exchanges, businesses can retarget customers by providing top-notch returns management services.
Key Features:
Create brand awareness and customer engagement with a branded returns portal that also allows customers to track returns in real-time.

Empower customers with refunds of their choice - return to the original payment channel, save to store credit, etc.

Set custom return rules to products to minimize the loss on returns,
Customers can choose their preferred carrier (out of 13 integrations) for returns and exchanges.
Pros:
AfterShip provides weekly insights into how well the returns and exchange app works.

Processes refunds faster than most returns and exchange apps.
Cons:
Many Shopify app users find the customer service less than ideal. You can check out some of the best AfterShip Returns Center alternatives for your business instead!

The app's manual features can be confusing for new business owners.


Pricing: They offer 4 plans - Free, Essential ($9/month), Growth ($29/month) and Pro ($99/month).
2. Return Prime: Order Return
5
Return Prime is a returns management and exchange app on the Shopify store. With Return Prime, eCommerce businesses can connect their online stores and manage all returns/exchanges requests from a single place. It also comes with a live chat option that can assist users and customers in navigating the app and finding what they need. Return Prime, therefore, is a great option for a store that has not opted for a Shopify live chat app to take care of customer queries on site.
Key Features:
Automate returns management with return rules and restrictions. For eg., customers will not be able to place return requests for non-returnable items.

Perform QC. Obtain photos of the product return to ensure products are in mint condition.

Process refunds through bank transfer, credit, or gift cards.

Offer a 14-day 'no questions asked' return window for all paid users.
Pros:
Amazing customer support.

Offers flexibility and customisation for returns and store management.
Cons:
Lack of transparency in pricing.
Pricing: Return Prime offers 3 pricing plans, Free, Grow and Scale. You can start any of these plans for free. You will only be charged once you get more than 5 return tickets.
3. Clicksit Return Center
5
Clicksit is a Shopify returns and exchange management app for online stores. It is hosted by the popular shipping software Sorted. It is absolutely free to install and only charges businesses for the use of premium features. In that sense, Clicksit Returns Center is a brilliant choice for upcoming online entrepreneurs.
Key Features:
Customers in the US and UK can place automatic return requests.

Clicksit offers USPS and CollectPlus return labels on product returns and exchanges.

This Shopify returns app offers several customisable features on returns like free returns, shared return cost between customers and business and fully chargeable returns.

Provide the ease of returns to customers in any corner of the world with multi-language support.
Pros:
No cap on the number of returns processed every month. Fully free feature.

Provides a customisable return policy template.
Cons:
Lack of proper communication with customer support teams.

Frequent issues of bugs within the app. Some Sorted alternatives can help you streamline your entire order fulfillment process better.
Pricing: Free to use. Premium features cost extra.
4. Returnly
5
Returnly is a Shopify app for managing returns and exchanges seamlessly within your business. It provides a self-serve returns portal for customers to easily place return/exchange requests. It helps businesses track the return order, process refunds, notify customers of the status of their product returns, and more. Customers can also print return shipping labels from this Shopify app.
Key Features:
Returnly comes with integrations with several logistics partners, carriers, ERPs, etc. It also connects easily with several Shopify apps.

Returnly provides regular actionable insights on the performance of the returns and exchange app workflow.

Refunds can also be stored in the form of Returnly credit.

Ecommerce businesses can direct returns to any of their warehouses with Returnly's multi-location warehouse feature.
Pros:
Returnly updates eCommerce businesses on every inventory change like low stocks, etc.

Provides real-time notifications on every stage -order pickups, in-transit, and delivered.
Cons:
The basic plan does not offer many useful features.

The support team is not very responsive.
Pricing: Trial Period - 14 days
They have 3 plans - Basic Shopify ($29/month), Shopify ($59/month), and Advanced Shopify ($149/month)
5. Return & Exchange Portal
5
ReturnGO's returns management and exchange app, Return & Exchange Portal aims to improve customer experience and provide a positive return experience with the help of its Shopify app for returns and exchanges. There's a lot you can do with this app from designing a fully branded return experience for customers with custom colors, brand logo, etc.
Key Features:
Customers can cancel orders if they don't receive them within a stipulated period.

Allow items to be returned, or donated, depending on customer choice.

Generate prepaid return labels that make the return shipping process entirely hassle-free.

Receive around-the-clock customer support for store setup and return issues.

Pros:

Helpful staff, useful features, and 5-star customer service.

Extremely cost-effective.
Cons:
Mostly suitable for small and medium eCommerce businesses.
Pricing: $9.97/month (upto 60 return requests, beyond that $0.50 per return)
6. Rich Returns
5
Rich Returns is a Shopify app for registering RMA returns, product returns, or exchanges for e-commerce businesses and their customers. It provides multi-language support so that businesses can reach customers across language barriers. To save time businesses can directly export their CSV files.
Key Features:
Integrated with over 50 carriers including USPS, UPS, FedEx, RoyalMail, etc. Also connects with shipping software and other Shopify apps.

Auto-approve returns or manually approve/reject returns easily from the dashboard.

Provide a customized white-labeled return tracking experience to customers with multiple cross-selling points.

Businesses using other returns management and exchange apps like Aftership, LoopReturns, and others can migrate to Rich Returns without skipping a beat or losing their data.
Pros:
Affordable and easy to use.

A multi-location warehouse facility allows for flexibility and easy returns.
Cons:
Does not allow businesses to connect directly with carriers.
Pricing: Rich Returns offers 4 pricing plans - Standard ($9/month), Pro ($29/month), Premium ($99/month) and Plus ($199/month).
4. Selecting the Best Shopify Apps for Returns Management and Exchanges

1. Price Point
It's important to keep your business afloat and profitable while also providing quality returns and exchanges to customers. Therefore, it's only natural to consider the price of the returns and exchange app you select. Another extremely helpful way of figuring out whether you should be splurging all that money on the Shopify app is by looking at the features it has and the services it offers. If it seems overpriced to you, then select a returns and exchange Shopify app that suits your needs and fits your budget.
2. Branded Tracking
With a branded returns portal, you can customize your tracking page with tons of features like the brand logo, brand colors, social media feed, marketing panels, and more. A branded returns portal not only increases customer engagement and loyalty but also gives you additional opportunities for sales.
3. Refund Options
A returns and exchange app for Shopify must provide several refund options like bank transfer, COD refunds, store credits, gift cards, etc. This makes customers more comfortable with the returns process and makes them want to come back to your store.
4. Customer Support
If your customers want to reach out to you with questions or queries about returns/exchanges, a customer service representative can answer their questions. This saves your business from receiving too many WISMO calls. Also, your business itself can benefit from customer support in case of difficulties with the app.
5. Performance Analytics
Improving your current service is the only sure-shot way of providing better returns and exchange experiences to customers. Look for a Shopify returns and exchange app that provides regular performance analytics that keeps you on your toes and urges you to overcome shortcomings.
6. Multi-language Support
If your online store has customers from all over the world it's important for you to look for a returns management and exchange app that speaks the language your customers understand. Try to select a Shopify app that provides multilingual support to reach out to customers and provide a holistic shopping and return experience to them.
You've planned, designed, and manufactured your product with care. Your customers have spent hours finding the perfect item to purchase. But what happens when they don't like it? For most online businesses, returns/exchanges happen often enough that you need a system in place for managing them effectively.
Managing returns and exchanges well can be a great opportunity for online retailers to build customer engagement, maintain trust with customers, and minimize losses. With the list of the Shopify returns management and exchanges apps listed above you should be able to handle returns effectively.
While returns/exchanges apps like Aftership, Clicksit, and Returnly function very well in providing optimum returns and exchange management for Shopify sellers, it may prove too costly for small/medium businesses. For businesses with lower order volumes or budget constraints, we believe, Returns and Exchange Portal and Rich Returns reap far greater benefits. They come with similar features without burning a hole in your pocket.
Understanding your business' needs and the services you require to provide the best returns and exchange experience to your customers will always point you in the right direction and help you choose the best Shopify returns management and exchange app for your business!