Overview of Logistics and Shipping Aggregators
Taking information and opinions from e-commerce companies all across the country, here's everything (and we mean everything) that you need to know about shipping aggregators. The value of India's e-commerce industry rose from a mere $2.5 billion in 2009 to $64 billion in 2020, in just a little over a decade. As the industry boomed, smaller companies needed options to compete with massive players like Amazon and Flipkart who dominate the market. To meet the increasing demand, shipping aggregators began to make their way into the e-commerce industry as early as 2012.
Now there are around 20-30 shipping and transportation aggregators spread out across the country that help e-commerce companies optimize their operations. From start to finish, we're going to discuss the role of shipping or logistics aggregators in India, keeping in mind the speed at which the e-commerce market continues to grow and change.
Top 10 Logistics and Shipping Aggregators in India
1) ECourierz
ECourierz operates both within India and all across the globe. However, they are most appreciated for their international shipping services.
Pin Code Serviceability: 21000+
Number of Courier Partners: 20
Founded In: 2015
Number of Employees: ~30
2) iThink Logistics
iThink Logistics has no minimum volume requirements and provides NDR management services to deal with escalations and delivery exceptions.
Pin Code Serviceability: 26000+
Number of Courier Partners: ~10
Founded In: 2016
Number of Employees: ~26
3) Pickrr
Pickrr provides monthly rates in accordance with the number of shipments made per month. They provide access to most of the remote areas in the country.
Pin Code Serviceability: 27000+
Number of Courier Partners: 10
Founded In: 2015
Number of Employees: ~50
4) Rocketbox
Rocketbox offers a limited selection of courier partners but a greater range of serviceability and rate calculator to determine the best rate for each shipment.
Pin Code Serviceability: 28000+
Number of Courier Partners: 7
Founded In: 2015
Number of Employees: 40
5) ShipDroid
ShipDroid is also tied with fewer courier companies and only services 20,000+ pin codes (compared to 28,000+ by Rocketbox). However, their accounts management system remains extremely popular.
Pin Code Serviceability: 20000+
Number of Courier Partners: ~3
Founded In: 2016
Number of Employees: 10-50
6) ShipKaro
ShipKaro offers low standard rates for individual and bulk shipments in the form of 3 available monthly plans, depending on the number orders fulfilled every month.
Pin Code Serviceability: 20000+
Number of Courier Partners: 13
Founded In: 2017
Number of Employees: ~100
7) Ship Rocket
As one of the most popular aggregators currently in the market, Ship Rockets offers a large number of courier partners and greater pin code serviceability.
Pin Code Serviceability: 27000+
Number of Courier Partners: 17
Founded In: 2012
Number of Employees: ~240
8) ShipYaari
ShipYaari offers low monthly rates and a Money-Back-Guarantee (MBG) for certain types of failed orders. They also have a no-initial-costs monthly plan for emerging businesses.
Pin Code Serviceability: 25000+

Number of Courier Partners: ~7

Founded In: 2013

Number of Employees: ~50
9) Shyplite
Shyplite charges on the basis of the dimensions and parameters of each individual shipment. They also offer COD services, a tech-enabled recommendation engine and a customised tracking page for order updates.
Pin Code Serviceability: 26000+
Number of Courier Partners: 16+
Founded In: 2016
Number of Employees: ~100
10) Silver Arrow
One of the earliest aggregators founded, Silver Arrow makes use of radio frequencies and associated technology to provide near real-time updates, along with providing risk-assessments for shipments.
Pin Code Serviceability: 27000+
Number of Courier Partners: ~10
Founded In: 2012
Number of Employees: ~50
11) Vamaship
Vamaship is possibly most-liked for offering QC (quality check) services to shipments demarcated as customer-initiated returns. This almost makes up for their typically slow remittance cycle.
Pin Code Serviceability: 27000+
Number of Courier Partners: ~10
Founded In: 2015
Number of Employees: ~35
When do E-Commerce Companies need a Courier aggregator?
When volume of orders increase to upwards of 30 a day, managing this new scale of volumes requires scaling up in all areas. Aggregators help steer you toward more courier partners quickly. This allows you to fulfill a greater number of orders with minimal difficulties.
Serviceability is generally treated as a priority, i.e, ensuring that each order to any given location has an appropriate courier partner to complete delivery. That being said, using an aggregator comes with certain advantages and disadvantages.
What are the Pros of using an eCommerce Aggregator?
Aggregators serve an important purpose in the early stages of growth. They give you an opportunity to test out what expansion feels like. They offer you a chance to quickly access the services of well-known courier companies, to make the circle within which you operate a bit bigger. They're able to do that through easy-to-understand payment plans and basic integrations. They provide:

A) Easy Onboarding
There's typically a 3-step process to tying up with a single courier partner. Search and discover the carrier, negotiate SLA terms with them (like rate and speed of delivery) and then finally do API integrations with them. Now imagine repeating the process with 3, 4, 5 or 6 courier partners.
When you're in the early stages of growth, time is of the essence when it comes to expanding your fulfillment capabilities, and aggregators can help you quickly complete the onboarding process with multiple carriers. This is how:
A.1) Easy access to courier partners

Shipping aggregators already have and maintain terms with multiple carriers. So when you need to rapidly increase the number of carriers you work with, you can select from the range offered by each aggregator. Rates are offered by aggregators based on pre-negotiated terms between them and carriers.

A.2) Ease of implementation

Because aggregators have already calculated base or monthly rates, in accordance with volumes of shipments, integrating with carriers becomes an easy process. Most aggregators make use of API integrations to ensure information regarding your order statuses is received from carriers quickly.

A.3) Integration with e-commerce Storefronts

Most aggregators are also tied up with e-commerce storefronts like Shopify, Magento, and BigCommerce. As soon as an order is placed on any integrated marketplace, the data for the same is pulled to the aggregator's platform and allocated to a carrier partner with that range of serviceability.
B) Simplified Shipping Rates
When your volume order starts increasing, scaling up directly with just one courier partner will lead to increased costs that may not be viable. Add multiple partners to the game and suddenly you're juggling a multitude of varied costs. Aggregators can provide a standardized rate for shipments across multiple carriers.
B.1) Lower Pricing Complexities

Courier companies typically calculate their shipping rates based on numerous different metrics. These can include separate charges for certain COD services, specified overheads and fuel surcharges.

Aggregators provide clearer rates and simplify the overall pricing structure for e-commerce companies. This makes the process of understanding and agreeing to them easier.

B.2) High Volumes For Negotiations

Scaling up directly with your current courier partner would likely leave you dealing with much higher costs than feasible. However, aggregators can offer low rates because their arrangements with courier partners deal with high volumes that allows them greater scope for negotiations.

This is why aggregators also offer different volume-based plans, depending on the average number of orders fulfilled per month. Essentially, the higher the volumes, the lower the rates.

B.3) Availability of Payment Plans

Most aggregators have 2-3 plans available depending on the size of your e-commerce business and the scale of orders received. Some aggregators offer plans for smaller enterprises with no initial commitment cost and charges levied based on each successful delivery.

ShipYaari offers this as a start-up plan, alongside an "advanced plan" and a "pro-plan". Shiprocket similarly offers a Lite Plan and a Professional Plan at different going rates.
C) Unified Tracking
One of the major challenges that arises during periods of rapid growth is juggling a larger scale of orders and maintaining a clear view of their delivery progress. Making use of basic API integrations, orders with multiple courier partners can be viewed in a single page with frequently updated statuses.
C.1) Multi-Courier Integration

Aggregators have clearly-defined systems that allow them to pull data from courier partner websites or backends, once the integrations have been set up. The status of each order can accordingly be updated on the single tracking platform offered by the aggregator.

This basically means you don't need to jump from one carrier website to another to keep track of orders.

C.2) Single Tracking Platform

The main benefit of an aggregator is a unified tracking platform, which lists all your ongoing orders across multiple marketplaces and courier partners. This lets you keep an eye on the status of all shipments so you don't need to track orders from individual courier partner websites, which can be a rather tedious task.
What are the Cons of Using an eCommerce Aggregator?
While they have played a major role in paving the road for online merchants to trudge onward, it's a very bumpy road that has been paved. While courier aggregators provide a quick solution for meeting scaled-up order volumes, long term use of them can be detrimental to customer experience and overall supply chain control. That's why most e-commerce companies opt for direct carrier integrations after reaching order volumes of 3000-5000 a month.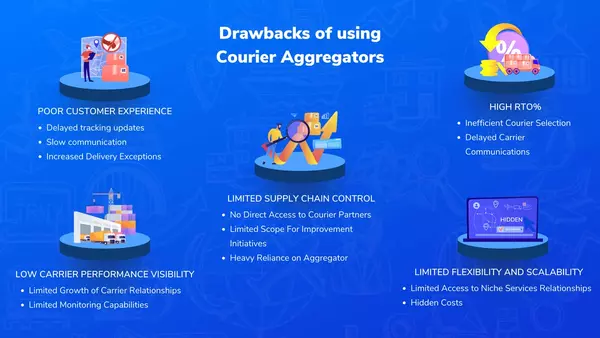 A) Poor Customer Experience
The first priority of any online business is to keep customers informed and satisfied with not only the product but the entire delivery process. Customers have been known to experience extreme buyer's remorse when delivery is delayed, or when they are unable to effectively track their order.
At the end of the day, even the most patient customer would lose their cool if they repeatedly received no answers to simple questions like "Where is my order?".
A.1) Delayed tracking updates
While aggregators do have integrations in place that allow them to take information from courier partner websites, they aren't equipped to notice when updates are being delayed. Without intimation from you, an aggregator wouldn't likely be aware of an order status that has remained static for a prolonged period of time.
A.2) Slow communication
Once you inform the aggregator that a customer has raised a WISMO (where-is-my-order) complaint against an order with a particular courier company, a new relay race is entered. This may well be one of the slowest relay races in existence.
The aggregator will then reach out to the carrier, and wait patiently for their response - while your customer grows increasingly impatient. It can take up to 2-3 days for couriers to respond to aggregators and for aggregators to accordingly update you.
A.3) Increased Delivery Exceptions
One very important part of reducing delivery exceptions is knowing why a delivery failed in the first place. A slow process like the one mentioned above can result in buyer's remorse and a high likelihood of cancellation.
In case an initial delivery attempt fails, information can be collected from the customer to ensure successful delivery in the next attempt. However, delayed communications can hinder this process immensely.
B) Limited Supply Chain Control
At the end of the day, you are answerable to your customers for any delayed or unsuccessful deliveries, or other difficulties that arise in the fulfillment process. But with an aggregator, your control over the supply chain reduces.
This consequently reduces your opportunities to make improvements to the system and gives you minimal control over customer experience. Aggregators also typically follow predetermined processes which limit the power you have with respect to your own operations.
B.1) No Direct Access to Courier Partners
Typically, you're unlikely to be constantly watching the status of each and every order. So when the status of an order is not updated, customers will reach out to you with queries and you can confirm the status with the respective courier partner.
However, when using an aggregator, you are provided no avenue for directly contacting the courier companies that are handling your orders.
B.2) Limited Scope For Improvement Initiatives
Now when you can't even speak to your courier partners, it makes it exceptionally difficult to make suggestions on how to deal with recurring issues. However, with a middleman handling all communications, such collaborations become impossible.
B.3) Heavy Reliance on Aggregator
It can sometimes feel like a blessing not to have to monitor each and every stage of the delivery process. However, the result is that the aggregator maintains full control over shipping rates, shipment tracking, and carrier communications.
So the longer you wait to take back the wheel, the more reliant you will be on an aggregator to operate.
C) Low Carrier Performance Visibility
How your courier partners are performing is a huge part of building brand loyalty and streamlining the service you provide. Repeated delivery failures or high RTO% can impact your bottom line.
Addressing specific causes for concern is vital to improving functionality. With aggregators, the scope for monitoring the performance of courier partners is limited. And a working relationship with courier partners is required to fix systemic problems.
C.1) Limited Growth of Carrier Relationships
Few relationships in this world can survive without communication and your relationship with a courier partner is no different. When every complaint, query or concern has to first go through the aggregator to reach a carrier, the final message conveyed can be similar to a game of Chinese whisper.
E-commerce businesses have very little opportunity to build and grow alongside their partnered courier companies and therefore maintain very little room for improvement
C.2) Limited Monitoring Capabilities
There are numerous important aspects to carrier performance that need to be regularly monitored, analyzed and addressed.
These include metrics such as RTO% in delivery orders, number of delivery exceptions, number of successful/unsuccessful deliveries following reattempts, causes for delivery failures, customer feedback and many others.
However, with aggregators, few of these parameters are tracked regularly and without a carrier relationship, there is no scope to track them in the future.
D) Limited Flexibility and Scalability
It's important to stay ahead of market trends and that goes doubly so for e-commerce, where customer satisfaction is so heavily linked to delivery services. Accordingly, you would want to be able to expand the reach of your courier partners, optimize their delivery mechanisms, and make use of specialized services like NDR management, Quality Checks, product insurance and many others. These specializations rarely come under the purview of an aggregator.
D.1) Limited Access to Niche Services
City A is a metro city with customers that frequently demand same-day and next-day deliveries. You also receive a high volume of orders from City B, a Tier 2 city, located in a region that isn't typically serviceable. This requires you to have access to 2 courier partners, 1 that can provide SDD and NDD to City A, and another that maintains serviceability to City B.
This may seem like an easy task, but aggregators typically aren't equipped to negotiate such specific terms and requirements with courier partners. In fact, many niche services like these are specifically provided by fringe carriers that prefer to operate independently.
D.2) Hidden Costs
While aggregators offer seemingly simple shipping rates, they maintain all power to negotiate with the courier partner. This also means that hidden charges and fees can be levied on you at a later date, as per the requirements of both the courier partners and the aggregator.
D.3) These costs can include:
Fuel surcharges, COD handling, NDR management, returns labor costs, handling fees, packaging charges, security or insurance, restocking fee, reverse logistics costs, government or customs fees, value-added taxes, later delivery penalties, invoice errors, profit margin/broker fee, increased rates.
E) High RTO%
One of the biggest problems faced by all e-commerce companies is a high RTO percentage. Once a delivery exception occurs, multiple attempts can be made to ensure the order is delivered successfully. However, time is of the essence in these cases to avoid bumping up your RTO%.

E.1) Inefficient Courier Selection
An aggregator's primary concern is to keep their costs low and your operations moving. When they select courier partners to tie up with, it is usually on the basis of cost, and not overall performance. So a carrier that offers lower rates is more likely to be selected than ones with low RTO numbers.
E.2) Delayed Carrier Communications
When you get wind of an NDR, the reaction has to be quick. First, you reach out to the customer to understand what happened. You would then find out another time to complete the delivery and get any corrected information as needed.
The next step would ideally be to pass the message on to the courier partner in question. However, with an aggregator, the message must first go to the middleman before being conveyed to the courier partner.
When Should E-Commerce Companies Directly Integrate With 3PLs?
Once-daily order volumes cross 100, the need to engage with courier partners directly becomes more imminent. It gives you the option of selecting your courier partners based on a wide range of parameters and to suit different needs.
Engaging directly with carriers allows you to address specific issues raised frequently by customers with each courier partner individually.
What are the Pros of Directly Reaching out to 3PLs?
Now that you're running with the big dogs, you've got to keep up with the competition. The best way to do that is by making sure you're using every advantage you can get. One courier partner may offer insurance for shipments while another offers a quicker remittance cycle.
Of the many services offered by 100+ shipping companies in India, you can choose which you need based on a wide range of parameters. And you can stay in close contact with your courier partners every step of the way. So you can have a bigger say in how your supply chain operates.
a) Access to Niche Services
Courier partners are not just here to deliver orders at cheap rates. They also need to make the experience as smooth as possible for customers. This could require different considerations.
Specialized services often come from niche courier partners. While aggregators tend to tie up with the most popular, it's the underdogs that typically step in to steal the show, offering services like:
COD services
Customized Packaging/Labels
Customized Pickup/Manifestation Process
Wider Reach
Security and Insurance
Selection of Vehicle
Express Delivery
Hyperlocal Delivery
Same Day/Next Day Delivery
Temperature-controlled transit
b) Greater Scope for Improvement
The essence of providing the most satisfying delivery experience to customers is to remember that there's always room for improvement. Once an order is marked as "out-for-delivery", there are numerous types of delivery exceptions that can occur.
You can combat increasing delivery failures and keep RTO numbers low, through careful monitoring of carriers and by pushing strategic initiatives.
Easier Performance Monitoring

Closer contact with carriers gives you a clearer understanding of their delivery mechanism. Because you maintain a close distance to them, you get a bird's eye view of their operations. You can therefore monitor their performance using more parameters.

Ability to Perform Root-Cause Analysis

Maintaining greater control over your supply chain allows you to look at the delivery performance of any courier partner side by side the goals you need to reach. Determining exactly why an error occurs repeatedly can help to ensure steps are taken to stop it from happening again.

Direct Intimation to Carriers

These steps can't be taken alone, however. It requires the active effort of both carriers and e-commerce companies to fix flaws in the system. Being able to reach out directly to courier companies to inform them of repeated issues saves time and effort. It also means you can address these problems quickly and take the help of experts and specialists in supply chain management.
c) More Room to Negotiate
In the inaugural words of John. F. Kennedy, "Let us never negotiate out of fear. But let us never fear to negotiate." We've established that business is all about the customer, and in the case of carriers, the customer is you.
So the first thing to remember when tying up with courier partners separately, is not to fear negotiating! Remember that as a growing company, now with a measurably large volume of orders, you have the power to dictate some, if not most terms.
C.1) Direct Contact
This is your first source of power. If you want to know the real details, they say it's best to go straight to the source. Directly reaching out to a courier partner lets you decide the exact terms of your arrangement. This gives you much more room to consider adding a variety of value-added services that would not have been available via an aggregator.
C.2) No Added Margin to Aggregators
Aggregators typically add a margin to the shipping rates provided to you. Directly tying with courier partners removes this margin and lets you create independent contracts. The more you have to trade with, the more willing others are to trade with you.
Approaching a carrier with the opportunity for them to fulfill a large volume gives you a huge advantage. You can leverage the potential rise in your volumes to get low rates for greater coverage and services.
What are the Cons of Directly Reaching out to 3PLs?
Directly contracting with carriers has a lot of fringe benefits that can help you push and shove your way to the front of the pack. However, juggling multiple courier partners comes with its own range of obstacles that have to be considered.
a) Difficulty Tracking Multi-Carrier Orders
This is one of the major difficulties that you'll encounter when you're directly tying up with multiple courier partners. Being able to track your orders is a supremely important part of the e-commerce process. Without being able to efficiently keep an eye on the movement and status of orders placed on a wide scale level, things can get pretty chaotic!
a.1) Separate Allocation of Orders
Once an order is placed, allocating and assigning a courier partner to fulfill that order doesn't seem like a big task. However, if you're tied up with 5 courier partners, each may be assigned anywhere between 20 to 50 orders per day, depending on their serviceability.
You'll be entirely dependent on customers and the courier partners to inform you of any delivery exceptions.
a.2) Independent Communications
Each carrier has to be reached out to separately in case of any issues with an order. While speed of communication may now be unhindered by a middleman, it is an inconvenient and time-consuming process to reach out to each carrier independently to deal with individual order issues.
Without making use of API integrations to reach out to them in a more streamlined manner, miscommunications can also occur.
b) Carrier Performances Monitored Separately
There's a major consequence to orders being tracked and managed with each carrier independently. The performance of each courier partner also has to be analyzed separately based entirely on inputs provided by each carrier. And whatever metrics and analytics you have resources for.
b.1) Separate Carrier Platforms
The biggest barrier to monitoring carrier performance is that each courier partner maintains separate websites or backends for tracking the status of orders. This means that the data required to monitor each carrier's performance has to be individually pulled by you from each carrier's respective website.
b.2) Different SLA Terms
Given the wide range of pin codes that you need to service and the variety of specialized services you'll make use of, each carrier demands separate focus from you. This goes doubly when it comes to creating SLA terms. Absolute clarity of your operations and necessities is required at this point.
While some terms may be standard, the advantages of working with different carriers can only be enjoyed when you negotiate the best terms. This means knowing what you want from each of them, be it access to remote areas, better product safety in transit, or discounted rates. A lack of preparation can result in more hidden costs and less utilization of necessary services.
c) Different Terminology Used by Carriers
When it comes to relationships, be them with your customers, your courier partners or your significant other, communication is key. All it takes is one misspoken word to completely ruin your dinner plans. Similarly, the entire delivery process for each order can be shaken with just a few misprints or alternate phrasing.
c.1) No Standardised Shipping Labels or Packaging
Customized shipping labels and packaging are a great way to raise brand loyalty and keep customers thinking about you. There's a reason why McDonald's puts its iconic giant yellow M everywhere it gets the opportunity, on every to-go bag and every burger wrapper.
A uniform process and template for shipping labels also reduces the likelihood of any possible confusion during transit. However, most courier companies maintain their own shipping labels so each customer receives a shipment with a different label, making them less likely to identify with your brand.
c.2) No Standardised Customer Communications
There's nothing more exciting for an online shopper than receiving a message that says their order is on the way. However, these messages are usually drafted by carriers who tend to use their own phrasing and language.
The same customer may end up placing an initial order that's delivered by Carrier A and then a second order delivered by Carrier B. This may be because he/she/they requested express delivery or some service which is only offered by Carrier B to that location.
Carrier A may say an order is first "dispatched", then "in-transit", then finally "on the way" to the customer. Carrier B, however, first says when the order has been "picked up", after which it is "on the way", and then finally "out for delivery".
The result is a very confusing barrage of messages that leaves the customer wondering what each message means and where their order actually is.
Making Use of a Logistics Intelligence Platform
Logistics intelligence platforms work to provide an easy-to-use interface for creating and managing orders. They make use of advanced technology to provide a uniform platform for easy integration with courier partners and storefronts. This enables order information to be pulled automatically at the time of manifestation and up until the completion of delivery.
They offer integrated platforms for unified tracking, which include built-in softwares for automating order status updates, sending updates to customers and managing exceptions. The goal of integration platforms is to use logistics intelligence to grant e-commerce companies full transparency and control over their supply chain while regularly pushing forward improvement initiatives to overcome both big and small challenges.
And the final goal for all involved is to not only create the best online shopping experience for customers, but also to deliver that experience consistently.
Examples of Logistics Intelligence Platforms
1) Narvar
2) MetaPack
3) ClickPost
What are the Key Benefits of using eCommerce Logistics Intelligence Platform?
With the targeted and specialized approach taken by intelligence platforms to improve the end-to-end logistics for e-commerce companies, it offers numerous benefits to online merchants, like:
a) Access to Advanced Tech
Integration platforms are fueled by market trends and driven by the latest technology available. They can serve many purposes, from automatic allocation of orders based on predetermined parameters to streamlining NDR receipts. Because the focus of an intelligence platform is software-based and not operations-based, the tech used is constantly evolving and updating to bridge any gaps found in the process of order tracking and carrier monitoring.
b) Tie Up With More Carriers
Picking out the right range of courier partners to keep your wide customer base happy is like creating a custom ice cream sundae, designed to suit the post specific taste buds. It requires a mix and match of different ingredients (read: carriers), some big and some small, to balance out the best flavors. An advanced recommendation engine that analyzes overall carrier performance alongside other parameters like dimensions and delivery destination can help you find that sweet spot.
c) Unified Tracking Platform
One of the biggest burdens of tying up with multiple courier partners is having to toggle between different backends and websites just to see where orders are. If you have 15 orders in transit spread out between 3 courier partners, keeping track of orders becomes a Herculean task. With a logistics intelligence platform, all ongoing orders with courier partners can be viewed in one place with up-to-date information.
d) Standardized Communication
Intelligence platforms make use of SMS and other messaging gateways to ensure communications to customers remain consistent. Using the same language with all your customers for every order cuts out any added confusion that may lead to escalations.
e) Greater Carrier Visibility
Each function can be viewed under a magnifying lens. You can also review the performance of courier partners separately to understand exactly what cogs in the machine need fixing.
f) Streamlined NDR Management
An efficient NDR management system requires information to be conveyed fast. This mandates the use of advanced tech that may be beyond the scope of a traditional aggregator.
An intelligence platform allows you to immediately reach out to a customer after an NDR has been filed to determine the cause. You can then reach out to the courier partner with the information collected to ensure the next delivery attempt is successfully completed.
FAQs about eCommerce Aggregators (Logistics, Couriers and Shipping Aggregator)
Here are the answers to some of the most Frequently Asked Questions about Shipping Aggregators.
Q: If I fulfill 200-300 orders per day, do I need a shipping aggregator?
A: No. If you are filling under 100 orders per day, a shipping aggregator can be helpful. However, for volumes large than 100, like 200-300, multiple courier partners grant you greater scope to fulfill orders efficiently.
Q: What services do courier aggregators provide?
A: Courier aggregators typically provide simplified integrated shipping services at low negotiable rates. They are tied up with multiple courier companies and provide a unified platform for creating and tracking orders across various courier partners.
Some aggregators may also offer express delivery and COD services, alongside a wide pin code reach.
Most are equipped to handle both end-to-end forward and reverse logistics, and few even provide quality checks for returning items.
Q: What is a courier management software
A: A courier management software is a platform that enables e-commerce companies to manifest orders across couriers, track shipments across couriers, monitor courier performance and identify supply chain exceptions.
Q: How to find a shipping aggregator in India?
A: Finding a shipping aggregator is a relatively easy process. A cursory Google search will give you a few options. However, finding the right courier aggregator is a different task. There are certain parameters that you must consider first, like number of courier partners, serviceability and remittance cycle. Here's an article we wrote on what you need to consider when selecting the best logistics aggregator.
Q: How to tie up with a logistics aggregator
A: Tying up with a logistics aggregator is not too different from tying up with a courier partner. You select the aggregator of your choice, pick the payment plan you prefer and then proceed with integrations as per their onboarding process.
Q: Will a logistics aggregator provide packaging facilities
A: While some logistics aggregators provide packaging facilities, like Ship Rocket and iThink Logistics, most only provide packaging as a separate and chargeable service. The packaging may also differ depending on the courier partner allocated to each order.
Q: Which is the best logistics aggregator in India
A: Determining the best logistics aggregator in India is like asking what the best flavor of ice cream is. It's largely based on preference, and given the serious nature of logistics, on need.
If the best aggregator for you is one that gives access to the largest number of courier partners, then Ship Rocket might be for you.
However, if your preference is an aggregator that can offer serviceability in remote locations, you may be more inclined to tying up with Pickrr.
ShipDroid is known for its accounts management services which makes billing easier.
For low prices and bulk shipping, Vamaship offers per shipment rates and no charge for platform usage, which makes it among the cheapest.
Q: Which is the cheapest logistics aggregator in India
A: Again, there's no single answer to this question because it is based on your needs, resources and volume orders. Let's take a look at a few major aggregators and their pricing arrangements.
Vamaship is often considered one of the cheaper options because they only take shipment fees and do not charge for use of the platform.
ShipDroid also charges per shipment and has no minimum volume requirements on the number of orders shipped every month.
Pickrr, on the other hand, charges different prices per shipment depending on the number of orders, with higher volumes bringing in a lower per shipment rate.
ShipYaari and ShipKaro both offer basic plans with no initial monthly fee, but offer less access to carriers and specific services.
High volumes of orders may push you toward Pickrr, low volumes to Ship Droid. A base need to fulfill a bare minimum number of orders may make ShipKaro or ShipYaari better options for the time being.
Q: Which ecommerce aggregator website is better: Shiprocket, Vamaship and Pickrr?
A: While ShipRocket currently takes the lead in the number of partnered carriers, Vamaship is a close second. And unlike ShipRocket, Vamaship offers QC (quality check) services for all return orders. Pickrr offers rates comparable to ShipRocket, but with the added benefit of serviceability to Tier 2 and Tier 3 cities.
Q: Which are international shipping aggregators in India
A: ShipYaari, ShipRocket, Vamaship and Ecourierz are logistics aggregators that provide international shipping services. Ecourierz especially is known for its safe and speedy overseas delivery.
Q: What is "logistics aggregators" meaning?
A: Logistics aggregators are companies that maintain relationships with reputed carriers for the purpose of providing e-commerce companies quick and easy access to shipping partners. The goal of an aggregator is to help online merchants stabilize their base delivery operations.
Q: How does a logistics aggregator calculate shipping rates?
A: Most logistics aggregators calculate rates based on two main metrics: volume of orders and average dimensions (size and weight) of each order. That's why most aggregators either offer monthly plans or per shipment rates, some of which are unconditional, and others which are based on the total volume of orders fulfilled every month.
Q: Which shipping aggregator provides COD coverage?
A: Shyplite, Ship Rocket, Vamaship, ShipKaro and Ship Droid all provide cash on delivery services.
Final Concluding Note
For smaller enterprises with an output of 3k orders a month, there are 10+ aggregators to choose from that give you access to 20-30 courier partners. The main advantage is the access to a unified tracking platform to maintain transparency with your orders. However, their tech applications remain rooted in operations and will not be equipped to improve overall functionality.
As volumes increase, greater transparency and development initiatives are required which tying with courier partners independently grants you. Logistics management softwares, like ClickPost and MetaPack, allow you to maintain your direct relationship with courier partners and make use of advanced tech that helps reduce delivery failures and RTO%.
Aggregators can help you get a leg up on growth, but they act as a buffer between you and your delivery mechanism. As an e-commerce company, your focus has to be on the future and taking control of your logistics operations.