1. Introduction to Shopify Shipping in Detail
What is the most crucial aspect of maintaining a sustainable eCommerce business? If you said, 'getting orders to customers successfully,' we agree with you 100%. Every Shopify entrepreneur asks themselves how to manage eCommerce shipping so customers are satisfied before starting an online business.
The answer lies in a well-thought-out shipping strategy. But it's easier said than done, right? You have to make a jumble of decisions even before the first order comes in. Figuring out which shipping services you need or which carriers you should ship with. Once you have an answer, the next question is if you should provide free or flat-rate shipping. The list goes on.
What if the answer to the complexities of shipping is a well-thought-out strategy and an excellent Shopify tool? Yes, we are talking about Shopify Shipping! The best Shopify apps can simplify many shipping processes for online stores. Shopify is pre-integrated with a couple of carriers that can make shipping a hassle-free activity.
You can check shipping rates and print labels from your home or office. Shopify also ensures that orders get shipped and delivered as soon as possible so that customers are always happy with your service. Shopify shipping is a brilliant way to cut down on unnecessary shipping costs while at the same time streamlining your entire shipping process.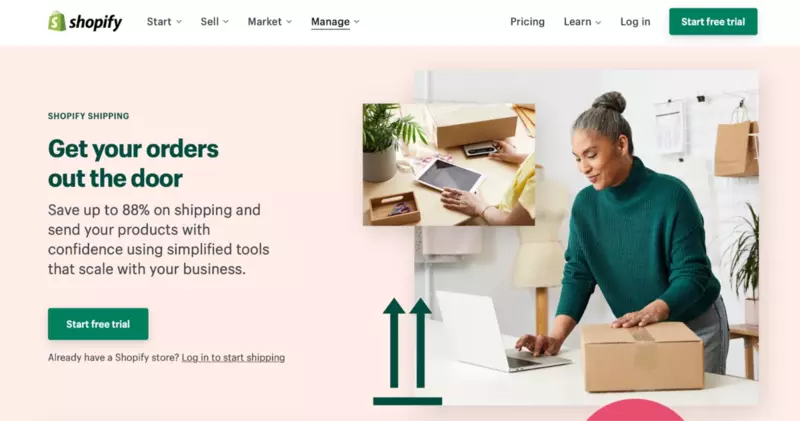 2. What is Shopify Shipping?
Shopify Shipping is a tool developed by Shopify to enable store owners to manage their shipping process with Shopify-integrated carriers. Shopify retailers in Australia, Canada, France, Italy, Spain, the U.S., and the U.K. Entrepreneurs can jumpstart shipping their orders straight from the Shopify platform.
Shopify shipping supports the following carriers: Canada Post, Chronopost, DHL Express, DPD, Evri, Sendle, USPS, UPS, and more. Ecommerce stores can easily connect their accounts with these carriers to avail discounted shipping rates, print shipping labels, and more.
To use Shopify's shipping services, you must create a Shopify account first. We say just go create a Shopify account because it's free!
With Shopify Shipping, you can ship within domestic borders and internationally. What is even great is that there is no downtime with it. There is no time spent onboarding because the shipping system is built into every user's Shopify account. So you can start shipping immediately!
3. How Does Shopify Shipping Work?
Shopify Shipping works by providing real-time shipping rates to online businesses and enabling them to buy and print labels. Included in the package is tracking shipments and fulfilling orders right from its built-in shipping feature.
Shopify shipping allows vendors to manage international orders from its platform, handling customs forms and other taxes and duties.
Moreover, shippers don't need to worry about paying for shipping costs right away. Shopify allows ecommerce businesses to pay for all their shipping with their monthly Shopify subscription fee.
Yes, Shopify does come free of cost but added features require extra pay. Therefore, if you have opted for any extra features on Shopify, you will pay for your shipping rates and your monthly fee.
4. How Many Carriers Does Shopify Shipping Support?
Previously, Shopify Shipping used to support five major carriers for shipping in the United States, Canada, and Australia. But they have extended their service to Europe. Now, retailers in the United Kingdom, France, Spain, and Italy can also enjoy the benefits of Shopify shipping!
The carriers are categorized according to the countries a business is located. In the U.S., you can ship with USPS, UPS, and DHL Express. And no, FedEx is not available. For Canadian retailers, you can rely on Canada Post, while for Australian business persons, it is Sendle.
If you are located in the United Kingdom, you can ship with Evri and DPD. For retailers in France, the choices are Colissimo, Mondial Relay, and Chronopost. Shopify is integrated with Poste Italiane in Italy and Correos in Spain.
While the carrier list may be a bit limited, there is a piece of good news. With Shopify Shipping, you can get a minimum of 20% to 50%, which can easily go up to a maximum of 88% discounted rates on shipping.
Depending on your chosen carrier, you can process the shipping rates well in advance. You can also display the shipping rates on your Shopify order processing page and the checkout window. This way, you maintain complete transparency with your customers on shipping costs and provide a better customer experience.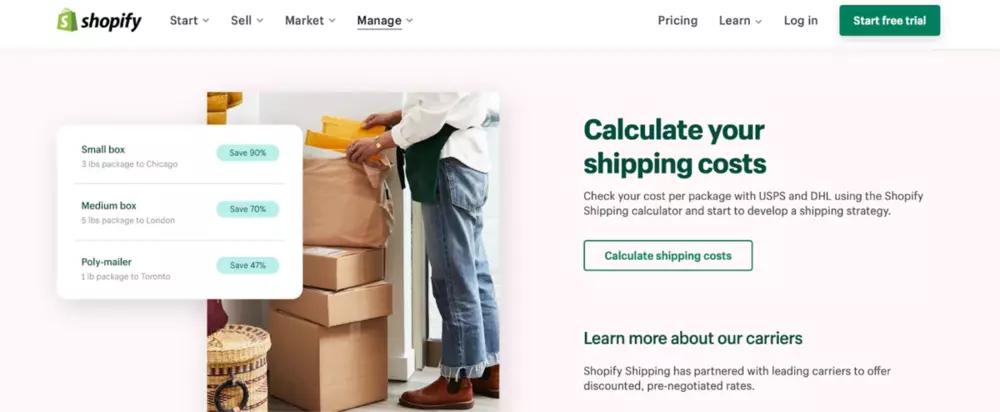 5. How Much Does Shopify Shipping Cost?
Shopify, by itself, is a completely free eCommerce platform. The only thing that changes with shipping is how much the individual carrier charges and your order's origin and delivery locations. One thing to note here is that you can only ship to and within the designated countries if you opt for Shopify Shipping.
Shopify Shipping is a great option if your target audience is in any of these locations. Also, before you ship, remember that every carrier has different shipping policies, delivery timings, rates, etc. So be sure to read through their services carefully before selecting one.
Let's look at the carriers Shopify Shipping partners with and their services!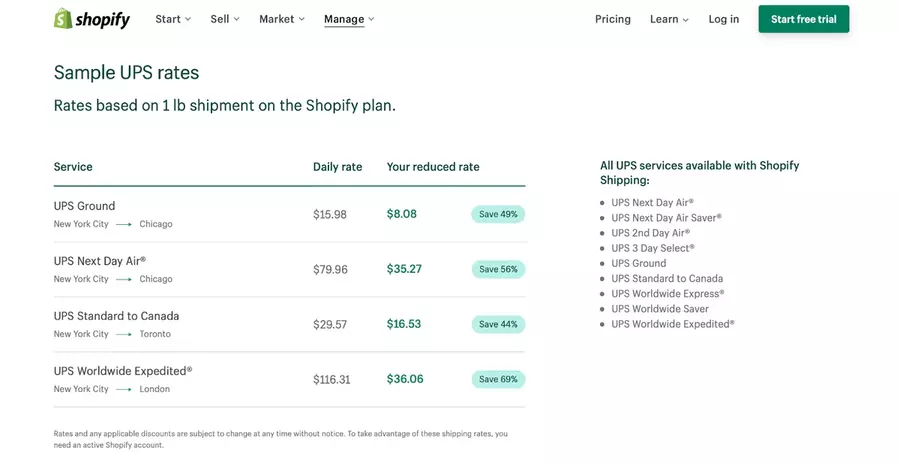 5.1) UPS Shopify Shipping Rates
UPS, or United Parcel Service, is a premium shipping and supply chain management company that partners with Shopify Shipping to provide the best domestic and international shipping to Shopify merchants.
UPS ships to 220+ countries in the world! With UPS, shippers get access to guaranteed delivery, insurance coverage of upto 100 USD, shipment weight of up to 150lbs, and real-time tracking updates. UPS is the ideal carrier for you if your company deals in heavy-weight shipments, like furniture, equipment, machinery, etc.
Domestic UPS Shipping
UPS Ground: 1-5 business days

UPS 3-Day Select: 3 business days

UPS 2nd Day Air: 2 business days

UPS Next Day Air Saver: Next business day by afternoon

UPS Next Day Air: Next business day

UPS Next Day Air Early: Next business day by morning
International UPS Shipping
UPS Standard (Canada & Mexico only): On estimated delivery date

UPS Worldwide Expedited: 2-5 business days

UPS Worldwide Saver (ships to 220 countries): 1-3 business days by the end of the day

UPS Worldwide Express (ships to 120 countries): 1-3 business days by morning.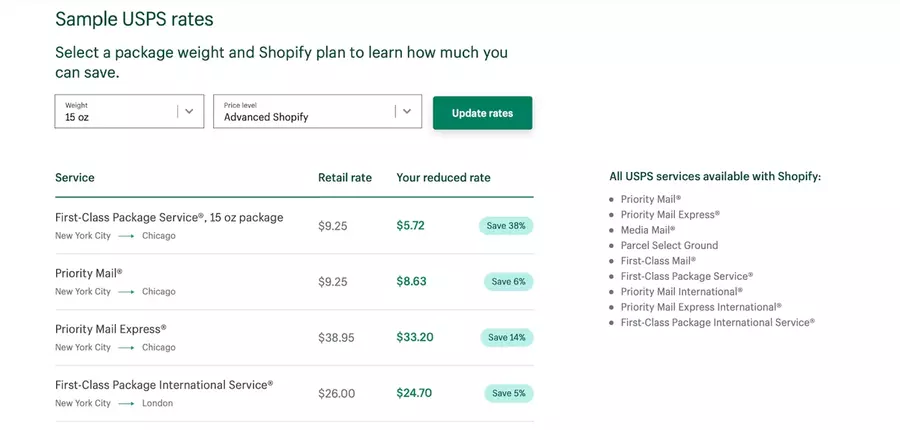 5.2) USPS Shopify Shipping Rates
USPS is the choicest carrier for shipping lightweight items. With Shopify Shipping, you can print USPS SCAN forms and shipping labels directly from Shopify and save yourself a lot of time. USPS can ship orders weighing upto a maximum of 70lbs. It does not charge for peak season delivery, holiday delivery, etc.
USPS can deliver domestic and international orders, but with Shopify Shipping, USPS only delivers to the continental US. You can track all your orders and provide tracking info to your customers. USPS is the most economical carrier of the lot and ideal for lightweight shipments.
USPS Domestic Shipping
Priority Mail: 1-3 business days

Priority Express Mail: 1-2 business days

First-Class Package Service: 2-3 business days

First Class Mail: 2-3 business days

Parcel Select Ground: 2-8 business days

Media Mail: 2-10 business days
USPS International Shipping
First Class Package International Service: Delivery times vary. This is the most affordable international shipping option.

Priority Mail International: 6-10 business days

Priority Mail Express International: 3-5 business days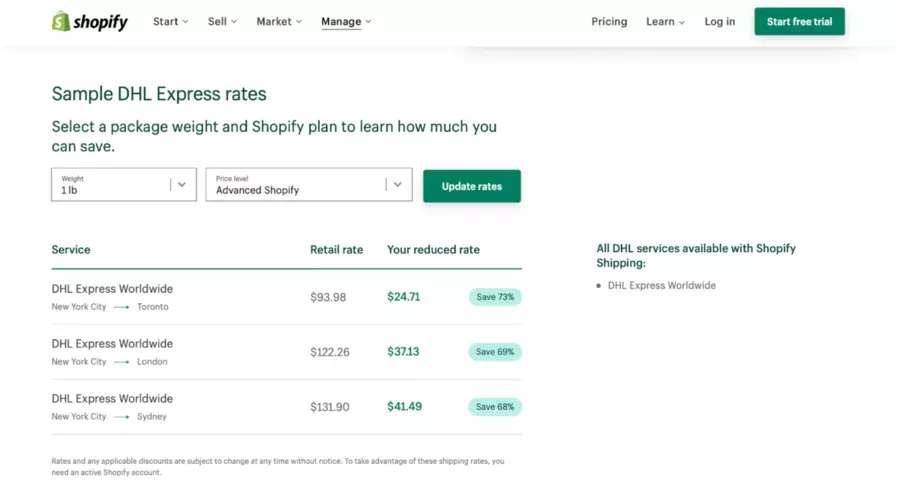 5.3) DHL Shopify Shipping Rates
DHL is one of the world's most renowned courier delivery and supply chain management companies. DHL has an extensive global delivery network, delivering heavy and lightweight shipments to over 220 countries.
DHL also gives its clients remarkable warehousing and inventory management services and is among the best Shopify inventory management apps. DHL offers only one of its services, DHL Express Worldwide, for Shopify Shipping. DHL Express Worldwide can provide time-sensitive deliveries worldwide within 2-5 business days, along with real-tracking updates.
5.4) Canada Post Shopify Shipping Rates
Canada Post is the best way to ship orders from or to Canada. It provides shipping services to over 190 countries worldwide and insurance on many of its services.
Canada Post Domestic Shipping
Expedited Parcel: 1-7 business days

Xpresspost: 1-2 business days

Priority: Next business day
Canada Post USA Shipping
Small Packet USA Air: 5-8 business days

Tracked Packet: 4-7 business days

Expedited Parcel: 4-7 business days

XpressPost: 2-3 business days
Canada Post Worldwide Shipping
Small Packet International Surface or Air: Air - 6-10 business days & Surface - 1-3 months

International Parcel Surface or Air: Air - 12+ business days & Surface - 1-3 months

Tracked Packet International: 6-10 business days

XpressPost International: 4-7 business days
5.5) Sendle Shopify Shipping Rates
Sending is a shipping platform that allows ecommerce businesses to ship orders domestically and internationally from Australia. It can provide insurance coverage upto 300 AUD. For any queries, Shopify users can send an email to Sendle Support mentioning Shopify in the subject line so that Sendle can assign a Shopify Shipping executive to handle your queries better.
6. Is Shopify Shipping the Right Choice for My Ecommerce Business?
If you run an ecommerce business anywhere in the United States, Canada or Australia, Shopify Shipping is the right choice for you. The best thing about Shopify Shipping is that you don't need to use any other shipping platforms or wait for onboarding. For Shopify users, Shopify brings all things ecommerce into a single platform.
Shopify is the platform where you can do everything at once! From managing your stores and tweaking designs or themes to handling orders. Printing shipping labels, finalizing carriers, and tracking deliveries are all easy.
By combining all aspects of ecommerce management in a single platform, Shopify shipping makes it undeniably easier for online entrepreneurs to spend less time managing shipping operations.
7. What are the Benefits of Shipping with Shopify?
Apart from the obvious upside that Shopify is completely free of cost and very easy to use, there are a few more notable advantages of using Shopify Shipping. Let's take a brief look at them below:
7.1) Ship with All Major Carriers
Shopify Shipping ties up with the biggest carriers in the US, Canada, and Australia. Through Shopify Shipping, you can ship orders with UPS, USPS, DHL, Canada Post, and Sendle.
7.2) Avail of Discounted Shipping Rates
Shopify Shipping can give ecommerce businesses shipping discounts of upto 88%. The general discount while shipping with USPS is anywhere between 20%-50%. Sendle, Canada Post, DHL, and UPS offer extremely lucrative discounts for Shopify users.
7.3) No Onboarding
Shopify Shipping is a built-in feature of the Shopify platform and allows users to start shipping orders immediately without any downtime.
7.4) Real-time Tracking
Track the orders you send out through Shopify Shipping and notify customers about their order locations at all times.
7.5) Shipping Label Printing
No need to wait at the post office to print shipping labels when you can print upto 20 shipping labels right from your Shopify home. Just connect your printer to the device you are using to access Shopify and print shipping labels.
7.6) Insurance on Shipping
Online businesses can avail of up to 5000 USD shipping insurance and even file claims easily from their Shopify account. Do check the terms and conditions to check which products can be covered under insurance.
7.7) Set Your Shipping Rate Calculation Method
Shopify Shipping allows online shippers to choose which shipping method they want to offer their customers. Ecommerce businesses can choose from free, discounted, flat rate, and calculated shipping methods.
Whichever method you choose, Shopify Shipping will display the shipping charges on the product page and the customer's checkout page.
The only thing to remember is that Shopify Shipping calculates shipping rates based on dimensional weight. You might face some weight discrepancies if there is a very big gap between your shipment size and weight.
8. How to Ship with Shopify?
So you've decided you want to ship with Shopify? Great! After making his choice, the first thing to do is select your carrier and figure out the destination you want to ship to. Next, fill in your address or fulfillment center address where the order will be picked up from.
The kind of shipping, free shipping, calculated shipping, and flat-rate shipping, is also something you should decide in advance. The choice you make is going to affect the shipping rates. Also, it's worth mentioning that the Shopify Plan you are on currently greatly influences the kind of shipping services and shipping rates you can provide your customers.
Once all that is done, choose the carrier mail class you want to ship with and print the shipping labels of your carrier from the Shopify platform.
Then, paste labels to the packages and drop them at the carrier office or schedule a pickup. Note that only UPS and DHL offer pickups for Shopify Shipping.
That's it. You've shipped your package through Shopify Shipping!
9. Final Conclusion
Running a successful ecommerce business requires the harmonious working of several aspects - manufacturing, procurement, designing, marketing, sales, shipping, order fulfillment, customer satisfaction, product returns management, business development, and so much more.
And to top it all off, there's almost no time to manage each of these aspects single-handedly. That's why ecommerce entrepreneurs should take all the help they can get.
Shopify Shipping is one platform that makes order fulfillment easy for entrepreneurs by taking the load off shipping. Since Shopify Shipping comes as an integrated suite for the Shopify platform itself, online business owners don't need to spend any time learning its workings. They can just dive right in and start shipping.
This is what all entrepreneurs want, am I right? We think Shopify Shipping is a nifty tool for businesses in the US, Canada, and Australia to offer excellent shipping solutions to their customers and benefit from amazing deals.
Here's our pick of the best Shopify apps in the United States!
10. FAQs on Shopify Shipping
1. How can I start shipping on Shopify?
Shipping on Shopify is really easy. Choose the order you want to deliver. Enter your shipment details and the selected carrier. Print your shipping labels. Attach shipping labels to the shipment. Drop off the shipment at your nearest carrier office or schedule a pickup (available with UPS and DHL only).
2. Does Shopify charge for shipping?
The cost you pay on shipping is determined by the carrier you choose and the discounted rates they offer. Shopify only charges a 2.2% commission on a sale. Everything else you pay includes shipping labels, the carrier mail class, and your chosen delivery option.
3. Is Shopify Shipping free?
Yes, Shopify Shipping is free to use for all Shopify users. It's a built-in feature of the Shopify platform itself. Shopify has various plans for ecommerce users looking to offer varied services to its customers.
Still, the Shopify Basic Plan is free of cost and also comes with Shopify Shipping. However, the shipping process itself is not free. When shipping, you need to buy shipping labels and pay for the shipping expenses of the carriers you work with.
4. How do I pay for Shopify Shipping?
You can pay for Shopify Shipping at the time of your monthly subscription. Shopify doesn't charge you at the time of shipping. Instead, it allows merchants to pay at once with their regular subscription fee.
5. Which carriers does Shopify Shipping support?
Shopify Shipping integrates with five carriers - USPS, UPS, DHL, Canada Post, and Sendle. With Shopify Shipping, you can deliver products in and around the US, Canada, and Australia.
6. How do I print a shipping label on Shopify?
On the Shopify platform, select your carrier and the mail class you want to ship with, enter the address, connect your printer to your computer and print your shipping labels from your home or office.
7. How to calculate shipping rates on Shopify Shipping?
Shopify Shipping has a shipping rate calculator right on its website. You can use the calculator to calculate shipping rates based on your Shopify plan, source and destination addresses, type of carrier, mail class, package dimension and size, and insurance.
8. Can I offer free shipping to customers in Shopify Shipping?
Yes. Shopify Shipping allows e-commerce users to provide free shipping to customers. For free shipping, shipping rates are precluded in the product price itself. Through Shopify Shipping, you can offer your customers flat-rate and calculated shipping.