Top 10 Logistics Companies in the World
The most comprehensive analysis of World Top Logistics Companies for eCommerce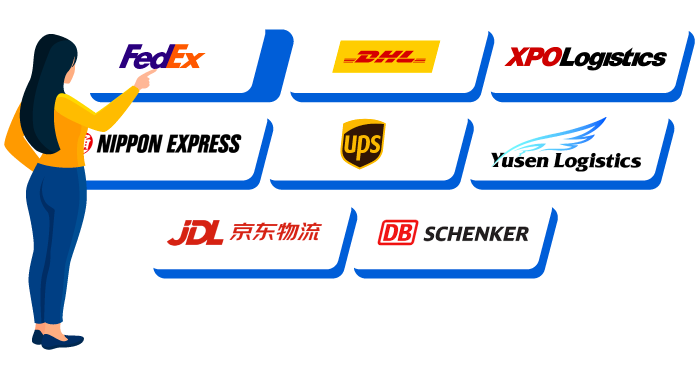 Logistics companies manage and execute the shipping and storage of commodities between the product's origin and the final delivery destination. Today the logistics sector has evolved into a high-value service with its well-configured resource management and innovative solutions. Moreover, top logistics companies have pushed the e-commerce market into high-profit margins with extensive supply chains and automation tools.
So, premium logistics service providers have been roped in by e-commerce companies globally to maximize order fulfillment. As a result, the global market value of the logistics industry has risen drastically, estimated at 12 trillion dollars. The Asia Pacific logistics market contributed up to 4 trillion USD, leading the industry, followed by the USA (2 trillion USD) and Europe(1.6 trillion USD). Furthermore, considering the extensive research and reports from 5 industry leaders and 20 independent studies, we have compiled a listicle of the best logistics companies in the world.
Top logistics service providers help businesses refine post-purchase customer experience to attract more buyers. Therefore, logistics service providers have become fundamental to the growth of online ventures. So, here is the listicle of top logistics service providers globally with no specific order.
2.1) FedEx
It is a globally recognized logistics service provider with a robust supply chain network. FedEx lets you manage up to 20000 active shipments on a customized dashboard.
| | |
| --- | --- |
| Parameters | |
| Founded | |
| Headquarters | |
| Services | Express freight, International shipping, and Industry-specific solutions |
| Industries catered to | Aerospace, Healthcare, Business, and e-commerce. |
Features:
Regarding packaging, you can find flexible and user-friendly solutions with FedEx.

With a proactive order tracking facility on the mobile app, this logistics provider offers dependable post-purchase customer service with timely shipment status notification.

FedEx manager enables you to optimize pick-up services, including rescheduling or redirecting delivery according to your convenience.

They have specialized packaging for goods like lithium batteries and deliver expertise in shipping dangerous goods like toxic gas and chemicals.
2.2) DHL
DHL is a sought-after logistics service provider globally. It has consistently moved towards high productivity with innovation and complete digitization.
| | |
| --- | --- |
| Parameters | |
| Founded | |
| Headquarters | |
| Services | Integrated logistics, Warehousing and fulfillment, Transportation, Distribution, Contract logistics, Consulting, and management. |
| Industries catered to | Manufacturing, Chemicals, Healthcare, Auto-mobility, Energy, Manufacturing, Engineering, Retail, Consumer, and Public sector. |
Features:
DHL specializes in shipping and distribution, domestic or international, supported by state-of-the-art warehouses.

Their supply chain is integrated with security and safety protocols to maintain the integrity of their operations.

DHL is a company focused on providing a comprehensive experience for its customers at economical pricing.
2.3) XPO Logistics
XPO Logistics is a well-recognized logistics company with an expansive network of 756 service locations and 42,000 employees globally.
| | |
| --- | --- |
| Parameters | |
| Founded | |
| Headquarters | Greenwich, Connecticut, United States |
| Services | Freight transportation, Last-mile delivery, and Line-haul transportation |
| Industries catered to | Manufacturing, Chemicals, Healthcare, Auto-mobility, Energy, Manufacturing, Engineering, Retail, Consumer, and Public sector. |
Features:
XPO Logistics has up its sleeve one of the largest networks of drivers, trucks, and terminals in the logistics industry.

They provide end-to-end digital visibility for their shippers with proactive order-tracking solutions.

Their services offer a seamless experience with full automation capabilities and dynamic rerouting on all pick-up/delivery of orders.

They also provide data-driven analytics to optimize pricing and maximize productivity levels.
2.4) Nippon Express
It is one of the most relied-upon shipping service providers with an extensive supply chain network in 48 countries, facilitating over 21,000 employees worldwide.
| | |
| --- | --- |
| Parameters | |
| Founded | |
| Headquarters | |
| Services | Contract logistics, Shipping, and Cross-border services |
| Industries catered to | Healthcare, Automotive, Aerospace, Pharmaceuticals, SMBs, High-growth sectors, and International markets. |
Features:
Nippon Express offers strategic operations for international shipping with specialized solutions.

This shipping company has 5 million sq ft of warehouse space globally for broad distribution and reach.

They can handle any range of cargo supported by a premium heavy haulage and construction service that moves up to 3 million tonnes.
2.5) UPS
UPS or United Parcel Service is a multinational shipping company that offers innovative supply solutions with 540,000 employees across 220 countries.
| | |
| --- | --- |
| Parameters | |
| Founded | |
| Headquarters | Sandy Springs, Georgia, United States. |
| Services | Contract logistics, Shipping, and Cross-border services |
| Industries catered to | Healthcare, SMBs, High-growth sectors and International markets. |
Features:
The quantum view app by UPS provides an accurate order tracking system that makes it easy to manage inbound and outbound deliveries for large enterprises.

Their diverse expertise in handling different languages and time zones across multiple carriers provides hassle-free operations.

Delivering 24 million daily shipments worldwide, the UPS Traceability app offers an organized interface for customs clearance, making overseas freight quick and straightforward.
2.6) Yusen Logistics
It is another well-known logistics company with more than a hundred years of experience. They employ 24,500 in 500 locations across 45 countries worldwide.
| | |
| --- | --- |
| Parameters | |
| Founded | |
| Headquarters | |
| Services | Freight forwarding, Contract logistics warehouse solutions, and Customs brokerage. |
| Industries catered to | Healthcare, Electronics, Aerospace Industries, and Food packaged products. |
Features:
Yusen Logistics ensures the security and integrity of their supply chain by utilizing high-quality infrastructure and temperature-controlled systems.

They offer security and quality checks at both inbound/outbound points.

Moreover, Yusen logistics matches global excellence by providing reliable customs clearance for international shipping
2.7) JD Logistics
It is a logistics service provider and a trucking company specializing in shipping solutions with asset-based LTL service and a supply chain division.
| | |
| --- | --- |
| Parameters | |
| Founded | |
| Headquarters | |
| Services | Freight forwarding, Land transportation, Contract logistics, Lead logistics, and unique products. |
| Industries catered to | Aerospace, Automotive, Healthcare, Fashion, Marine, Perishables, |
Features:
They offer safe and economical shipping for products, especially those requiring customized solutions.

With JD Logistics, products can be shipped Door to door with locations spread across America, Canada, and Mexico.

Their fleet of flatbeds with sliding trap systems keeps your freight protected.

They also provide airport-to-airport and port-to-port services and a specialized hauling department with intermodal rail operations. Such features add flexibility to the supply chain network.
2.8) DB Schenker
DB Schenker is a top-of-the-mill global logistic service provider founded in 2007. They offer customized services proper from packaging and shipment to delivery.
| | |
| --- | --- |
| | |
| | |
| | |
| | Freight forwarding, Land transportation, Contract logistics, Lead logistics, and special products. |
| | Aerospace, Automotive, Healthcare, Fashion, Marine, Perishables, |
Features:
It offers temperature-controlled warehouses and a well-equipped fleet of transport with specialized packaging and delivery services.

DB Schenker provides end-to-end logistics solutions with comprehensive after-sales services.

eSchenker, a real-time tracking system, maximizes visibility on the shipment process and data in one portal, allowing you to stay on top of your shipment process.
2.9)

Ryder Supply chain
Ryder Supply chain solutions, with an experience of 90 years under its belt, provides flexible and efficient end-to-end logistics solutions.
| | |
| --- | --- |
| Parameters | |
| Founded | |
| Headquarters | |
| Services | Trucking, Truck lease, warehousing, and distribution. |
| Industries catered to | Food and beverage, Healthcare, Automotive, Industrial, Retail, Consumer, and Technology. |
Features:
The Rydership supply chain employs automation tools like robotics, drones, and sensors to manage warehousing efficiently. It offers a Rydership app that assists you in maintaining freight

with cutting-edge tools to manage shipment visibility, reports, and analysis.

It provides reliable maintenance for the truck lease required for your business, along with 800 service locations.

This shipping company has three levels of maintenance. At the Rydershop, mobile and on-site, depending on the type of fleet you lease and your business requirements.
2.10)

Schneider logistics
Schneider logistics is an established company with 85 plus years of experience, which started with a single truck. They put forward creative, tech-backed, and customer-oriented supply chain models.
| | |
| --- | --- |
| Parameters | |
| Founded | |
| Headquarters | |
| Services | Shipping services, Warehousing, distribution, Port-drayage and International shipping. |
| Industries catered to | Chemical, Manufacturing, Agriculture, Food and beverage, Healthcare, Automotive, Industrial, Retail, Consumer and Technology. |
Features:
Schneider offers TMS (Transport management system) for full time shipping visibility and predictive analysis on all your supply chains.

It offers Schneider freight power, a mobile app to manage on the go all your freight with GPS tracking, load recommendations and brokerage costs.

With Schneider you can expedite your shipments with full-time visibility and multi-layered security practices.
2.11)

J.B.Hunt Transportation
It is a Fortune 500 company with a legacy of 60 years in the industry providing innovative and efficient logistics services. The company employs around 30,000 people and operates 12,000 trucks.
| | |
| --- | --- |
| Parameters | |
| Founded | |
| Headquarters | |
| Services | Final mile service, Trucking, Contract service, and Fulfillment services |
| Industries catered to | Small business and Enterprise supply chain. |
Features:
J.B.Hunt offers specialized shipments and economical prices for LTL, Intermodal and Truckload services be it small scale or large enterprises.

With J.B.Hunt, you can streamline shipping operations with state-of-the-art automation, customizations, and cross-dock solutions.

They provide home, job-site and B2B delivery services with expertise and relevant assembly services.
2.12)

C.H.Robinson
It is a global leader in providing supply chain solutions and 3PL partnerships. C.H.Robinson has a management system built with 73,000 contract carriers delivering 19 million shipments annually.
| | |
| --- | --- |
| Parameters | |
| Founded | |
| Headquarters | Eden Prairie, Minnesota, US |
| Services | Freight services, Warehousing and fulfillment, Transportation, Distribution, Overseas shipments, Supply chain consulting, and management. |
| Industries catered to | Manufacturing, Chemicals, Healthcare, Auto-mobility, Energy, Engineering, Retail, Floral, and Perishables. |
Features:
It offers Navishpere technology with numerous channels to TMS (Transportation management system). These channels help maximize savings and improve efficiency with real-time market rates.

C.H.Robinson provides a real-time tracking system for shipment visibility and inventory management.

This logistics service provider can access various operation reports and data analyses. They will help reduce waste, increase productivity and identify savings for improving your supply chain.
2.13)

Kuehne+Nagel
Kuehne+Nagel is a German supply chain and global logistics company providing ecommerce shipping and fulfillment services to 106 nations worldwide. It is one of the best logistics companies in the world for freight shipping services.
| | |
| --- | --- |
| Parameters | |
| Founded | |
| Headquarters | |
| Services | Freight forwarding, Warehousing, and Distribution, Order Management, Ecommerce Logistics |
| Industries catered to | Automotive, Healthcare, Aerospace, Consumer logistics, Industrial shipping |
Features:
It provides a suite of e-commerce logistics services under its feature KN Omnichain. Kuehne+Nagel oversees customs clearance and packaging for all e-commerce orders.

Kuehne+Nagel is unparalleled in sea freight forwarding. It uses specialized shipping containers for heavy/bulk orders and provides 100% shipment visibility in-transit.

It can improve supply chain performance for international e-commerce companies with correct order arrival predictions. KN's technology platform maintains real-time inventory status for the highest customer satisfaction levels.
2.14)

Royal Mail
Royal Mail is one of the UK's fastest and most popular logistics companies. It is a government-appointed parcel delivery service that guarantees timely domestic and international deliveries. Every Royal Mail package comes with a return label making it easier for customers to return items.
| | |
| --- | --- |
| Parameters | |
| Founded | |
| Headquarters | |
| Services | Parcel Delivery, Mail service, Postage and Stamps, Same-Day and Next-Day delivery, International shipping, Online Tracking, and Returns management. |
| Industries catered to | Individuals, Ecommerce businesses, Healthcare, and Pharma. |
Features:
Royal Mail provides Guaranteed Next-Day by 9 am or 1 pm domestic courier services. All orders can be tracked in real-time and have a money-back guarantee if not delivered within limits.

Ecommerce companies can use Royal Mail's International Tracked and Signed service to send shipments within Europe (3-5 days) or the world (5-7 days). They offer Proof of Delivery on successful order fulfillment, free returns in the case of failed orders, and insurance coverage of 50 euros.





Online stores can also utilize Royal Mail's services for reverse logistics. Customers can book their returns from the Royal Mail website or ask sellers to do so. They can drop off the returned item at their nearest post office or opt for home collection.
2.15)

USPS (United States Postal Service)
USPS is the national postal service provider of the United States. It operates over 31,000 post offices across the country and delivers mail to more than 150 million addresses. The USPS also offers services beyond basic mail delivery, including package delivery, money orders, and passport applications.
| | |
| --- | --- |
| Parameters | United States Postal Service |
| Founded | |
| Headquarters | |
| Services | Mail delivery, Packaging, Expedited Shipping, International Delivery, Ecommerce logistics, Online tracking, Pickup and Drop. |
| Industries catered to | Individuals, Healthcare, Fisheries, Postal service |
Features:
The USPS delivers parcels and Express Mail on behalf of other carriers, such as FedEx and UPS. In addition, the USPS operates post office locations where customers can buy stamps, ship packages, and rent PO boxes.

USPS provides free shipping for packages that weigh less than 13 ounces. This makes it a great option for small items that need to be shipped quickly and cheaply.

USPS offers real-time tracking for all packages, so you can always know where your package is and when it will arrive. And for those concerned about lost or stolen packages, USPS also offers insurance for an additional fee.
3.1) Choice of Logistics Partner
When considering the impact of post-purchase customer experience on consumers, we need to understand the importance of logistics partners. With an efficient logistics company, your business can be built on seamless operations. In that case, selecting well-oiled logistics companies is paramount for your business.
Moreover, shipping companies with a fluid 3PL network will reduce or negate friction in the supply chain, directly influencing customers' loyalty. Top Logistics partners can offer tailor-made solutions that your business demands. And features like specialized shipments and returns management will attract and retain a wide range of customers.
3.2) Serviceability of logistics company
Serviceability is a critical factor in establishing your online business. It determines how many regions an e-commerce company can service and what quantity of orders it can handle.
So, with better reach, online companies can expand to multiple areas and attract a comprehensive range of customers.
Top logistics companies can handle orders of any bandwidth, be it international, domestic, or remote locations. However, online ventures should also know precisely the regions they cater to and select the right logistics partner for their operations.
3.3) Improving the courier selection process and managing shipping costs
If you're an ecommerce business, you know that shipping costs can quickly add up. Not only do you have to factor in the cost of shipping products to customers, but you also need to account for the time and manpower required.
Unfortunately, many businesses don't realize how high shipping costs can be. Not only do the costs have to be managed, but they also have to be pre-negotiated with carriers so that the business can get the best rates possible. Shipping rates will be based on your shipments' frequency, volume, and type.
3.4) Warehousing and inventory management
Warehouse and inventory solutions are the glue that holds supply chain operations together. With many diverse commodities moving through the logistics services system, it's crucial to provide relevant storage facilities. Warehousing and distribution require temperature-controlled systems and accurate inventory management.
These logistics solutions will keep end-to-end supply chain operations running seamlessly. Moreover, 24/7 security and quality checks at various inbound and outbound points maintain the integrity of the supply chain operations.
3.5) Order tracking and transport
Logistics service providers utilize technology and skillful human resources in managing a wide range of shipping mechanisms. As a result, today, top logistics companies have delivered proactive supply chain solutions. That includes factors like a well-equipped fleet of transport and accurate tracking systems consistently delivering reliable services.
Moreover, these tracking systems offer accurate real-time shipment visibility for customers with timely notifications. Furthermore, seamless transportation requires human resources adept at handling modern tech. So, accurate tracking and secure transport are crucial for an online business to deliver a satisfying customer experience.
3.6) Delivery services
For ecommerce businesses, delivering orders to customers as quickly as possible is essential for maintaining a high level of customer satisfaction. This has led to the development of a number of specialized delivery services like express, same day, next day, and hyperlocal. These delivery expectations have now become the norm. Businesses that don't offer them may find themselves at a disadvantage. Moreover, Businesses can extend their services further by offering customers delivery optimizations.
That includes rescheduling the date and time and changing the location to suit the customer's convenience. As a result, businesses can attract more customers and reduce a lot of failed deliveries.
3.7) Last-mile delivery exceptions
The last-mile delivery service is the phase of operations between the last transit hub and the final delivery destination in the supply chain. And delivery exceptions can occur during this phase due to delayed shipments, stuck shipments, and failed delivery attempts.
Failed delivery can be because of an incorrect address, unavailability of a customer, or inaccurate contact information. These exceptions must be proactively resolved to manage RTOs or Return to origin. In turn, these resolutions effectively help maintain the reputation of your business and provide a satisfactory customer experience.
3.8) Reverse logistics
The option for returning products is crucial in attracting customers and maintaining brand loyalty. Return and exchange processes management is considered reverse logistics or returns management. In reverse logistics, the products are sent back into the supply chain to their origin warehouse.
There the products will await reselling, exchange or refund. Moreover, this process also requires specific return shipping policies with a quick reimbursement and exchange system. If not done competently, reverse logistics can create unnecessary expenditures. So, a well-managed returns system avoids unnecessary costs or delays. Therefore, top logistics companies constantly update their tech to maintain an efficient reverse logistics system.
3.9) Automated order manifestation and tracking
As soon as the business receives the order, it is manifested by creating an order on the logistics service provider's platform. After which, AWBs are generated to initiate the shipping process. And automated tools help businesses manage order manifestation and expedite the order dispatch process. AWBs can be generated hassle-free with top shipping companies, simplifying picking, packing, and delivery.
API integration with automation tools provides a single handle to refine the manifestation process reducing manual efforts and inaccuracies. That makes API integrations a prominent tool in many software. For instance, logistics intelligence software like ClickPost offers an expert automation system for the order manifestation. Furthermore, ClickPost also utilizes dual API integration for the push and pull method to receive real-time order tracking data and push notifications to customers for end-to-end visibility.
3.10) Identification and Management of Delivery Exceptions
SLA is the foundation of partnerships between business ventures and logistics companies. Around 50% of SLA breaches go unnoticed without the assistance of technology, resulting in unnecessary and unknown costs.
So, monitoring these breaches across all carriers becomes simplified with Tracking API integrations and a GPS-enabled tracking system. Such tech integrations empower your business to proactively correct and manage all delivery exceptions.
3.11) Insurance Policy
An insurance policy is a good fallback plan if shipments go wrong. And there is high frequency and depth in shipping operations today. As a result, commodities can go lost, damaged, or missing accidentally, or the logistics company can also be at fault. Therefore, logistics companies should provide a good insurance plan or limited liability compensation for tackling such situations.
3.12) Customer Service
The logistics industry is one of the most competitive in today's business world. To stay ahead, it needs to offer top-notch customer service matched only by its after-sales support network - behind all your products and services from order confirmation up until they're delivered! Moreover, automated customer support with the help of chatbots can empower customers to initiate reverse logistics and optimize pick-up and delivery services. And it will also reduce WISMO calls substantially.
Suppose you're a business owner who relies solely on the shipping and courier industry to get your products from point A to B. In that case, you must select logistics companies that utilize contemporary technology with advanced automated tools. Moreover, logistics services can make or break your online business. The last thing you want is an outdated logistics system to cause delays in getting customer orders filled and delivered.
Such situations lead to lost sales opportunities and decreased revenue. Therefore, consider partnering with a shipping and courier company that provides multiple resources under one roof. They include cutting-edge automation tools such as machine learning algorithms, predictive analytics, artificial intelligence, and predictive delivery date algorithms. So let this article guide you to understand the features and benefits provided by the top logistics companies in the world to manage your online venture.
5.1) Which is the cheapest logistics company in the world for e-commerce shipping?
The cheapest logistics company for e-commerce orders is USPS. However, online stores must consider the weight and destination of their shipments before selecting USPS.
5.2) Which are the top e-commerce logistics companies in the world?
The best e-commerce courier companies in the world are FedEx, UPS, DHL, and DB Schenker.