1) An Overview of Shipment Tracking
In the age of e-commerce, shipped packages often crisscross the globe before arriving at their final destination. While this can be a complex and time-consuming process, modern logistics technology has made it easier to track a shipment from start to finish.
Since excellent customer experience is key to a successful ecommerce business, shipment tracking has become an essential service. Thanks to tracking numbers, customers can see exactly where their package is at any given moment. They can also receive updates on expected delivery times to ensure they'll be home to receive their package.
This blog discusses the A to Z of shipment tracking, from the different tracking methods and APIs to the benefits and best practices of shipment tracking. Let's dive in!
2) What is Shipment Tracking and How Does it Work?
Shipment tracking is a process that allows businesses and individuals to track the progress of their shipments as they move through the supply chain. There are several ways to track a shipment, but the most common method is using a tracking ID or AWB (Airway bill). This number is assigned to the shipment by the carrier and can be used to track the shipment online. Tracking IDs can also be used to track shipments by phone or through a mobile app.
Most shipping carriers use GPS tracking to provide real-time updates on the location of shipments. The tracking information is transmitted to a central database where authorized users can access it and further relayed to customers through email, SMS, and WhatsApp updates.
By providing customers with up-to-date information on the location of their packages, shipment tracking helps to ensure that items are delivered on time. It also provides a valuable service for businesses, helping to ensure that inventory levels are maintained, and that customer orders are fulfilled.
3) What is a Shipment Tracking API?
Shipment tracking APIs can help businesses streamline their shipping and delivery operations. A shipment tracking API is a set of programming instructions that allow shipping software to communicate with a shipment tracking system. With a tracking API, businesses can add shipment tracking functionality to their website or app, allowing your customers to track their shipments at every step. A good tracking API will provide real-time updates on a shipment's status and up-to-date information on its location.
4) Different Shipment Tracking Systems in the eCommerce Industry
In ecommerce, two main shipment tracking systems are available to help businesses keep track of their cargo moving from one location to another. Each has its own set of benefits and drawbacks. It can be tough to decide which system suits your needs, but understanding the different tracking systems available will make the decision easier. Let's take a look at the most common types of shipment tracking systems!
4.1) Intermodal Shipment Tracking
Intermodal shipment tracking is the process of tracking shipments that move between different modes of transportation. This includes goods that move by truck, rail, plane, or ship. In intermodal shipping, goods packed in shipping containers reach their destination without being handled in transit. Shipping carriers like FedEx, UPS, USPS, and others use intermodal shipping by tying up with various transportation providers. It's one of the best ways to reduce fuel costs, provide timely delivery updates, and avoid unnecessary custom duties.
4.2) Multimodal Shipment Tracking
Multimodal shipment tracking is also an order tracking system where shipments pass through various modes of transportation before reaching the end customer. However, unlike intermodal shipping, in the multimodal approach, the shipping of products from the sender to the receiver is carried out under a single contract. Multimodal shipment tracking is mainly used by ecommerce companies who relegate their shipping operations to 3PLs, courier services, or shipping software. These third-party logistics providers partner with distributors and monitor the entire delivery process.
5) The 5 Steps of Shipment Tracking
By understanding the different steps of shipment tracking, you can identify where in the process potential problems may occur and take corrective action before it affects your bottom line. The section below outlines the steps of shipment tracking and explains what each means for your business. Stay tuned!
5.1) Creating AWB numbers and generating shipping labels
Before a shipment can leave the warehouse or the seller, a few steps must be completed. First, an AWB (airway bill) number must be generated. This unique identifier, which looks like a set of vertical lines of varying width, is used to track the shipment as it makes its way to the destination. Next, a shipping label must be created. This label must include the seller's/buyer's address, package contents, item measurements, carrier details, and AWB number. Once these two items have been generated, the shipment is ready for the next step.
5.2) Barcode Scanning
One of the critical steps in shipment tracking is barcode scanning. Before a package is shipped, a barcode is affixed to it. This barcode contains information about what's inside, sender/recipient details, and destination. As the package progresses through the shipping process, its location is updated in the system each time it is scanned. This allows customers to track the progress of their shipments in real-time. Barcode scanning is also crucial in ascertaining that products don't get lost, damaged, or delayed in transit.
5.3) Storing the Scanned Data
When tracking a shipment, storing the scanned data in a secure location is important. Several options for storing this data include online databases and cloud-based storage services. The best way to ensure that the data is adequately protected is to work with a reputable shipment tracking software that offers secure data storage options.
5.4) Scanning At Each Milestone
Data plays a vital role in shipment tracking, as it allows businesses to keep track of their inventory and ensure that orders are being fulfilled correctly. This step of shipment tracking involves storing detailed information about each scan made during the shipping process. This data can include the time and date of the scan, the location of the scan, the type of scan (e.g., barcode, QR code, RFID), and the data associated with the scan (e.g., order number, product ID). By storing this data, businesses can have a complete record of their shipments, use it to improve their shipping process, and offer live tracking updates to customers.
5.5) Last-Mile Delivery
The last mile delivery step in shipment tracking refers to the final leg of the journey when the package is delivered to its destination. This is often the most difficult, time-consuming, and expensive part of the delivery cycle. However, it is also an essential step, representing the moment when the customer finally receives their purchase. For this reason, businesses must focus on ensuring that their last-mile delivery process is efficient and reliable. Doing so can provide their customers with the best possible experience and ensure that their shipments arrive safely and on time.
5.6) Confirmed Delivery to End Customer
The confirmed delivery is the last step in ensuring that your shipment has reached its final destination. For ecommerce customer deliveries, a digital signature is often obtained as Proof of Delivery (POD). In the case of orders coming from distributors or manufacturers, the receiver issues a Bill of Lading (BoL) or Goods Receipt Note (GRN). Once delivery is confirmed, the tracking information is updated to reflect the delivery status.
6) 5 Key benefits of shipment tracking for businesses and consumers alike?
By tracking the location of a package from the moment it leaves the warehouse to the moment it arrives at its destination, businesses can ensure that their products are delivered on time and in perfect condition. For consumers, shipment tracking provides peace of mind, allowing them to see when their purchase will arrive. Let's delve into the top benefits of shipment tracking for customers and businesses.
6.1) Enhanced Customer Experience
Satisfied customers are the backbone of any successful business, which starts with providing a hassle-free shipment experience. By allowing customers to track their packages, ecommerce businesses can give them peace of mind and reassurance. This information can be easily conveyed through automated shipping and order status notifications sent to customers at every milestone.
6.2) Prevent Shipment Disruptions
Having up-to-date tracking information for your shipments is essential for preventing disruptions. By knowing the location of your shipments at all times, you can proactively plan for delays and ensure that your goods arrive at their destination on time. Shipment tracking also allows you to quickly resolve any issues that may arise during transit, such as damaged or lost items. In addition, tracking information can be used to provide proof of delivery in a dispute.
6.3) Lower Logistics Cost
By tracking shipments, businesses can gain valuable insights into their supply chain and make adjustments to improve efficiency and reduce costs. For example, if a company notices frequent delays with a shipping carrier or a route, it can take the necessary steps to rectify the problem.
In addition, by tracking shipments, businesses can also identify opportunities for cost savings, such as consolidating orders to reduce transportation costs.
6.4) Efficient Shipping
Shipment tracking is a big part of efficient shipping. By keeping track of order delivery, ecommerce companies can stay updated about their supply chain operations. It also provides detailed, actionable insights into the areas of improvement. With new knowledge, eCommerce companies can revise their SLA terms with shipping companies for an improved delivery experience.
6.5) Route Optimisation
When you have real-time data on where your shipments are, you can make changes to the route as needed to ensure that your shipments arrive on time. This can save you money on shipping costs and help you avoid delays. In addition, shipment tracking can help you identify bottlenecks in your supply chain to make changes to improve efficiency.
7) Why Do Online Companies Need Shipment Tracking Software?
Shipment tracking software is an essential tool for every online business that relies on shipping products to customers. The shipping software allows companies to track their orders from start to finish, ensuring that products arrive on time and in good condition.
Shipping tracking software can also monitor shipping costs, identify areas where cost savings can be made, and track customer satisfaction levels.
8) Top Shipment Tracking Software - ClickPost
ClickPost is a premier shipment tracking software that helps ecommerce companies streamline their shipping and delivery operations globally. It offers end-to-end order management with shipment tracking, reverse logistics, NDR Management, and more.
Features for Optimal Shipment Tracking
ClickPost automatically selects the best carriers for a shipment depending on metrics like carrier performance, type of shipment, location, price, etc.

It sends live order tracking updates to customers at various order milestones like - order confirmation, shipped, in transit, out for delivery, delivered, etc. These alerts make it easier for customers to anticipate when their shipment will reach them.

With ClickPost, online stores can send customer notifications via WhatsApp, Emails, and SMS.

Ecommerce businesses can opt for an integrated branded tracking page that displays their brand logo, colors, social media feed, and more on the tracking page.

The branded tracking page can prove lucrative with slots for cross-selling and upselling.
9) Best Practices for Shipment Tracking
At any given moment, countless parcels and packages are en route to their destinations worldwide. While shipping goods can seem relatively straightforward, a few best practices can make the process smoother for everyone involved. The section below will discuss tips for tracking shipments and staying on top of your delivery schedule.
9.1) Enable Shipment Visibility for all Orders
Customers want to track even the smallest of their orders. Therefore, ecommerce businesses must provide shipment tracking functionality on all outbound shipments. This reduces anxious WISMO calls and encourages customers to return to your store for repeat purchases.
9.2) Show Estimated Delivery Dates During Checkout
One of the most important aspects of the customer experience is managing expectations. Providing estimated delivery dates during checkout is a great way to do that. By telling customers when their purchase will arrive, you can help to ensure that they are satisfied with the overall experience. Estimated delivery dates can also help to reduce the number of customer service inquiries, freeing up your staff to focus on other tasks.
9.3) Provide Tracking Instructions in Emails and SMS
Ecommerce companies or the shipment tracking software they use must provide customers instructions on tracking orders. This information can be available on the seller's website or in the order confirmation mail sent to customers. Making shipment tracking a priority builds loyalty and trust among the buyers.
9.4) Automate Real-Time Order Update Alerts
Automating live order status notifications saves online companies time and money by reducing the need for manual updates. It also keeps customers constantly updated about their package's status. Moreover, automated alerts can proactively address delivery issues like delays, RTOs, etc.
9.5) Redirect Customers to Whitelabeled Tracking Page
Although a branded tracking page is not a necessity, it's definitely advantageous. A white-labeled tracking page with your brand's name, logo, and other identifiers boosts post-purchase customer experience and opens other avenues of additional sales. Store owners can even feature their Facebook and Instagram feed for higher conversions.
9.6) Collect Customer Feedback on Delivery Experience
Collecting feedback about the delivery experience is essential to identify any areas that need improvement. Customers with a positive delivery experience are more likely to continue doing business with a company, so collecting customer feedback can help improve customer retention rates. Furthermore, customers with a negative delivery experience are more likely to leave reviews that can damage a company's reputation.
10) Which carriers offer shipment tracking services?
Most domestic and international shipping carriers provide shipment tracking services for ecommerce orders. These courier services provide dedicated tracking and several other noteworthy features that benefit every ecommerce store. Here, we discuss the top 4 carriers for tracking shipments online.
10.1) FedEx Tracking
FedEx offers one of the best shipment tracking services to ecommerce businesses with FedEx Delivery Manager. This free-to-use tool provides access to email tracking updates and detailed tracking information for critical shipments. Customers can track their orders in real-time using the tracking id provided by their seller on the FedEx website. Online stores can improve performance with the FedEx Insight feature's in-depth delivery analysis.
10.2) USPS Tracking (United States Postal Service)
The United States Postal Service offers tracking for domestic and international shipments across all classes, first-class, priority, express, or standard. Tracking is free with most USPS services, and you can track your order online or by calling customer service. Go to the USPS website to track your package online and enter your tracking number. You'll then be able to see its current location and expected delivery date. You can also sign up for text or email alerts to always stay updated about the order's whereabouts.
10.3) UPS Tracking (United Parcel Service)
UPS tracking is a free service that allows store owners and customers to keep tabs on their shipments. All you need is a UPS tracking number, which you can get from your UPS shipping label or by contacting the sender. Once you have your tracking number, you can enter it on the UPS website or track it using the UPS app. Tracking information is updated in real-time, so you can always see where your shipment is and when it's expected to arrive. Plus, you'll be the first to know if there are any delays or changes to the delivery schedule. Whether you're sending a package or waiting for a delivery, UPS tracking is a valuable tool worth taking advantage of.
10.4) DHL Tracking
DHL is one of the leading international express service providers. When you ship with DHL, you can trust that your shipment will be delivered safely and on time. And with DHL tracking, you can always keep tabs on your package, so you know exactly where it is and when it will arrive. With DHL tracking, there's no need to worry about where your shipment is—you can always stay in the know. All you need is the tracking number for your shipment. You can find this number on your DHL waybill or shipping label. Once you have the tracking number, enter it into the Tracking tool on the DHL website, and you'll be able to see the latest status of your shipment. You can also sign up for email or SMS text message alerts, so you'll always be kept up to date on the status of your shipment.
11) Conclusion
Shipment tracking is an essential feature of ecommerce shipping. It allows customers to constantly be on top of where their order is, which helps to reduce logistic costs and provide a better post-purchase customer experience. The best way to incorporate shipment tracking is by using shipping software that integrates with hundreds of carriers for faster and cheaper shipping and automatically updates customers on the status of their orders. In addition, shipping software offers many other features like carrier selection, order management, returns management, and more that further improve the customer experience.
| | |
| --- | --- |
| | |
| Manifestation and shipping label generation API: | Create an order on Courier Partner, fetch waybill and shipping label and place pickup request |
| Track Shipment API: | Track your shipment using AWB and Courier Partner |
| Cancellation API | Cancel shipment manifested on Courier Partner for faster returns |
| EDD API: | Show estimated delivery date for shipments on the order checkout page |
| NDR Action update: | Updates the after NDR action directly on courier company's database |
| Return Web-hooks: | Track your return shipment using AWB and Courier Partner using web-hooks |
VIEW API DOCUMENTATION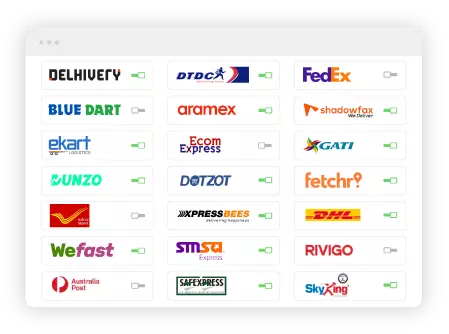 Step 1 - Select The Courier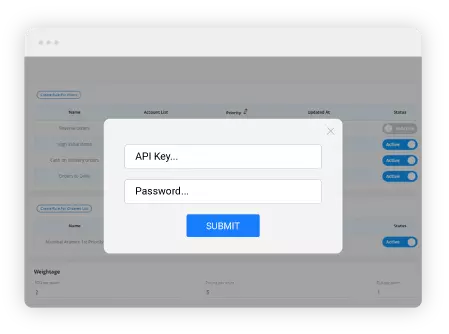 Step 2 - Enter API Key
Data driven carrier recommendation engine

Go-live with a new carrier in just 1 day

Generate shipping labels across carriers from a single dashboard

Get real-time zipcode serviceability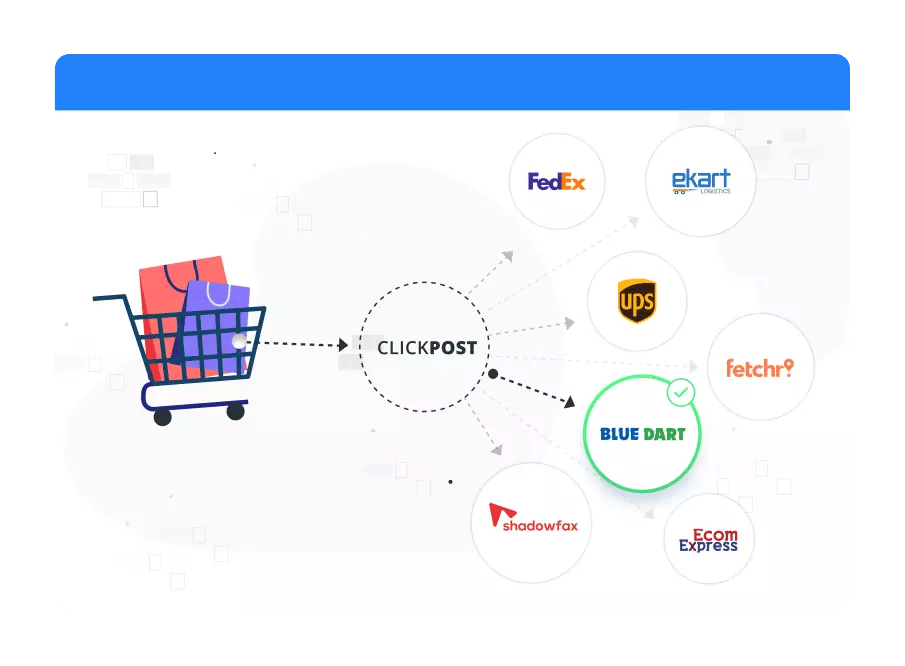 Integrated tracking portal

Enable milestone-specific communication

Enable multiple communication channels

Generate additional sales from tracking page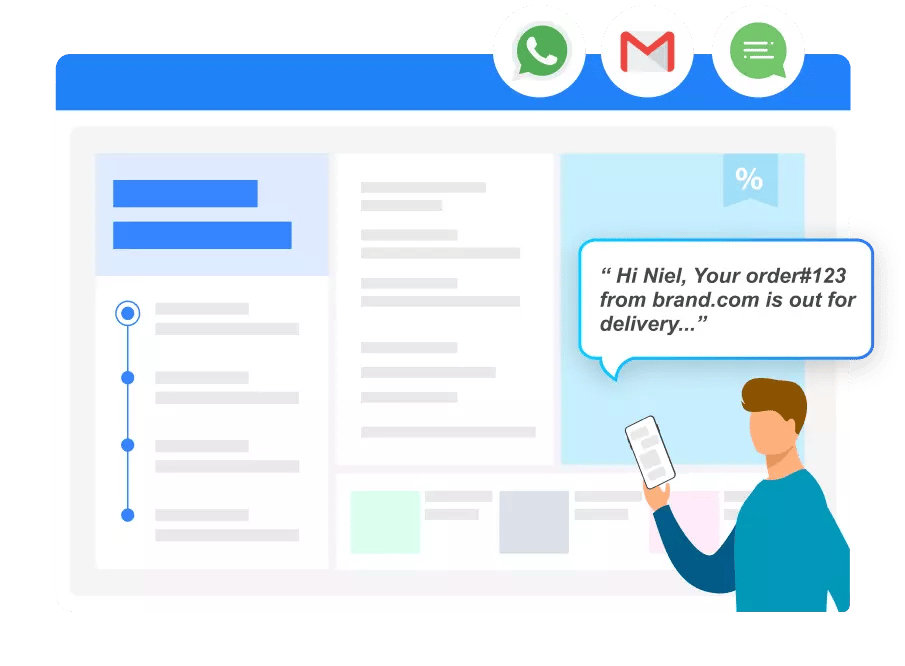 Enable customers to place return requests easily

Automated Courier Allocation for Reverse Pickup

Automated Pickup Exception Management

Track Returns