Reduce Post Purchase Anxiety and Negative Effects in eCommerce
Think about the last time you had the option to purchase from at least five new brands, but chose to buy the product from Amazon simply because you felt it was more reliable. Simply because you had an underlying guarantee that you will receive the order on time and in one piece. Well, this insecurity and skepticism are also known as delivery anxiety and no matter how open we are to new brands, this plays a crucial part in our final purchase decision.
As an eCommerce business, you're spending more than 10% of your revenue on marketing and advertising your brand to drive in more site visitors. But you're converting only 1-2% of these visitors. Amazon, on the other hand, converts 14% of the visitors (non-Prime members).
What's the difference here?
Amazon's promise to ensure a positive delivery experience. Right from the start, Amazon has been focused on customer satisfaction. The brand actively speaks about the importance of offering a seamless shopping experience to customers all along their journey with the retailer. That doesn't just end at offering a great discount on products, but also the post-purchase experience.
The part where post-purchase delivery anxiety kicks in for many customers, leading to a negative experience that either result in endless WISMO calls for the brand of the customer deciding to choose another eCommerce brand to purchase from the next time.
What is post-purchase customer order delivery anxiety?
Have you ever made a purchase online and called up the customer support an endless number of times, or cancelled your order because of one of the following reasons:
You didn't know when you would receive the order you've placed?
You had no way to track the order?
You didn't receive an email or text notification from the brand about the order status?
You had to call the customer support at least 10 times to find where your order was?
You had to email the customer support to request an order status?
If you answered yes to any of these questions, then you have experienced post-purchase customer order delivery anxiety and it's very common.
Imagine wanting to buy a gift for your parents' anniversary that is next week. You have found the perfect gift but once you've placed the order, you constantly worry about whether or not it will reach on time. Whether you're going to have something in hand when you wish them an anniversary next week.
If you're not able to find where your order is, you'll either keep calling the brand in desperation and start planning a gift B. Or you will simply cancel the order and place it from a store that gives you an ETA on the order delivery, or lets you at least tract the order.
Simply put, order delivery anxiety can lead to:
Increased cart abandonment
Increased WISMO calls (where is my order?)
Increased order cancellations
Increased return requests
In all, a poor customer shopping experience.
So how do you eliminate this delivery anxiety? How do you ensure that your customers are assured their orders will reach them on time and in one piece? How do you ensure that even if the order is delayed, they can still trust you?
We found the strategies that industry-leading brands like Amazon or even the likes of Nykaa, Hopscotch, PharmEasy and other brands make use of.
How to reduce post-purchase customer order delivery anxiety?
1. Give them an estimated date of order delivery
Did you know that most online shoppers call or reach out to customer support while they are browsing through products to ask when they can receive the order? This only goes to say how the delivery date of the order plays a critical role in the purchase decision. Someone looking for a faster delivery might not want to order from a store that only offers 15 days delivery, and you need to be transparent about your fulfilment capabilities.
What does Amazon do so differently here? They give the consumer an estimated delivery date for their location on the product page itself.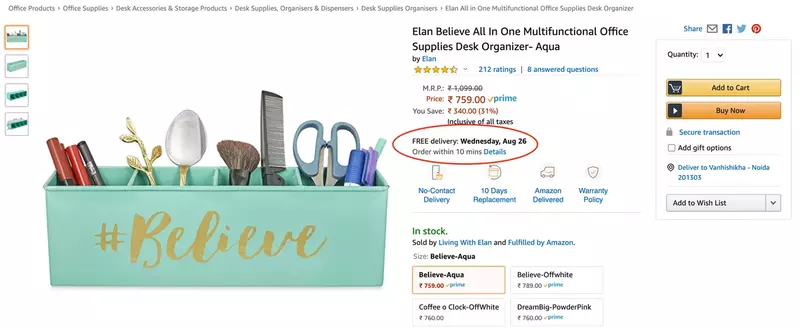 They also include the estimated delivery date information on the cart and checkout pages, to reinforce when the consumer can expect their order.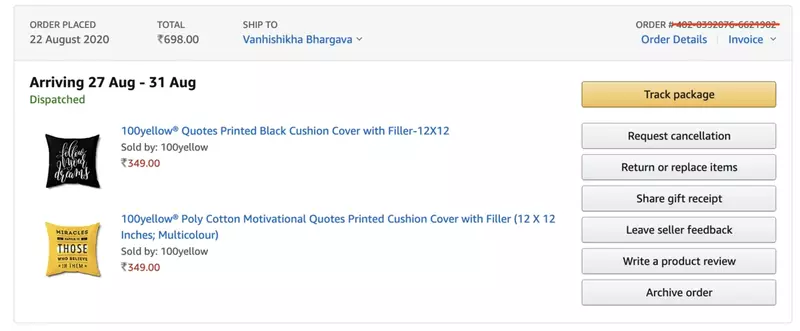 This deters the customer from calling their customer support at least till the date they have been given, reducing their WISMO calls. But more importantly, addressing the customer order anxiety by giving them a date to look forward to.
Initially, this was a tactic that seemed exclusive to what only eCommerce giants like Amazon could offer to customers. It seemed impossible for businesses to get this level of visibility on their supply chain and logistics to be able to display an accurate estimated delivery date.
But now, with smart logistics solutions such as ClickPost, you can get visibility across all your logistics partners to predict an estimated delivery date for your shop-front with an accuracy of 95%. Stores like Nykaa, a beauty and cosmetics brand are driving impulse purchases by letting their visitors know how soon they can expect their orders.
One little smart addition to your eCommerce site can help you reduce customer order anxiety, improve customer experience, increase retention and match up to expectations.
2. Keep them in the loop with frequent order updates
Every time a customer calls your support team to ask where the order is, you lose about $5 per agent that handles these requests. If left unaddressed, these costs can add up really quickly, increasing your support overheads due to an uncontrollable number of WISMO calls.
Now a lot of online stores have a staple, automated order confirmation email and SMS that gets sent out to customers as soon as they make a purchase. But did you know that 70% of these online shoppers actually want to receive updates on their order in-transit?
The reason being that unlike brick and mortar shopping, there is no instant gratification here. The customer does not get to purchase and immediately own a product. They need to wait for the product to arrive, and that causes order anxiety.
The solution here is to proactively communicate with the customer post-purchase. Let them know where their order is before they reach out to you for the same information by sending them an email and SMS notification.
Some of the notifications that you should be sent to your customers include (but are not limited to):
Order placed
Order confirmation
Order packed
Order shipped
Order in transit (with estimated delivery date)
Order out for delivery
Order delivered
Order delays
By keeping your customers in the loop with timely order status and delivery updates, you can reduce your WISMO calls by up to 60%. In addition, it improves the customer experience and also increases the confidence the customer has on your brand, making them more likely to come back for more purchases.
Here's an example from Chewy: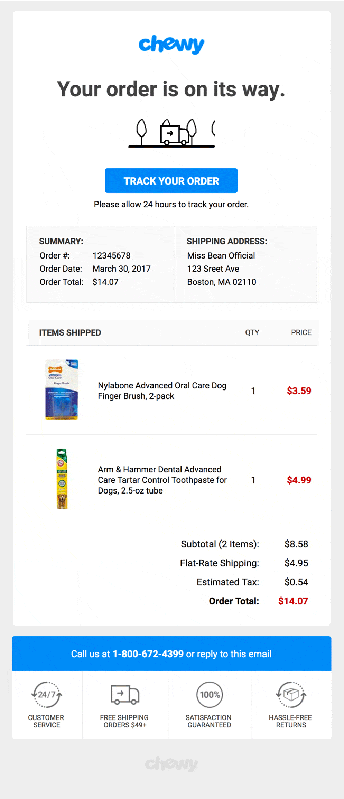 3. Reduce WISMO calls with order tracking pages
In addition to order status notifications, give your customers a platform that they can come back to for tracking the order.
Now typically, an online store provides you with a Waybill number once the order is shipped. You're then required to go to the shipping provider's website and enter the Waybill number provided to track the order.
One, you had to leave the main site to track the order. Two, having to copy the order number from one platform to another to track the order is tedious. Three, no offence, but most shipping partners don't have the best of websites in terms of intuitiveness. What happens because of these three things, is that you end up reaching out to support instead to ask about your order whereabouts.
You can address the customer's order anxiety here by including a branded tracking page on your website using ClickPost. This becomes the customer's go-to page for live tracking of the order.
What's more? This also gives you an opportunity to promote more products to the customer when they are on your site to track orders. You can upsell and cross-sell products to drive repeat purchases and increase your sales.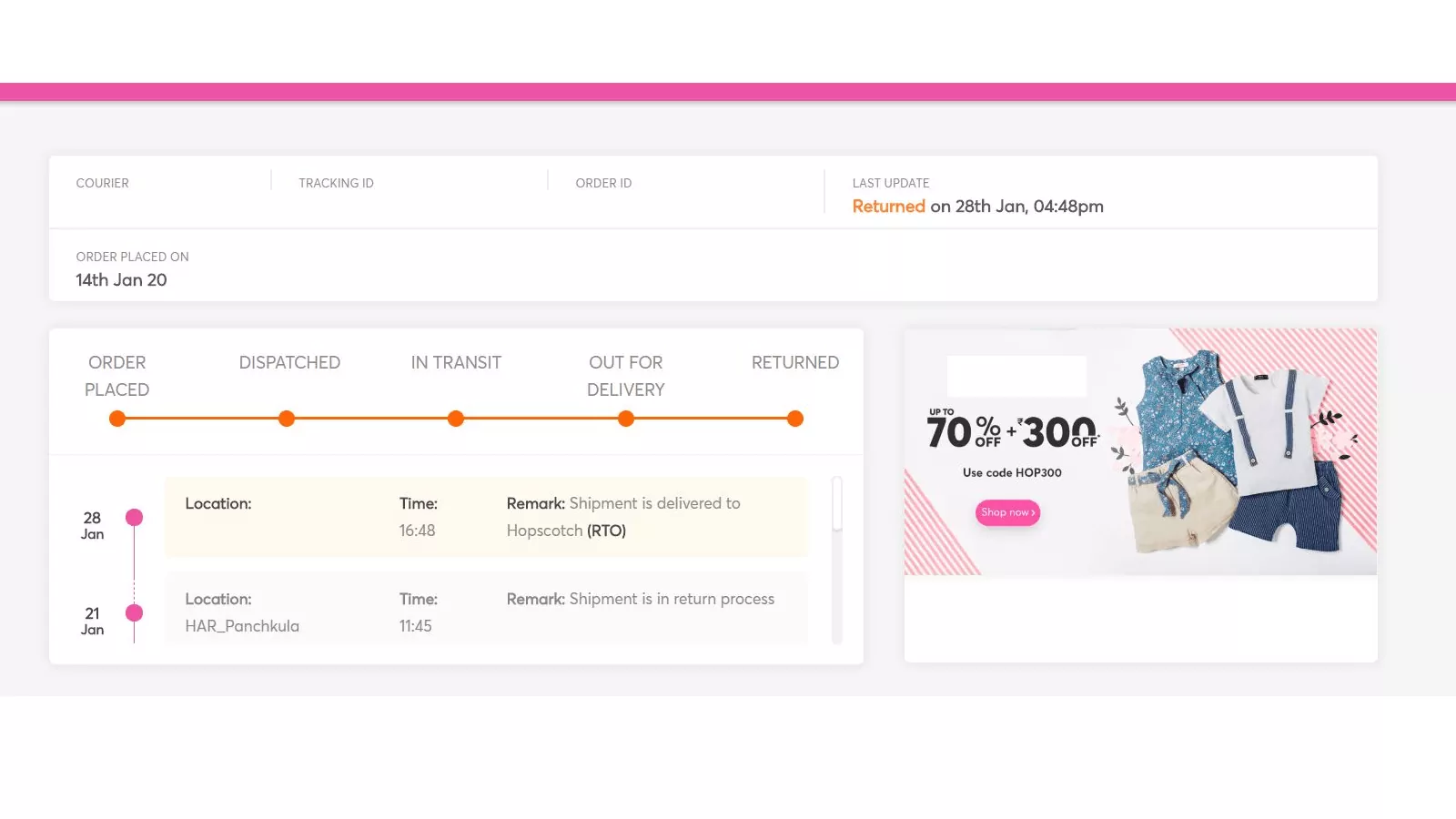 The customer can easily view this branded tracking page on their mobile as well.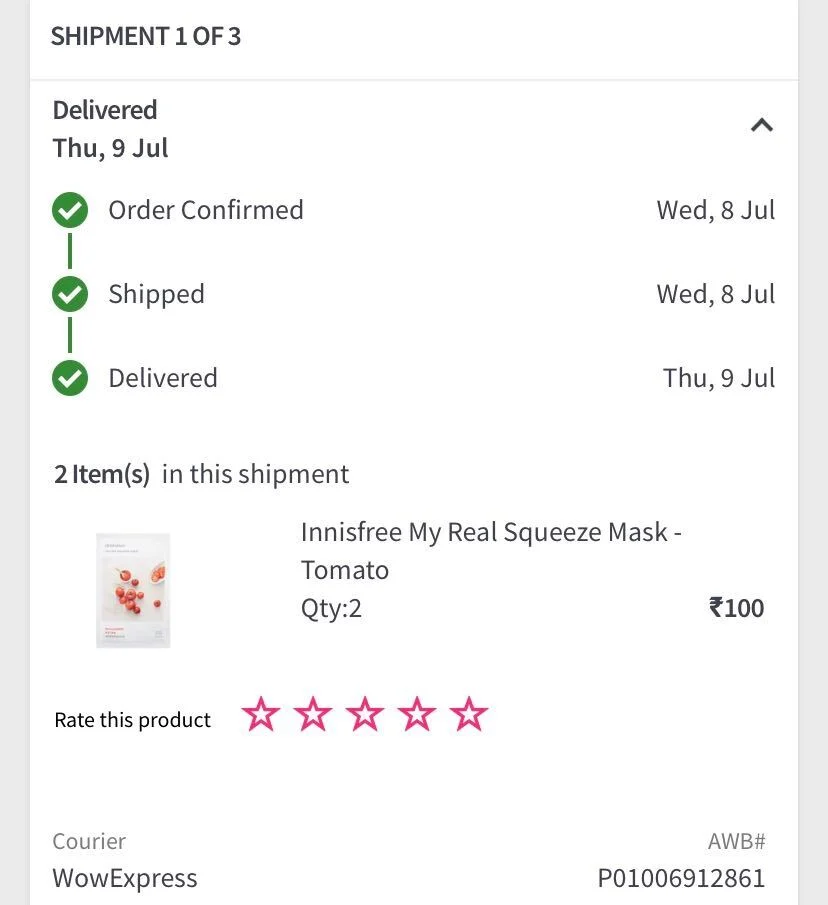 4. Optimize your delivery times
The delivery time of orders has a direct impact on the shopping experience your brand offers to customers. Think about the last time you recommended Amazon by simply stating how quick their 2-days delivery was and how they're always on time, and how that's the very reason you choose to buy from them. Your customers are no different.
According to a survey conducted by Dotcom Distribution, 87% of consumers who shop online, said the shipping speed was a major factor in deciding whether they want to purchase from a brand or not. In fact, it also goes on to state that 67% of them are more than willing to pay more for same-day or one-day deliveries. Some went on to also state that they were willing to pay higher for a product as well if they were guaranteed a faster delivery.
The expectations that customers have on delivery times are evolving by the day. They're actively seeking stores that can get them the products they need, faster. So no matter how popular your brand is, you could lose sales to a competitor simply because they offer faster delivery times.
Now the only way to address the order anxiety caused by delayed delivery times or slow delivery times is to optimize your logistics. You can do this only when you have complete visibility on all your courier partners, the locations they can deliver to, their delivery speed, their RTO rates and their overall performance in order fulfilment. And then based on that, you allocate orders to a courier partner that can get packages delivered faster and in a good condition.
If that seems like too much data to keep track of, you're right. But making use of smart logistics solutions like ClickPost can help you stay up to date with the courier partner serviceability and performance, and help you automatically allocate orders based on this data, reducing the manual error in the process.

Using this logistics recommendation engine, you can increase the efficiency of your eCommerce operations by 300%. And at the same time, also offer reduced cost of delivery to customers.
How important is it to address customer order delivery anxiety?
With more and more brands going online, the competition for customer attention is increasing.
An online shopper now has the option to make a purchase from at least ten brands at any given point in time. So if you have spent hundreds of thousands of dollars promoting your products and discounts, losing a sale to customer order anxiety is going to show on your revenue graph.
By removing customer order delivery anxiety, you address the major deterrent between liking your products and actually buying them. But additionally, you also address the challenge of re-engaging these shoppers to make more purchases from your brand (customer retention) by offering a great post-purchase experience.
Happier customers equal a happy business.
Not sure how you can improve your post-purchase experience to address customer order delivery anxiety? Or want to know more about how it can help your business grow?
Reach out to our eCommerce experts today.