1) Overview of AfterShip Branded Tracking Page for Shopify
The AfterShip Tracking Page for Shopify allows all Shopify stores to harness the vast resources and carrier network offered by AfterShip. A tracking page is a powerful tool that lets online stores access all order data, shipment status and carrier information from a unified dashboard. AfterShip Tracking Page for Shopify is absolutely free for ecommerce businesses sending out a maximum of 50 orders per month.
The AfterShip tracking app integrates with the Shopify platform within minutes and is totally accessible on all android and iOS devices. Today's Shopify merchants must harness the power of integrated tracking to serve customers in the best possible way.
2) What is AfterShip Tracking?
AfterShip is a shipment tracking software that allows businesses to keep track of their orders, receive and send shipment notifications to sellers and customers, etc. In short, AfterShip deals specifically to enhance the post-purchase experience of online shoppers. If you require end-to-end logistics and fulfillment services both pre and after-sales, consider switching to ClickPost. Both Aftership & ClickPost integrate with selling channels and marketplaces like Magento, Shopify, etc., to make toggling through orders easy for ecommerce companies.
3) How to Integrate Your Shopify Store with AfterShip Branded Tracking Page?
Let us quickly walk you through how to install the Aftership Track Your Order Page with Shopify.
3.1) Through Website
If you are planning to manage your orders mainly through a desktop or laptop, downloading Shopify AfterShip tracking software via the website is the best option.
First, Sign Up or Log In to your AfterShip account, From there, choose the Shopify Connector and fill in your Shopify username. Click on Connect. That's it, you're done!
3.2) Through Shopify App Store
Alternatively, you can also choose to easily download and install the AfterShip Tracking Page with your online Shopify store directly from the Shopify App Store.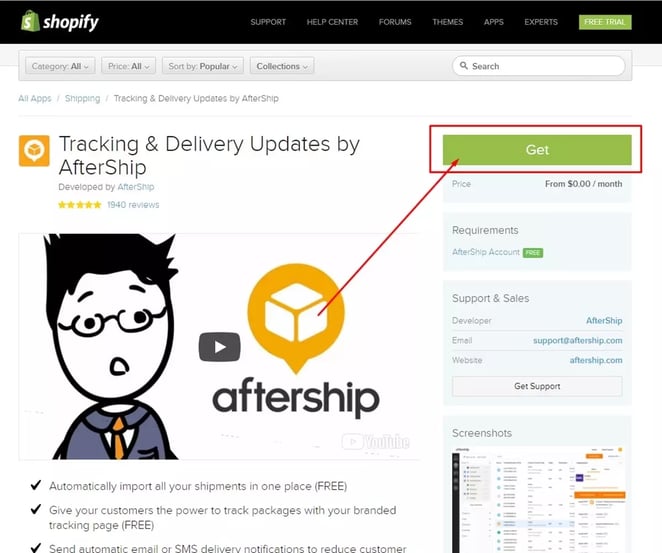 Step 1 - After installing AfterShip from the Shopify store click on 'Get' and then 'Authorise' to allow Aftership access to your order information.
Step 2 - You will then be redirected to the AfterShip page for login. Click on 'Login via Shopify' to get in.
Step 3 - At this point, you will be asked to fill in some basic information about yourself and your store like your Store Name, Shopify Username, monthly order volume, etc.
Step 4 - This will open up the AfterShip Tracking page where you can integrate all your orders and sync them by clicking on the 'Synchronise' button on the top right corner.
That's it, you're all set.
Note: For first-time users, AfterShip only auto-integrates orders that were placed in the last 3 days. You need to manually add previous orders for the first time.

4) Top 6 Key Features of AfterShip Tracking for Shopify App Store
4.1) Shipment Visibility
Aftership allows Shopify websites to import all order information on a single dashboard or app. From here you can constantly track current order status and delivery. You can also filter and select shipments from various categories such as couriers, dates, delays, regions, etc.
Entrepreneurs can also add tracking ability directly to their Shopify store with the AfterShip Track Button embed on the Order Confirmation or Order History Pages. Doing this will allow customers to track their orders at all times.
4.2) Order Lookup Widget
Shopify customers can look up their order status either with a tracking number, an email address, or both with the Order Lookup Widget. Shopify store owners can customize the colour, look, style, font, of widget along with many of its features. They can also hide the Aftership logo and tracking numbers, change labels, and expand the size of the Track button itself.
4.3) Standardised Order Updates
Shopify does not fulfill orders for ecommerce companies. Integrating your store with Aftership means they run the order fulfillment and logistics side of the business. This means, Returns Management, and much more. The same goes for order updates and notifications.
Shopify merely displays the shipment status information provided by courier services, like Aftership, to online sellers and shoppers. Since order milestone notifications and status updates vary with each carrier, it has the possibility of quickly becoming confusing for end customers. For that reason, Aftership's tracking page has established 7 standardized tracking messages for its customers.
4.4) Branded Tracking Page
Shopify businesses can now provide their customers with a top-notch branded post-purchase experience with Aftership's branded tracking page. A branded tracking page boosts customer retention and engagement while they simply wait and track their orders. With a branded tracking page, e-commerce companies have full control over the look and feel of the page.
They can change the colours, font, style and logo of the tracking page to something that is uniquely them. A branded tracking page also offers attractive cross-selling opportunities where brands can display featured images and products. What's more, ecommerce stores can make the branded tracking page a visual treat for customers by embedding their Instagram feed directly to the page.
4.5) Estimated Delivery Date Prediction
The Aftership tracking page is also equipped to send correct Estimated Delivery Date predictions to customers on their phones and email. Research shows customer satisfaction is greatly dependent on fulfilling orders within the estimated delivery date prediction.
If your Shopify store has installed a branded Aftership tracking page, then all the messages and notifications sent to customers will bear the store name. However, in the case of a regular page, the update will bear the carrier's name.
4.6) Order Notifications
Aftership enables Shopify to send automatic updates to customers and ecommerce businesses on shipment delivery status. With a Paid Plan, Shopify owners can receive notifications throughout the entire shipment journey. Aftership also enables Shopify users to identify delays or exceptions. They can also make use of the Aftership analytics report to improve their Shopify post-shipping experience.
5) What are the Top Benefits of Using AfterShip Shipping Software for Shopify?
A tracking page is a necessity in the ecommerce industry where hundreds of orders are shipped every minute and customers want lightning-fast deliveries. The Shopify Aftership tracking page allows Shopify users to present the opportunity of being able to track and trace their orders constantly. This harbours a feeling of trust among customers which in turn makes them want to come to your store again and again.
Plus, 24/7 customer care support from Aftership will make sure that your ecommerce store does not have to handle WISMO calls (Where Is My Order?) too often. With the help of actionable data provided by Aftership, you will be able to gauge your shipping performance and figure out the pain points you need to address. Most of all, tying up your Shopify ecommerce store with Aftership's tracking page will save business owners a lot of time while simultaneously providing quality service to their customers.
Unsure whether AfterShip is the right fit for you? Check out our detailed AfterShip reviews based on hundreds of customer testimonials, interviews with industry experts and research to know more.
6) Shopify AfterShip Tracking Page FAQs
6.1) How many carriers does the Shopify AfterShip tracking page support?
AfterShip supports over 840+ carriers from all over the world including all the major ones like UPS, FedEx, USPS, DHL, etc.
6.2) Does AfterShip automatically send order notifications to ecommerce businesses and their customers?
Yes. AfterShip triggers auto-notifications to customers and online sellers on their phones and emails. However, only a Paid Plan enables online stores to send notifications to customers on every order milestone.
6.3) Are there any special charges for SMS order updates?
Yes, for SMS notifications charges may apply. To find out the charges for your country code, please visit the AfterShip website.
6.4) Do I need web developer support to integrate AfterShip with my Shopify store?
No. Integrating AfterShip Tracking with Shopify is a matter of minutes. You only need to download and install the AfterShip app on your Shopify store.
6.5) What is the AfterShip Track Button and can I add it to Shopify?
The AfterShip Track Button allows online stores to add tracking information to any of the store's pages. You can embed the AfterShip Track Button to your Shopify store.