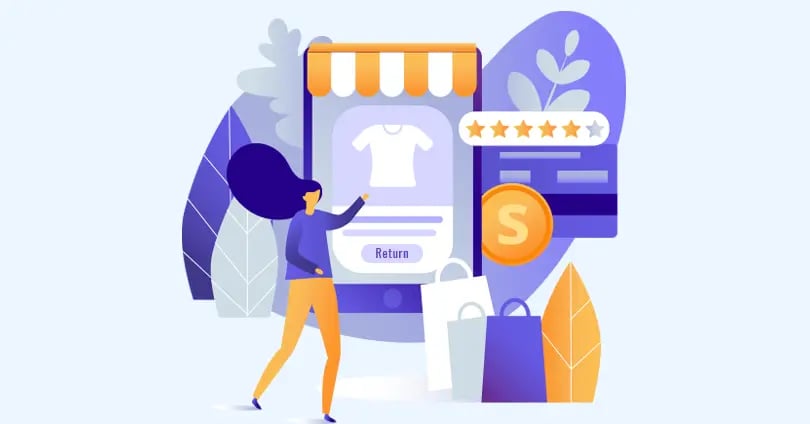 1) Getting to Know Ecommerce Returns
Product returns can be a headache for logistics companies and brand owners. Fortunately, with the proper planning and execution, Returns can be dealt with swiftly and effectively. We have gathered scores of logistics data to bring you this exhaustive handbook on ecommerce returns.
This guide will help you:
Identify the most common reasons for returns

Calculate the actual cost of returns for your online business

Target industry areas notable for product returns

Build a Return Policy to minimize returns

Discuss best practices for Returns

Solve the ever-growing problem of returns
So, whether you're new to ecommerce or just looking to streamline your process, keep reading for everything you need to know about Returns!
Looking for an ecommerce return software solution to provide the best post-purchase customer satisfaction at a fraction of the cost- Try ClickPost?
ClickPost is an end-to-end shipping software that doubles as a returns management platform to automate reverse logistics. ClickPost offers ecommerce companies a fully automated dashboard from which they can receive, approve, cancel and track return orders. Merchants can set their own return rules for every type of item (warranty, validity, non-returnable) to accept returns automatically.
They can even manually handle returns for special orders or loyal customers. ClickPost self-service eCommerce returns portal allows customers to place return requests easily and also add reasons for returning an item. This feedback acts as a valuable metric to identify areas for improvement.
2) What are Ecommerce Returns?
eCommerce returns occur every time a customer wants to give back an item they purchased online. The reason for a return/exchange can be varied. Regardless, brands should strive to make their customers' return journeys quick and simple.
Because a happy customer is loyal, and ecommerce businesses thrive on them. Since returns in ecommerce are higher than in physical stores, it's important to solve this problem. But first, we must look into the reasons why these returns happen. Only then can we rectify the issues for the end-users and online sellers.

3) Top 6 Reasons Why Customers Return Products in eCommerce
Despite the ease of shopping brought on by ecommerce, it faces one major challenge. Unlike in brick and mortar stores, online shoppers cannot see, touch, or feel the products they buy. This makes ecommerce businesses more prone to the problem of high returns. There are many reasons why a customer may want to return an item. Identifying these reasons is the first step to solving or reducing the issue of ecommerce returns.
3.1) Faulty or Damaged Items
Receiving faulty or damaged goods is the number one reason for return. Products, especially fragile items, can get distorted or damaged in transit. Your customer will definitely want a return and refund/exchange in such a case.
3.2) Poor Quality
Unlike bigger brands, many ecommerce companies can't keep the quality of their products consistent. If your customer receives a product of poor quality, they most likely will want to return it. It also increases their chance of never revisiting your store, unless you're able to provide them with a quick replacement of the item.
3.3) Not as described
Customers order a product online and expect to receive what was described in the listing. Unfortunately, this isn't always the case. Sometimes, the product arrives, and it's different from what was pictured or listed. This is incredibly frustrating and will lead customers to return their items.
3.4) Ordered more than one of the same item
It may seem mind-boggling, but it's becoming increasingly common for people to order the same item in different sizes when they're not sure what would fit them. This type of return is most common in the clothing and footwear industry.
3.5) Delayed delivery
Delayed delivery can sometimes mean the difference between a happy shopping experience and a ruined one. A customer delighted with their purchase may change their mind and choose to return it if they don't receive the order within the estimated delivery time.
3.6) No longer want the item
Unfortunately, this is not a problem online retailers can solve. Sometimes, customers experience buyer's remorse as soon as they've purchased something. In such a case, there's nothing much you can do other than offer a refund and keep the process of reverse logistics as painless as possible for yourself.
3.7) Others or not specified
Sometimes customers do not share their reason for returning a product. However, in most cases, it's related to inaccurate product descriptions, wrong sizing, or defective items.
4) The Cost of Ecommerce Returns for the Online Retailer
As online retailers continue to grow in popularity, the cost of returns has become increasingly important. Studies show that global ecommerce returns cost online brands roughly USD 5.5 billion. Returns in ecommerce range anywhere from 15% - 30%. If you've been tracking your return rate KPIs, this should be easy to measure. For others, we strongly advise starting to monitor your return rates. You can now multiply the average global e-commerce return rate (15%-30%) with your online sales volume to calculate your brand's current return rate.
The reason ecommerce companies often neglect returns is because a lot of the reverse shipping processes happen in the background. Reverse logistics is not only the backward flow of goods from the customer to the warehouse. Let's take a quick look at all the costs online companies have to bear for every return.
Reverse shipping

Labour Costs

Restocking and Reselling

Damaged goods
These costs can cut into profit margins. Therefore, it's worth taking stock of how many returns you get to implement an effective returns management plan.
4.1) The Average Ecommerce Return Rate
The average ecommerce return rate is 20%-30% globally. Fashion apparel leads the chart with returns as high as 26%. This is partly due to a recent ecommerce trend known as 'bracketing' where a customer orders multiple sizes of the same thing intending to return most of them.
The average ecommerce return rates increase around the holiday season when customers return the gifts they don't like. This phenomenon has led Royal Mail to name the first Monday of January, Take Back Monday.
Since customers today value a flexible and hassle-free return policy more than anything, ecommerce companies must strive to make returns easy. Doing so will turn returns into a revenue generation source. Research shows that 10% of total returns come from repeat customers.
5) Ecommerce Returns Statistics by Category
5.1) Ecommerce returns in the Fashion industry
Fashion products fall under the highest-selling category in ecommerce. Consequently, they are also the ones with the highest returns. The ecommerce Fashion segment is set to cross USD 1.3 trillion by 2023, but at least a third of those sales will end in returns. Ordering the wrong size, incorrect product descriptions, and unavailability of 3D features are some of the most significant contributors to the problem. Another fraudulent return activity related to Fashion is - wardrobing. Here, customers order clothing around a special event and return it as soon as it's over.
5.2) Product returns in the Electronics industry
A study by TechSee shows the return rate of consumer electronics and home appliances has increased to 8% in the recent past. It also notes that 68% of these returns were made under the No-Fault Found category (N.F.F.). 68% of customers stated they would return the product if they found the installation process lengthy or the product hard to operate.
To solve this problem, electronics retailers should invest in adding detailed installation/operation videos, provide high-quality photos of the product and use effective onboarding. Getting in touch directly with your customers can also help ease these matters.
5.3) Ecommerce product returns in Food and Beverages industry
Food and beverage is a fast-moving ecommerce sector because most of these items sold online do not have a long shelf life. To stay competitive, the food and beverage companies must optimize their logistics operations to provide the quality of goods customers expect.
The food and beverage industry saw rapid growth in grocery delivery services during Covid and currently stands at USD 274.10 billion.
5.4) Ecommerce returns in Nutrition and Pharma industry
Nutrition and pharma is a fast-growing ecommerce sector backed by powerful logistics technology and consumer trends. Nutrition and pharma are slated to command a market share of USD 722.6 billion by 2026. Although the segment is not plagued by high returns and only witnesses a return rate of 3%-5%, it's crucial to bring the rate of returns further down. Unlike other consumer goods, Nutra and pharma products don't have a large shelf life and can often not be reused. Intentionally buying and proper reverse logistics are key to solving these issues.
5.5) Product returns in the Cosmetics industry
The ecommerce industry needs to rethink returns to reduce waste and encourage sustainability. In 2021, 9% of cosmetics and self-care items ordered were returned. Many makeups and skincare brands today accept returns upto 60 days. One such example is Sephora, which has a super lenient return policy accepting unused and slightly used items. Though the fresh products can quickly go back to the shelf, used products cannot make it to the secondary market because of hygiene issues.
5.6) Ecommerce product returns in Home Decor and Mattress
What used to be an elite and strictly offline buying category has seen a meteoric rise in the ecommerce era. Home Decor makes up USD 394 billion of the total online retail market today. It's also one of the categories with low return rates (7%). The adoption of augmented reality to enable Visual Search and space mapping helps customers truly visualize what something will look like before they buy it. Intelligent chatbots also help along the way with query solving and assistance.
6) Analysing Product Returns in Ecommerce based on Countries
Ecommerce product returns are inevitable, but the way they're handled can vary greatly from country to country. In this section, we'll take a look at some of the trends that have been emerging in ecommerce product returns around the world. We'll also explore how logistics companies and experts can best accommodate these return needs.
6.1) Ecommerce returns in India
The Indian e-commerce market is currently pegged at USD 30 billion (G.M.V.). It's expected to grow 4x to USD 100 - 120 billion by 2025. However, returns make up as high as 30% of the G.M.V. The general population's propensity for cash on delivery orders makes the problem more challenging, especially for small businesses bearing the cost of returns and blocked inventories.
Most Indian ecommerce businesses and large online platforms like Myntra, Flipkart, and more, have lenient return policies. Such policies encourage frequent buying and make customers more prone to returning items. India has seen a rise in returns management/reverse logistics companies that help solve and streamline returns issues and cut losses.
6.2) Ecommerce returns in the United States of America (U.S.A.)
The U.S. is one of the largest markets for ecommerce, with 23% of all retail sales coming from online platforms. But the rise of online sales has also increased the problem of high returns, which have risen from roughly 18% (2021) to 20% (2022). Research says, on average, merchants lose anywhere from USD 10 -11 for every USD 100 of items returned. The study says that merchants lose anywhere from USD 10 -11 for every USD 100 of items returned. In the United States, auto parts have the highest rate of returns (19.4%), quickly followed by fashion apparel (12.2%).
6.3) Ecommerce returns in the United Arab Emirates
The growth of online commerce has been comparatively slow in the U.A.E. and other Gulf countries. As a result, the general population is wary of online sales channels and demands free and easy returns. U.A.E. saw USD 5 bn in online sales last year, but 30% of those sales ended in product returns. Some of the region's most significant logistics experts state that the rate of returns in the U.A.E. can be lowered to a mere 1% with targeted returns management.
6.4) Ecommerce returns in the United Kingdom
Returns are at an all-time high in the United Kingdom even as ecommerce stores try to cope with ever-growing customer expectations. A study by Paymentsense (payment provider) shows ecommerce retailers lose as much as £5.2bn yearly in returns. As the logistics costs of returning items are 10% - 15% higher than shipping them, this poses a great challenge for the ecommerce sector in the U.K. There has been a sharp 39% increase in returns from last year. The problem is aggravated during the holiday season, making January the worst-hit month for returns.
6.5) Ecommerce returns in Canada
The return numbers in Canada are not very different from the rest of the world. A study by KPMG showed that 66% of Canadians had adopted online as their preferred way of buying things. The returns have also increased by 30%-40%, owing to the bump in online sales. Fashion brings the highest returns (20%) in the country. Some businesses now allow customers to keep the items they don't want instead of going through the hassle of paying for high logistics costs.
6.6) Ecommerce returns in Saudi Arabia
The ecommerce market in Saudi Arabia is growing fast and is estimated to hit S.A.R. 50 billion by 2025. As we have seen in all the world countries, this makes returns an expanding problem. Saudi Arabia's lack of formal street addresses makes delivery a logistical challenge. In the absence of timely deliveries, most customers either refuse to accept orders or simply return them. The lack of proper reverse logistics infrastructure makes it doubly expensive for ecommerce companies to process returns. Add to that the problem of remitting cash on delivery (C.O.D.) orders which are highly preferred in the region.
6.7) Ecommerce returns in Singapore
Due to serial returners, online returns in Singapore are as high as 80%. Customers today have become so comfortable with online shopping that they use the platform like a brick-and-mortar store that allows changing rooms to try-on items. This trend has led many ecommerce companies like ASOS and other platforms to adopt advanced A.I. technology to enable try-on features. However, the challenge is to inform customers to use such A.R. tech to buy correct-sized items.
6.8) Ecommerce returns in Australia
The grave repercussions of returns loom large over the ecommerce industry. The return trend in Australia is steep as ecommerce brands strive to ace their competitors in customer satisfaction. We already know the impact frequent returns can have on the revenue of a business, but its effect on the environment is equally alarming. According to a study conducted by a popular return management app, about 5 billion pounds of returned items end up in landfills. This happens when the returned or exchanged items are so damaged that they can't go back to the Sale category or the secondary market.
7) How to Handle Product Returns for Ecommerce Purchases?
So, you sent all your orders, but one of your customers wants to return theirs. What do you do?
How do you receive return requests? How do you choose which returns to accept or reject? Do you accept the return request right away, or do you check whether such a product is even suitable for a return? And what about the quality checks? Do your shipping carriers provide reverse pickups?
You will find yourself asking these and a hundred more similar questions if you have not planned for returns in advance. Therefore, the first step to handling returns is being prepared for the eventuality of ecommerce returns. We'll let you in on a few more tips you could use to make ecommerce returns hassle-free for your business.
7.1) Ship it back to the warehouse
This is the easiest way to manage returns if you are an exclusively online business. Online ecommerce brands can opt to send out return labels with every order to make the process of initiating a return more straightforward for their customers and themselves. These return labels can be prepaid if you want to provide free shipping on returning items. They can also be paid for by the sender (in this case, the customer) if that's your return policy.
7.2) Enable "Return to Store"
For sellers with both an online presence and a brick-and-mortar store, providing the option of "Return to Store" can greatly reduce logistics costs. Customers can check into their nearest outlet and return the package. Doing this reduces operational costs and the possibility of damage in transit. Moreover, In-Store returns increase the probability of a return turning into an exchange at no additional shipping cost.
7.3) Use reputed shipping carriers
One way of efficiently handling returns is by working with reputed carriers with a proven track record of getting goods where they need to go quickly and reliably. The most trusted names in the industry like FedEx, UPS, USPS, DHL, Shadowfax, etc., can also provide certain added benefits like real-time tracking, warehouse management, quality, proof of pickup, etc.
7.4) Outsource reverse logistics
Outsourcing reverse logistics can ensure your business runs smoothly and efficiently. By doing so, you relegate the tedious elements of returns management like return order creation, the assignment of the return order to a viable carrier, QC and pickup of the return order and finally tracking the delivery of the return order. Most returns management software like ClickPost, Loop Returns, etc., automate the entire process and minimize manual errors.
8) Top 9 Practices for the Smoothest Ecommerce Returns Process
8.1) Display your Returns Policy on the Product and Checkout pages
Ecommerce brands can improve the customer experience on their websites by displaying their returns policy on the product and checkout pages. By doing so, customers will know what to expect regarding returning products they don't want or need. Additionally, logistics companies can benefit from this practice by reducing the number of returns they process.
8.2) Include clear return windows in your return policy for every category
Having a specific timeframe for each type of item can help customers better understand your policy and make informed decisions when they shop with you. Moreover, if you're using shipping software to manage returns, specifying the return window based on SKUs or product type is crucial for automatically accepting returns.
8.3) Accept returns via shipments and in-store
As discussed in the previous section, providing both online and in-store return options allows customers to choose their preferred return method. It leaves them more content with the return experience and increases their chances of returning to your store. A customer with a wrong order delivered to them would still consider returning if they had an easy and stress-free return experience.
8.4) Include prepaid return labels
Including prepaid return labels is an excellent way of simplifying the return process. Firstly, it makes it easy for customers to return items they're unhappy with without worrying about paying for postage. Secondly, it shows customers that you're committed to providing them with a positive shopping experience. And thirdly, it reduces the likelihood of customers returning items simply because they don't have a postage stamp handy.
8.5) Keep customers informed about the status of their returns
Returns make customers anxious if they don't know when their refund will be processed. The shipment must first reach the warehouse/seller for that to happen. To keep WISMO calls at bay, maintain complete transparency with customers about the location of their returning orders. Many shipping software provides real-time order tracking pages for returns that send notifications to customers' phones and emails. It also lets them track the status of their refunds.
8.6) Enable Free Returns for maximum customer satisfaction
It's no secret that customers don't want to pay for shipping. The same goes for returns. Offering free returns is one of the best ways to improve your customers' return experience. Ecommerce companies that provide free returns are more likely to retain customers after returns. That said, if free returns are burning a hole in your pocket, then it's not the right solution. Businesses could try to include shipping costs within the product price itself to give them a little boost during returns.
8.7) Regularly review and update your return policy
Every online ecommerce store must have a return policy. But it's not a document that is etched in stone and can't be changed. In fact, we advise all business owners to constantly update their return policies to include or remove things that have become indispensable or obsolete. Ensure your return policy includes explicit rules and other terms and conditions for processing returns and refunds.
8.8) Offer exchanges to retain revenue
One of the best practices for turning returns into a smooth and profitable process is by turning the returns into exchanges. Research shows that most customers who return items are willing to buy other similar products if they feel their retailer or store values them. Exchanges can be introduced in the form of feedback and review emails or through branded tracking pages.
8.9) Re-engage with customers after every return
While retailers work hard to ensure customers are happy with their purchases, it's important to remember that not every customer is satisfied even after a return. That's why online brands need to take steps to re-engage those customers after they've returned a product. Doing so can show them that you value their business and improve your chances of winning them back over in the future. Re-engagement can be win-back emails, loyalty programs, discount offers, or anything that incentivizes their revisiting your store.
9) How to Build an Ecommerce Return Policy for Your Online Store
We have already discussed that the first step to managing returns is by planning for them. Your Return Policy is going to be the first step toward that. A solid return policy builds trust among your customers and encourages them to shop with you. It also protects your business from losses, returns fraud, and more. Not sure where to start? In the section below, we will walk you through everything you need to know about building a returns policy.
9.1) Drafting your Store's Return/Refund Policy
A return policy must have all the information customers need to know how to return an item. This includes return windows (30-day return, 10-15 days, no questions asked), availability of returns based on category, shipping fee, processing times, international returns, etc.
Your return policy can be as detailed or brief as your business requirements. But remember that this is where your customers will come for all their return-related questions. Clear all customer doubts related to returns; your store will never have to deal with anxious customers.
9.2) Displaying your Return Policy to Customers
A return policy can be a part of your shipping policy or a separate document. Whatever the case, you must be sure to display critical information in places easily accessed by customers. Here are some of the places you can show your return policy:
As a static header and footer on your website

In the F.A.Q.s section

On product pages

In carts

During checkout, before payment

Links within tracking pages to initiate the return process

In your shipping policy
9.3) Free Ecommerce Returns Policy and Tracking Template
10) List of 10 Best Shipping Carriers for Powering International Ecommerce Returns
10.1) FedEx
FedEx is among the top shipping carriers in the world. It has hundreds of fulfillment centers globally that facilitate warehousing, inventory management, and faster delivery of goods. It's also notable for providing extensive returns services to clients. Customers can choose from over 60,000 drop-off locations or visit their nearest FedEx or partner office to print a return label and send their shipment back easily. The best thing, FedEx provides real-time order tracking on their website and app for returns.
10.2) UPS
UPS (United Parcel Service) has a whole portfolio for ecommerce returns that satisfies businesses of all sizes. Depending on your needs, you can use U.P.S. to manage your entire reverse logistics and after-sales activities or only go for individual services. Under its plethora of returns management services, ecommerce brands can offer their customers label-free returns at U.P.S. access points, pre-paid return labels for secured returns, and immediate exchanges at the time of return. For the most effective returns, businesses can integrate the UPS RMA (Return Merchandise Authorisation) software with their existing website or selling platform.
10.3) USPS
USPS (United States Postal Service) is one of the cheapest ways to ship around the globe. It offers package return services in and around the United States. Customers can easily schedule a pickup at their address if they have the box and return label ready. They can use the USPS website to print their return labels and postage. Customers can also choose to drop off their return shipments at their nearest post office or self-service kiosks. You can provide end-to-end returning shipment tracking by messaging your label number to USPS customer care.
10.4) DHL
DHL is one of the best shipping companies for international returns. Ecommerce retailers that ship with DHL can simplify the returns process for their customers because DHL includes return labels in all of its shipments. Online shoppers only need to fill in their delivery information, find their nearest DHL service point, book a pickup and place their return requests. They can even track the status of their return orders through DHL's Track & Trace feature.
10.5) DTDC
DTDC is one of the leading courier and logistics companies in the world. They offer various services, including domestic and international courier, shipping, and eCommerce fulfillment. Through its Reverse Pickup API, DTDC also offers smooth returns. However, reverse pickups with DTDC come at an added cost. Customers need to contact the seller to initiate returns or reach out to their nearest DTDC office. Return shipments are accepted after a thorough quality check. DTDC ties up with global integrators to provide fast, trackable returns through its 570 facilities across the globe.
10.6) Blue Dart
Blue Dart is another popular shipping company that ecommerce brands use to fuel their reverse logistics. Blue Dart charges the shipper or seller for all freight costs incurred due to the return of a shipment. Blue Dart ensures the quality of the returned item by re-weighing and re-measuring the contents of the package. Customers must attach their original waybills or return labels (if provided) onto their packages before scheduling a return pickup. Once a return request has been accepted, customers can track their orders on the Blue Dart website and through the tracking link sent to them.
10.7) DB Schenker
DB Schenker is a company that provides innovative logistics solutions for businesses worldwide. They work with some of the biggest brands in the world, and their commitment to customer service is second to none. It operates a separate wing for managing ecommerce returns called Service and Aftermarket Logistics. Under this solution, DB Schenker offers several returns and repair solutions. Some of these services include return order verification, quality inspection, warranty check, asset recovery, dismantling, and much more. DB Schenker can be one of the best ecommerce return solutions because it provides global inventory transparency, warehousing, and timely deliveries.
10.8) Royal Mail
Royal Mail is a venerable British institution and has been delivering mail throughout the United Kingdom and the world for years. Today, Royal Mail continues to play an important role in the ecommerce landscape, helping logistics companies in United Kingdom to deliver packages quickly and efficiently. Royal Mail sends packages with return labels to make returns simpler. Customers can simply contact their local post office or retailer to book a return. However, depending on the return feature availed, customers may need to pay a small shipping fee.
10.9) Y.R.C. Freight
Y.R.C. Freight can be an excellent shipping carrier for managing ecommerce returns because it gives sellers complete control over reverse logistics while handling all the groundwork itself. Using efficient carriers like Y.R.C. Freight can remarkably lower reverse logistics expenses and labor costs. Businesses can easily integrate the Y.R.C. Freight platform into their own website/marketplace for easy management of orders. Y.R.C. also provides real-time order status notifications to customers at every order milestone. Refunds/exchanges are processed as soon as the order reaches its source (warehouse/seller).
10.10) Australia Post
Australia Post is the national postal service of Australia. It provides mail, parcel, and courier services throughout the country. The company also offers a variety of ecommerce and logistics services to businesses. Australia Post offers competitive shipping rates and a wide range of services, including returns management that can accommodate any business size or budget. They also have a strong presence in key markets worldwide, making it easy for your customers to receive their orders. Plus, Australia Post is committed to providing excellent customer service, so you can rest assured that your shipments will be handled with care.
11) Simplifying Returns for Merchants on Ecommerce Platforms

11.1) Shopify
Creating and processing return and refund requests is very easy for Shopify users. As soon as you're notified that a customer wishes to return an item or an entire order of things, you can use the Shopify admin to create return requests quickly.
Suppose your business does not send out return labels with every package. In that case, you can even send them to your customers directly from your Shopify shipping dashboard, along with all the other reverse shipping information.
Shopify users can track, restock and filter orders based on return status straight from their Shopify home page. The same can also be done from android or iOS devices. Sellers using Shopify Payments will find it even easier to process refunds faster.
a) Free Downloadable Shopify Return/Refund Policy Template
Here are some guidelines for creating your return policy. This is just one example, but it should be easy enough to adapt depending on what products you sell and how many different reasons there might exist for why someone would want their money back (maybe they changed their mind after purchase).
The key things here include ensuring all requirements have been met and mentioning anything unique about your policies, like free returns within 30 days.
We know how important it is to be 100% satisfied with your purchase, which is why we offer free returns on any of our products within 30 days. You can get store credit or exchange it for something else if that's what you want- there are endless possibilities!
Please take note of a few exceptions in our returns policy:
Sale/Discounted items are not available for return

Only unworn and unused items are eligible for return with original tags attached

International shipping fees for returns will be deducted from your original payment
11.2) Magento (Adobe Commerce)
Adobe Commerce, previously known as Magento, is an open-source ecommerce platform where businesses can build their online stores. After receiving a return request, Magento merchants can create and assign an R.M.A. (Return Merchandise Authorisation) to the returned product. Store owners can cancel or accept returns manually or automate the process by specifying return rules. The seller can choose to process returned items in 3 ways - exchanges, refunds, and store credit. For most Magento stores, the return window is 30 days, but store credit can be offered even after the stipulated 30-day period. Offering store credit is a great way to build lasting customer relationships.
11.3) BigCommerce
With BigCommerce, checking the return request box will enable customers to place returns from their accounts. From BigCommerce's self-serve returns page, customers can select upto 6 reasons for returning an item. Once the return has been approved, both the ecommerce entrepreneur and the customer receive a notification mail. The status of returns can be monitored from the BigCommerce merchant account.
11.4) Wix
Wix is another ecommerce store-building platform. Ecommerce businesses on Wix can use the Wix Owner app to accept, process and refund returned items. However, Wix only accepts direct returns via PayPal, Stripe, and Wix Payments. For other payment methods, Wix owners need to directly get in touch with their customers and set up a different repayment arrangement. Once the amount has been refunded, store owners can manually switch the return status of an order to 'refunded.' Wix also prompts customers to state the reason for return to collect valuable customer feedback.
11.5) Weebly
Weebly has partnered with Square, a payments provider, to simplify the process of ecommerce sales. However, Weebly does not feature any specific R.M.A. creation features. Therefore, Weebly users need to take care of returns/exchanges independently. They can have a comprehensive Returns Policy that informs customers of which items can be returned and by when, along with other information like processing times, refunds, etc.
11.6) OpenCart
Managing return and refund in OpenCart is exceptionally straightforward. Customers can return or cancel orders by themselves once they've logged into their OpenCart accounts. Businesses can set return windows, the number of days till orders can be canceled, or non-refundable items. Such rules automatically apply when customers try to place return requests making the job of an ecommerce business much simpler.
11.7) WooCommerce
WooCommerce allows sellers on its platform to set up warranties for every type of product category. Similar to other platforms, WooCommerce offers a self-service return portal where customers can easily place returns. Once the return is approved, an R.M.A. (Return Merchandise Authorisation) is generated for further processing. Refunds can be initiated from the account itself and tracked in real-time.
11.8) Squarespace
Squarespace users can set up their returns workflow for automatic return processing by listing return rules and regulations. Squarespace returns can be processed into customer store credit for later use. Refunds made using an outside payment gateway will not reflect in the seller's Squarespace account. It's advised to accept returns carefully because once approved; they can't be canceled.
12) The 5 Best Strategies Ecommerce Startups & Companies Use to Reduce Returns
12.1) Make Product Description Accurate and Easy to Find
When selling a product online, making the product description as accurate and easy to find as possible is important. Use clear, concise language, so shoppers don't get confused or frustrated while browsing your website. This will help ensure that customers know what they're buying and that they can find the information they need quickly and easily.
12.2) Provide "Try on" features with 3D/A.R. technology
Are you considering providing "try-on" features with 3D/A.R. technology for your ecommerce brand? If so, you're not alone. Augmented reality allows customers to see how a product would look on them before they purchase it. This feature makes the shopping experience more fun and engaging, leading to increased sales.
12.3) Pack and Ship products securely
When it comes to shipping products, there's no room for error. If a package is mishandled or arrives damaged, it can mean significant losses for an ecommerce brand. Consider shipping insurance to protect your business from unforeseen losses.
12.4) Protect your business against ecommerce returns fraud
As online shopping becomes increasingly popular, ecommerce returns fraud is becoming a bigger problem for businesses. This type of fraud occurs when someone uses a false identity or billing information to return items they never purchased in the first place. If you're not careful, this can lead to losses in revenue and increased shipping costs.
12.5) Automate reverse logistics
Automating reverse logistics can help brands and logistics companies manage the flow of products and materials back through a supply chain after they have been sold or released for consumption.
13) Take Control of Your Ecommerce Returns
Managing returns is one of the most important and often overlooked aspects of ecommerce. It can be a daunting task, but with the help of the correct shipping software and strategy, it's possible to reduce returns and increase profit. What have you found to be the best way to tackle ecommerce returns? Let us know in the comments!