ClickPost Vs. eCommerce Aggregators (Shipping/Logistics/Courier Aggregator)
The e-commerce sector is expanding to encompass more varied industries and a larger consumer base. Accordingly, most emerging online businesses are looking for ways to optimize their operations. Luckily for the entrepreneurs of the world, keeping up with current business trends is an easier task than Keeping Up With Kardashians (though those ladies can teach everyone a thing or two about building a brand).
Coordinating with different courier partners comes with its own challenges. For starters, the orders of each courier partner have to be tracked on their respective platforms. The process can be long-drawn-out and extremely tedious. After all, carrier websites aren't made to be entertaining like social media platforms. There is nary a meme to be found!
List of Key Differences Between ClickPost and eCommerce Aggregators in India (Logistics/Courier/Shipping)
Making use of innovative technology and logistics resources enables you to provide the most efficient and streamlined services to keep your customers happy. Enter aggregators and integration platforms like ClickPost that help you track orders with multiple companies from a unified platform. But what else can they do? In this article, we'll be going through distinctions between shipping aggregators and ClickPost.
1. Number of carriers integrated
Shipping aggregators typically have at most 15-20 carriers integrated. Most have only 10. This limits your options, especially in case of niche requirements like secured delivery of high-value products or delivery to more remote locations like Tier II and Tier III cities.
No. of Carriers Partnered With Aggregators Vs ClickPost
| | | | | | | |
| --- | --- | --- | --- | --- | --- | --- |
| Company | | Vamaship | Shipdroid | ShipYaari | ShypLite | ClickPost |
| No of Carriers | 17+ | ~15 | ~3 | ~7 | ~10 | 120+ |
For example, an online furniture company, using an aggregator, wanted to increase their reach to Tier III towns. However, the popular courier providers integrated with its aggregator were unable to maintain a good delivery experience for this particular category.
Consequently, the company identified niche courier partners with good experience in their segment and shifted to Clickpost to get direct integrations with them.
2. Control over the supply chain
In case you're tied up with an aggregator, you'll have very little control over your supply chain, limiting your ability to drive logistics improvement initiatives. You would essentially have to change eCommerce aggregators or keep verbally sparring with your current one.
With ClickPost, you have complete visibility and control over the supply chain. You will have a direct relationship with the courier partners while making use of ClickPost's resources to iron out any kinks in your delivery mechanisms.
For example, in the case of fake deliveries, you would be unlikely to know about them with an aggregator who would not want to draw attention to such issues. You'd end up discovering it only when customers actually call you directly or put up a scathing post on social media which would be the last thing you want.
ClickPost has strong features to prevent these escalations. In cases of failed delivery attempts, we take proactive feedback from customers to identify any fake delivery issue and provide you complete visibility around it: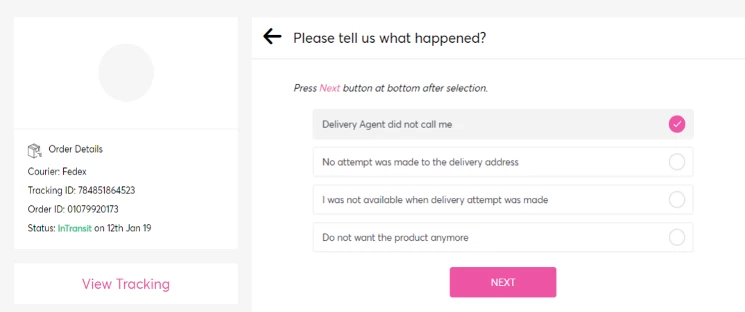 3. Technology capabilities
Aggregators are in the operations business. This means that while they have built few products to make logistics more efficient, their core capabilities lie in operations.
ClickPost is a pure software company. This means our bread and butter is improving software functionalities and coming up with new innovations. For example, We worked alongside leading courier partners in 2018 to introduce NDR management over APIs in 2019.
This feature was instantaneously made available to ClickPost customers who saw a sharp decrease in their RTO%. Most courier or shipping or logistics eCommerce aggregators have not been able to build a robust NDR management system even till now.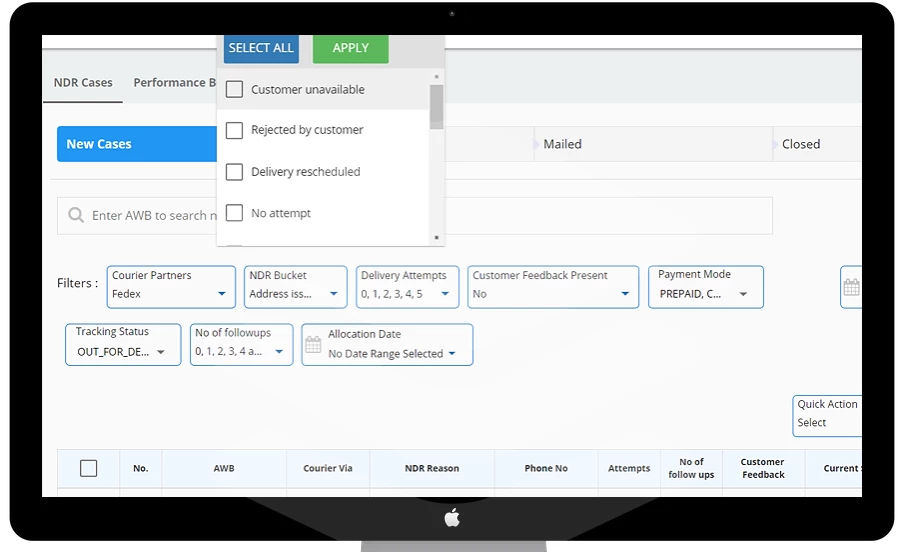 ClickPost is also working with courier partners for improvements and innovations in hyperlocal delivery, returns, and COD reconciliation.
ClickPost aims its software at improving critical systems, which aggregators end up adopting much later.
4. Strength of courier Recommendation engine
Since aggregators focus on operations, almost all of them have a recommendation engine which makes use of fixed static rules for their courier recommendations. The calculations done in accordance with these fixed rules is equivalent to those done through excel. Here is an example of a static rule: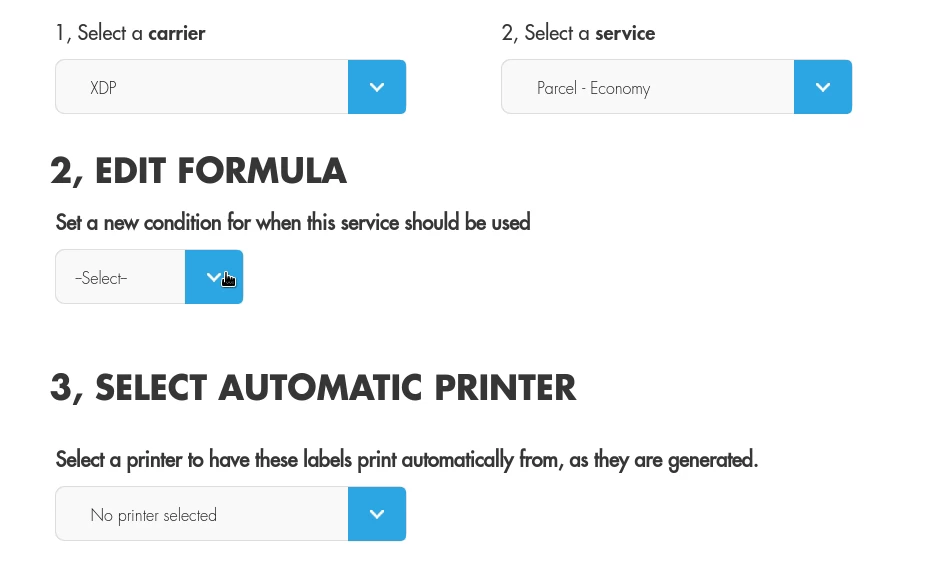 However, ClickPost's system, in addition to using any number of fixed rules, has advanced features and an AI system that analyses a wider variety of data and selects a courier partner based on your business priorities. Here is a screenshot of how you can provide weightage to business parameters like RTO%, Pricing, SLA adherence, etc., and Clickpost analyses past data to recommend the best courier company in India for eCommerce services.

5. Shipping Cost
Typically, shipping aggregators can negotiate reduced shipping rates with courier partners by offering them a minimum volume commitment. To earn their profits and sustain, they would usually charge an added margin on the reduced shipping rate. With ClickPost, the added margin is removed. You can negotiate shipping costs directly with courier partners, and with higher-order volumes, you have more scope to negotiate lower prices.
6. Shipment Tracking
Both ClickPost and aggregators try to integrate tracking from all courier partners to a single platform. However, ClickPost makes use of multiple API integrations, which include both push and pull APIs. These ensure that the tracking updates are near real-time until the last mile of delivery.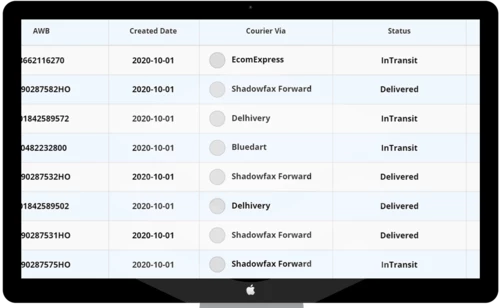 While most of the aggregators have a delay of more than 2 hours when it comes to updating the tracking status of dispatched orders, ClickPost provides a near real-time tracking update due to deep webhook integrations with couriers.
7. Relationship With Courier Partners
From a long-term growth perspective, it is absolutely imperative to have direct relationships with your selected courier partners. A lot of companies relying solely on aggregators end up missing critical issues when they scale up. A company that is expanding will eventually scale up to the point where first-hand relationships with carriers are required.
So if you plan for high growth, tying up directly with a shipping or courier company is unavoidable. With ClickPost you can maintain your independent relationship with courier partners. You can make use of a comprehensive dashboard to monitor their performance, identify SLA breaches and initiate enhancements directly with respective carriers.
8. Visibility of Carrier performance
There are multiple metrics that you would want to measure to gauge the performance of a courier partner. These include parameters like number of delays, number of stuck shipments, percentage of SLA breaches, and percentage of fake delivery attempts.
Good companies will need to thoroughly monitor courier performance.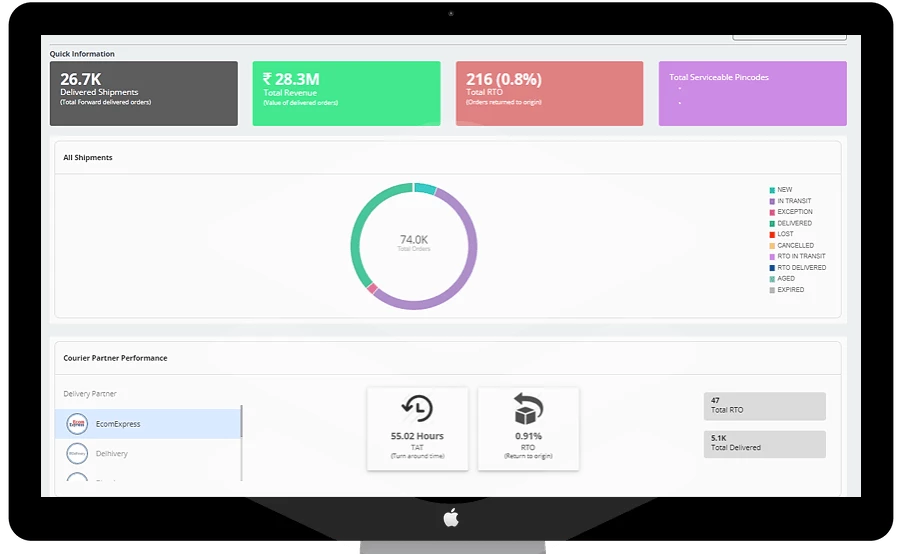 They can then use that data to allocate orders or even provide feedback to courier partners to improve their overall operations. In the case of aggregators, all these analytics are not provided.
With ClickPost they are available on a consolidated dashboard that monitors all metrics of performance in accordance with the actual fulfillment of orders.
9. Customer Experience
When there are no exceptions in the supply chain, customer experience is rarely affected. But in case there are delivery exceptions, and a customer complaint is received, there's a long process that is followed with aggregators.
First you would call the aggregator, who would then call the courier partner only after which they would get back to you with the actual status of the order. This added layer of communication leads to an unnecessary delay that can hamper customer satisfaction.
With ClickPost you would remain in direct contact with the courier partner. This allows you to respond to customers as fast as possible. We understand that time is of the essence. As soon as you receive a customer complaint, you can reach out to the customer directly to determine the cause for the delay and use ClickPost's platform to rectify the problem with the concerned courier partner.
10. RTO
With Aggregators, there is a very basic process of NDR management that has been implemented. This leaves minimal room for improvement of RTO%. Clickpost has an advanced feature that allows you to automatically get inputs from customers as soon as a failed delivery happens.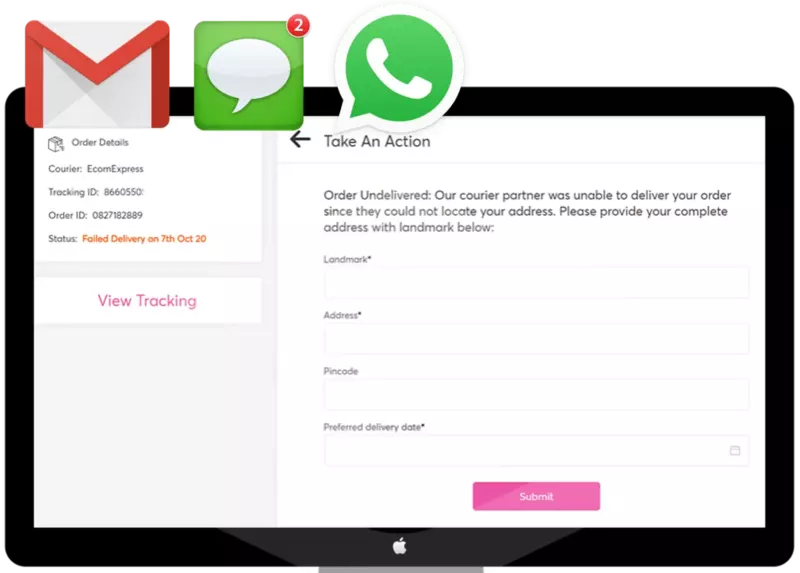 These inputs can include changes in address or a specified time for delivery. This ensures the delivery can be completed successfully within 36 hours, beyond which the chances of RTO% increase by ~3X.
11. Cross-sales during tracking
ClickPost powers a tracking page which enables you to display promotional materials and campaigns for different events and sales. Less than a handful of aggregators currently provide this option.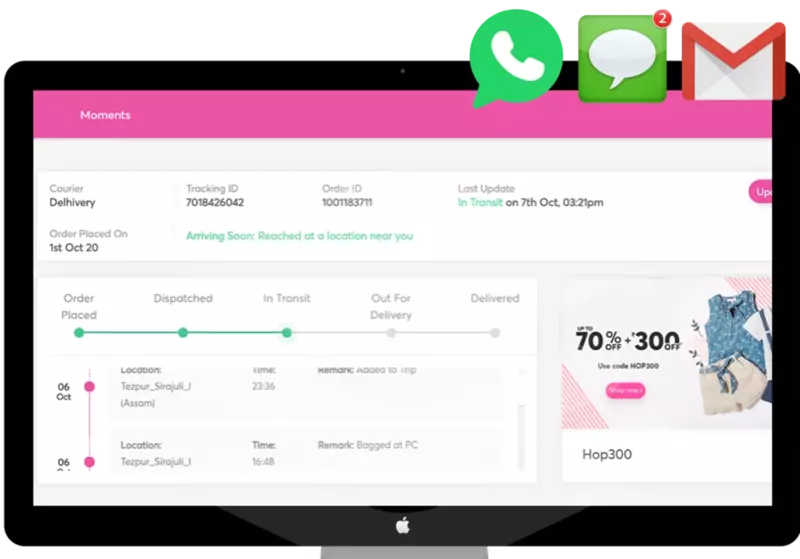 These promotional campaigns let you make optimal use of advertising space, add some color to the tracking page for end-users, and help ensure old customers keep returning to your platform.
Final Concluding Note
Aggregators play an important role in enabling access to established courier partners and quickly integrating with them. They enable your base operations to function efficiently. However, as growth becomes more of a focus for your business, an aggregator provides you with fewer metrics for monitoring carrier performance, restricts your ability to directly suggest operational refinements with shipping partners, and minimizes your opportunities to improve customer experience.
With an integrated platform like ClickPost, you can maintain direct relationships with courier partners, work alongside them and ClickPost to address logistics challenges, and even promote your business. All these things and many more are extremely relevant to ensuring the growth and success of your e-commerce business.
Did you find this article useful? Let us know by leaving a comment in the section below!