I think we can all agree that if the year 2020 had a byline, it would most definitely be 'The Era Of Evolution'. What started months ago as a global healthcare crisis has slowly forced people to transform their lifestyles and businesses to rethink their entire roadmap and strategies. The impact on the health and pharma industry is no different. For an industry that pumped 1.25 trillion dollars into the global economy in 2019 alone, the damage due to the pandemic is sure to be severe.
With a surge in demand for medicines and healthcare essentials, panic buying among consumers, hesitation in visiting clinics and pharmacies, and disruption of supply chains and logistics, the entire pharma ecosystem has been going through some turbulent times.
While most challenges are already being dealt with, one that warrants much attention is the need for virtual healthcare and pharmaceutical services. COVID -19 has not only forced the industry to double down on its efforts to move online, but also adopt digital tools and apparatus, and rely on app-based healthcare delivery to create a more patient-centric environment. However, this poses another set of challenges to be dealt with and is far easier said than done.
Let's take a quick look at the most pressing challenges health and pharma businesses are facing and how to overcome them to navigate through this crisis and emerge stronger.
Challenges in the health and pharma industry that make navigating through the crisis harder
For health and pharma businesses, going completely digital itself is an enormous deal and added to it are the challenges brought about because of the current times. Here are some of the most pressing ones that demand your utmost attention:
Panic buying and hoarding of essentials
Especially when it comes to essentials such as immunity-boosting supplements, face masks, shields, and sanitizers, there has been a tremendous surge in demand as consumers get panicky and start stocking up these items. This got further aggravated with governments announcing lockdowns which led to people buying in large quantities, considering the uncertainty of the situation.
As stocks in stores began to deplete, the demand shifted to online pharmacies, most of which were not equipped to handle the sudden influx of traffic due to poor tech infrastructure and/or choked supply chains. This, till date, is a cause of poor customer service and unsatisfied buyers.
Skepticism among consumers
While technology has penetrated almost all aspects of our daily lives, availing healthcare facilities, or even ordering prescription medicines online is not something that consumers are naturally comfortable with. With this unprecedented crisis, making that shift to virtual healthcare has become almost inevitable.
However, this doesn't take away from the inherent hesitation and skepticism consumers have ingrained in their minds about relying on the digital medium for such critical needs. Take online consultation, for example. It's hard for people to be assured about the qualifications and credibility of medical professionals until they see them in person and share their concerns with them. Whether video consultations ever be able to completely replace that comfort and reassurance that comes with an in-person consultation, is something we are yet to find out.
Impatience and anxiety due to the crisis
As panic and anxiety are at an all-time high, buyers can't help but relentlessly follow-up with providers in case there is a shipment delay or any other issue. With limited support staff at their end and uncertain circumstances, pharmacies are often not able to provide satisfactory solutions which lead to poor relations with customers.
Worst case scenario, customers end up repeatedly cancelling orders in case delays are encountered or switching to another vendor if they find the service to be unsatisfactory. In all probability, online healthcare service providers are at the receiving end of consumers' wrath, frustration, and impatience due to the unpredictability of the circumstances.
Huge competition and fight for market share
With more and more players jumping on the bandwagon, it's getting harder by the day to establish a unique name for your business and retain your market share. Customers have abundant options to choose from and are naturally going to be inclined to brands that offer the most seamless, convenient, and reassuring services during these turbulent times. Therefore, retaining your share of loyal customers can be hard if you are not able to deliver on your customers' expectations, far more so now than ever before.
Adapting to the new normal by keeping customers at the forefront of your health and pharma business growth
Double down on your online presence
Now that people are avoiding walking into a brick and mortar store to minimize contact and avoid infection, you absolutely need to strengthen your online presence. The first step would be to set up an online store (if you don't already have one) so you can shift your inventory online and continue to serve customers.
If you do have an online store, you might want to extend your services and make it fully-equipped to handle all customer needs. That's not all. Also, make an effort to increase your presence on social media as your customers are already present there. Start by promoting your store there so as to inform people of your offerings and drive the relevant customers.
Since this will be the first time many of your customers would be considering availing healthcare products or services online, you will have to go the extra mile to repeatedly reassure them that it is absolutely safe to do so. This, again, needs to be conveyed via your site and social media communication.
Streamline buying experience on your digital properties and make shopping for essentials easier
Now, you need to be prepared to handle the high influx of traffic as people switch to the online medium to stock up on essentials. Therefore, make sure you revisit the entire customer journey on your site and optimize it to reduce friction and offer as convenient an experience as possible. Some low hanging fruits to target here would be:
Displaying essentials such as masks, sanitizers, and other essentials on the homepage itself along with the option to wishlist or add them to cart.
Reducing the number of steps in the checkout flow or offering one-click checkout to reduce the amount of time required in purchasing critical items.
Tagging items as 'Bestseller' or 'Most Frequently Bought' so visitors have an easier time choosing key items.
Here's how 1mg displays commonly bought heath products on its homepage so buyers can quickly add them to their carts and checkout: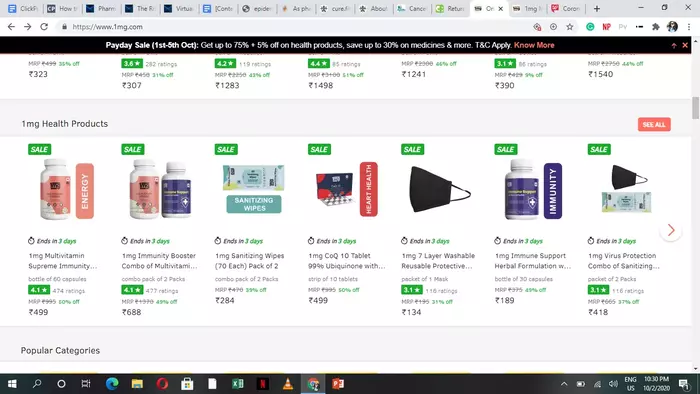 Offer omnichannel support and self service resources
Since you can expect to be bombarded with queries given the obvious amount of confusion in customers' minds, make sure to expand your support channels so you are equipped to handle them. You can try deploying a chatbot and live chat on your site so that queries can be resolved in real-time.
Here's a look at chatbot support offered by a leading online pharmacy in India, 1mg: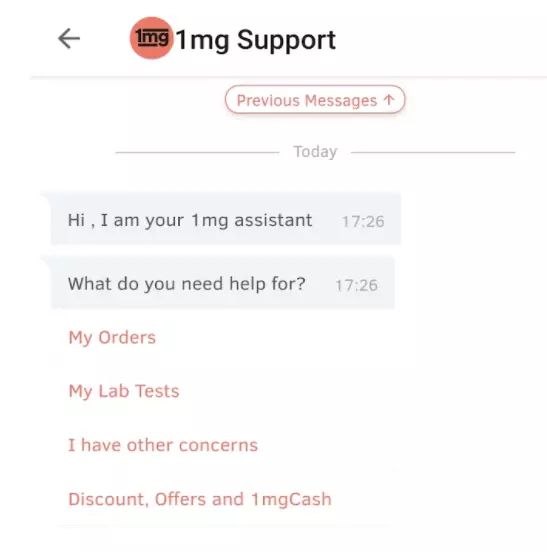 You could also go a step further and offer support via instant messaging apps such as WhatsApp and Facebook Messenger so that customers can reach out to you on mediums they are already present.
Another important step to implement is to create and offer self-service resources (how-to articles and videos) that answer any and all customer queries. These can be made available to customers via a specific page on your site and also be shared by your representatives when they interact with them.
Here's how revolutionary telemedicine provider, care.fit provides answers to an endless array of questions on their portal: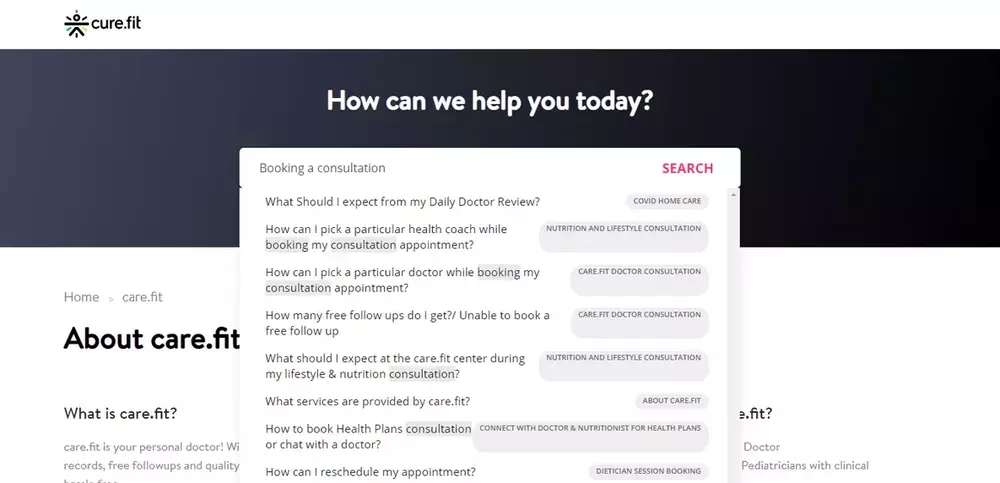 Tweak your shipping and returns policy to make it more flexible
Now that you will be seeing a huge influx of first-time buyers, you want to make sure you go a step further to reassure them that not only is it absolutely safe to purchase medicines online but is also extremely convenient and flexible. To that end, you should revisit your shipping and returns policies to make room for customers' requirements.
You could start by increasing your return window and extending shipping services to more locations (while that does sound like a challenge, you could overcome it by partnering with local logistics service providers). Next, you could offer quick and easy returns and cancellations. Setting up a self-serve system here can save you and your customer a lot of to and fro, and make the entire process seamless.
Another good step would be to waive off the minimum cart value requirement for free delivery and offer shipments with no extra charges.
Need help setting up a self-serve returns platform? Contact us for a demo on ClickPost today.
Provide live order tracking functionality on your site and app
With buyers waiting impatiently for their essentials, it may be helpful to provide live order tracking facility on your site and app along with regular updates via SMS or WhatsApp so they can stay informed about when to expect their order. Since these are critical items that people cannot afford to accept delays for, it makes sense to keep them updated at every step of the way. This will also reduce pressure on your support team by decreasing the number of queries with regards to order statuses.
Here's how Medlife provides step-by-step updates to its customers: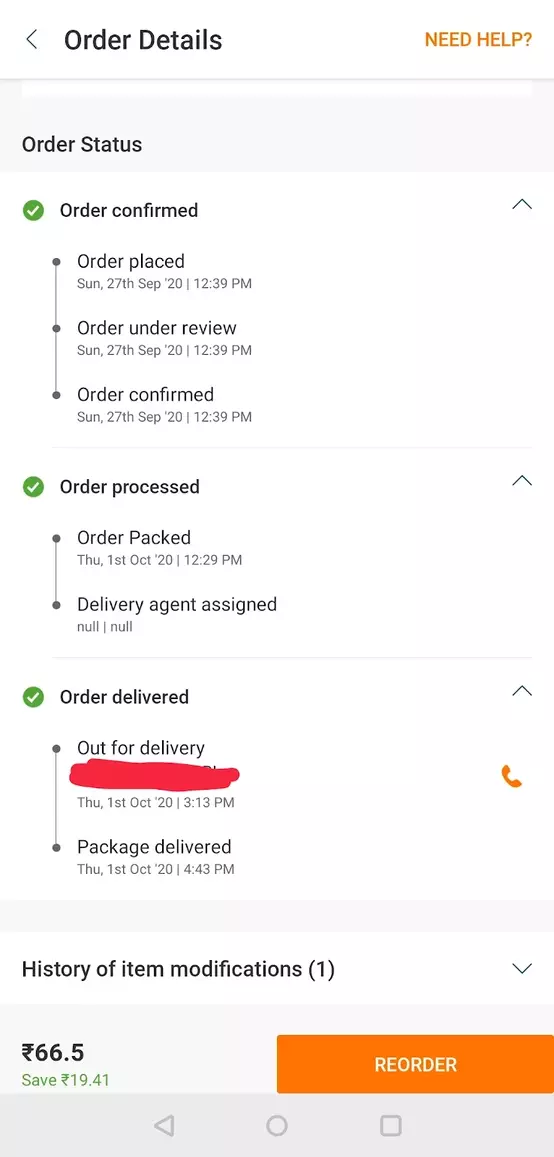 Don't have a branded tracking page on your store? Contact us for a demo to know how ClickPost can help set up one.
Communicate proactively with your customers and ensure all messaging is driven by empathy
Since people are new to the concept of availing healthcare products and services digitally, consistently reaching out to them whether it is with updates, little bits of information, or changes in policies with utmost transparency can go a long way in building trust in your brand. Moreover, whether you are offering consultation, healthcare essentials, medicines, or pathology services, if you are not empathetic towards the needs of your consumers, you are most likely not going to be given many second chances.
Therefore, you want to ensure all your communication builds trust in customers about your services and reassures them that their healthcare requirements are in the safest hands.
A few ways you can get started:
Communicating regularly about the safety measures and precautions you have enforced in your warehouses and among delivery partners to minimize the risk of infection.
Regularly updating your customers about changes in policies given the pandemic via email, SMS, and by also making it easily visible on your site.
Using social media wisely to share safety tips and precautions that your audience could benefit from and to voice that your company is dedicated to providing the utmost service to its customers so they can navigate swiftly through these times.
Being upfront about any possible delays occurring due to shortage of staff, disruption of supply chain etc. on product pages itself.
Sharing automated order updates via SMS and email to constantly remind customers that their essentials are on their way.
If you provide online consultation by doctors or pharmacists, you can make it a point to provide as many details as possible about the qualifications and experience of these professionals to build more trust in the system.
Here's how some big names in the industry are doubling down on their honest and informative communication efforts: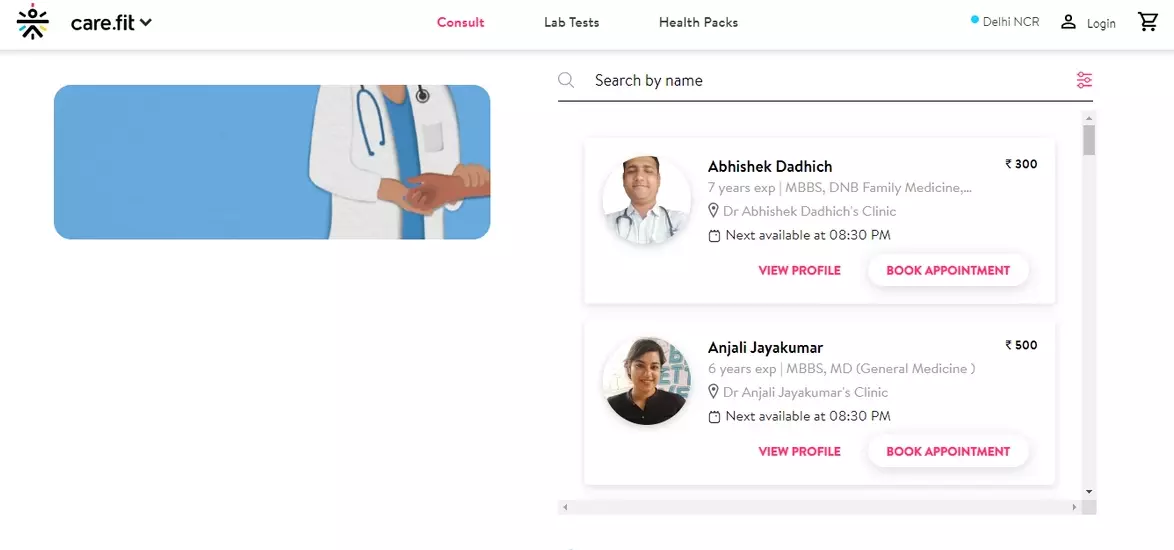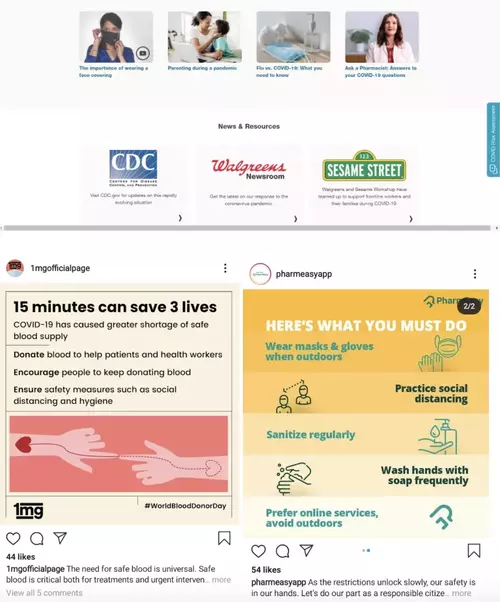 Educate consumers by dispelling rumors and myths
There is an abundance of rumours and myths floating around when it comes to the current situation and healthcare. And one way to build trust and credibility is by dispelling such misinformation and educating customers about how they should take care of themselves and stay healthy.
You can do so in the form of articles and videos that are easily accessible from your site and app or bite-sized informative content on your social media handles. You could also partner with healthcare experts and conduct Q&A sessions on your social media channels where your followers can get their queries answered. It will not only establish you as a trusted leader in the industry, but also drive more hesitant customers to your store.
Walgreens, for instance, has created a series of videos called 'Ask A Pharmacist' wherein they get a pharmacist to answer commonly asked questions related to COVID - 19.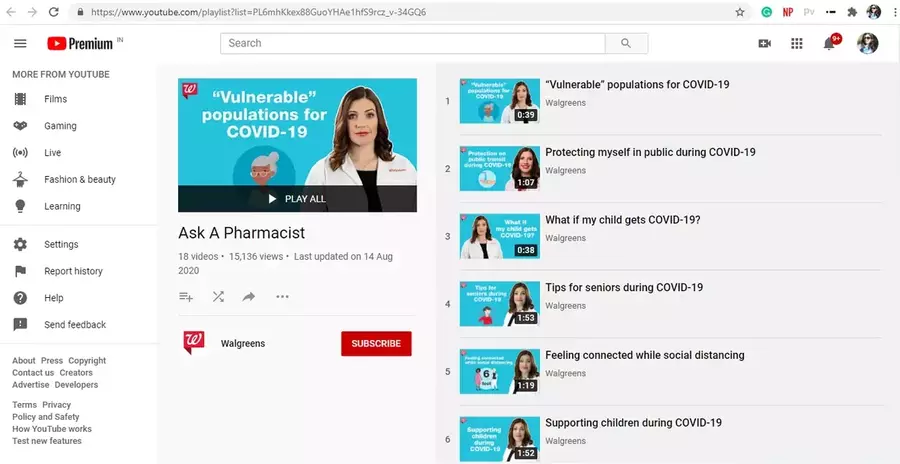 Add product (or service) reviews
With so much competition in the industry and so little confidence among buyers, you need to leverage every opportunity to reassure them that buying products from your store or booking a service is in fact a wise decision. Reviews come in handy to do so. Prompt buyers to rate and review each experience and share it on your product/category pages. You can also mention the number of people who consulted with a particular doctor or opted for a specific lab test in the past week. This will provide that extra nudge and instil confidence among customers in going online for all their healthcare needs.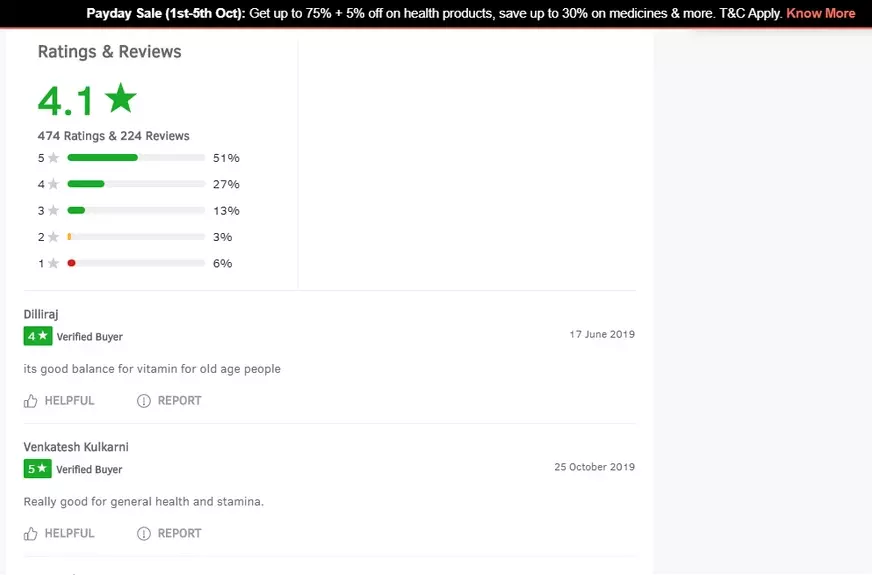 The way ahead for health and pharma eCommerce businesses
By incorporating the above practices, you can rest assured that you are on your path to steering swiftly through these unsteady times while winning the trust of your customers.
While these are a great place to start, be sure to evolve and adapt at every step of the way and constantly up the ante when it comes to offering frictionless customer experience so you emerge stronger in the post-pandemic world. That said, we at ClickPost can do the heavy lifting for you when it comes to addressing order anxiety and post-purchase regret. We do so by enabling you to add a layer of intelligence on top of your logistics data, recommending you the best courier partner to fulfil the orders placed on your store.
In addition to courier partner recommendations, our post-purchase customer engagement module also lets you set up a branded tracking page on your store, where customers can see order updates in real-time and also get notified on email/ SMS about their order status. In all, helping you improve your eCommerce customer experience.
Improve your eCommerce customer experience with ClickPost. Schedule a personalized demo today!