Brief Overview About eCommerce Aggregators
When an e-commerce company reaches a certain level of growth, a single courier partner becomes a very small cog in a rapidly developing machine. In the earliest stages of expansion, usually, when your GMV reaches $200k a month, it might be time to start exploring your other options, seeing what other courier companies are out there. However, that's not always the easiest process.
Selecting a shipping partner from the hundreds available is no mean feat and once selected, contracting with each of them is a separate process that requires planning and negotiation - two things you don't yet have time for. You have orders you need to fulfill fast and the Flash is just never around when you need him.
List of Top 8 Challenges Faced by eCommerce Business Owner While Using Shipping or Courier Aggregators India
A shipping aggregator cuts out your search, selection, and negotiation time drastically. They give you numerous courier partners to choose from and simplify the process of integrating with them. Through a uniform and unified platform, current orders being handled by different shipping partners can be viewed in the simplest manner.
However, once your GMV grows to somewhere around the $1 million range, a unified view alone will not allow you to progress sufficiently. There are a multitude of reasons for this, and that's what we'll be looking into in this article.
1. Poor Customer Experience
The role of an aggregator is that of a middle man, connecting you with multiple courier partners through a single platform. The tradeoff for that is a reduction of indirect interactions with the shipping partners. This leads to poor customer experience. Here is a classic example of how this happens.
Suppose an order is delayed and the tracking page shows that it has been stuck at a location for 5 days. The buyer will reach out to the customer care team of the e-commerce company to check when it will be delivered. With a reliable and top logistics or shipping or courier aggregator in the picture, the customer care executive of the e-commerce company will first have to drop a mail to the aggregator.
Now, the aggregator's customer care executive will read the mail after 5 hours and only then communicate the escalation to the respective courier partner. The courier partner's team will then take time to locate the order and communicate the revised delivery date to the aggregator, who will in turn mail it back to e-commerce company.
With so many stakeholders involved, each with their own TAT for replies, a full day would pass before the end-customer is given any sort of resolution. During this time, he might have escalated the issue on 3 other channels, which is to the detriment of the e-commerce company. Let's even say a single failed or delayed delivery would not necessarily affect a customer's loyalty to your company. After all, forgiveness is the soul mate of dependence.
But mismanaged and inconsistent communications would, which is another byproduct of transacting with a shipping company through an aggregator. Courier partners can not be directly approached to make enhancements to their mechanisms. Customers are then likely to seek out your competitors to determine who provides the best delivery experience, sleek and streamlined like Amazon.
2. Limited choice of courier partners
An aggregator's profit margin depends on the volume discounts that he is able to get from individual courier partners. This means that he cannot tie up with too many couriers as that would effectively lower the number of orders that each courier gets, which means that courier companies would no longer offer volume discounts to the eCommerce aggregator.
The result is that aggregators typically only contract with established and reputed shipping partners, leaving out the smaller or more niche 3PL service providers. As an e-tailer that needs to get orders dispatched soon, this is not a very big problem. It'll save you the trouble of sifting through 150+ courier partners available, with varied serviceability, payment options, and specializations.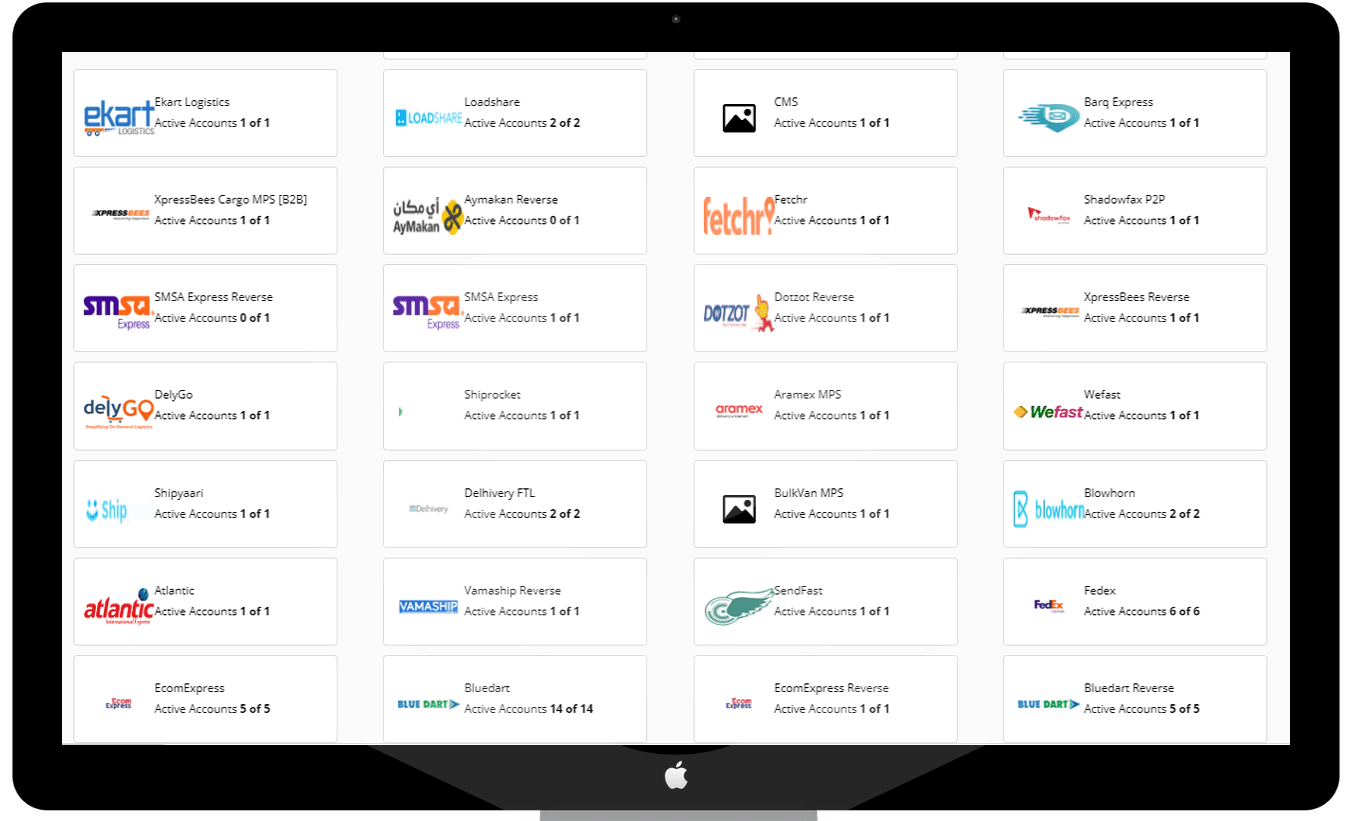 The value of these niche 3PL players is tremendous and they are one of the reasons why eCommerce companies end up not choosing the best eCommerce shipping aggregators in India.
Many of these seemingly obscure carriers provide great delivery experience in remote geographies, very economical rates or excellent capabilities for handling high-value or heavy items. They offer much-needed value-added services and may be equipped with specialists in supply chain management.
3. Limited Flexibility
While aggregators provide you a short-cut to accessing multiple courier partners, they leave minimal room for negotiating terms and requesting value-added or specialized services. Flexibility and scalability are vital for the growth of any business. Flexibility not only refers to flexibility in SLA terms but also in the delivery mechanism.
The point is, of course, not to stretch the agreement or the process but to be able to contort them where necessary and shape them to address specific problems, like delayed deliveries and RTOs. Scalability refers to variations in volume of orders handled by a courier partner.
While overall order volumes may be large, the distribution of those orders over certain locations may be varied. With an aggregator, it would be more difficult to adjust the volume of orders handled by various courier partners in exact accordance with the required scattered distribution.
4. Delay in handling exceptions
One of the biggest advantages of tying up with an aggregator is incidentally also one of the biggest disadvantages to the same. As a highly effective middleman, they broker deals between courier partners and e-commerce companies without either of the other two parties ever having to directly interact. A whole new level of communication is now added to the delivery process.
When an order is placed, manifestation and allocation of the order is handled by the aggregator, who automatically updates a particular carrier about the same. Updates are continuously provided to customers through a standard tracking page and standardised messages or emails. However, if any obstacles arise in the last mile of delivery, the relay of this information can be delayed and frustrate customers.
Complaints received from customers have to be conveyed to the aggregator in order to reach the courier partner. This can further slow down the process of completing the delivery on time. This also makes it difficult to deal with NDRs and successfully deliver the item after multiple reattempts. An added layer of communication also makes it more difficult to address specific problem areas with different carriers.
5. Missing out on niche services
When your business starts receiving 10-100 orders every single day, you know you're prepping to enter the big leagues. That's why the initial stage of growth tends to be pushed forward by a single mantra: volume, volume, volume! As your sales magnify, aggregators get you onboard with courier partners quickly. No orders will be missed and you'll have lots of new and happy customers.
However, much like superhero movie franchises, you need to keep the momentum going if you want to stay in the public eye. That's why the Avengers began with 5 characters and ended (spoiler alert!) with 70.
Growth is an overarching theme and has to occur throughout all facets of your business. Addressing high volumes alone can place a major obstacle in front of even expansions. Eventually, challenges to safe delivery, NDRs, RTOs, and customer-initiated returns have to be dealt with as well.
These tasks are made immeasurably difficult when all communications to courier partners are filtered through aggregators. That isn't to say aggregators aren't also invested in your growth. However, approaching and tying up with more niche and specialized carriers lets you control and manage distribution on a minute level to optimize customer satisfaction, and extend your hands out to more locations.
Other important value-added services include receiving, customized packaging and shipping labels, hyperlocal or express delivery, returns management, RTO management, in-transit temperature control, security and insurance options and even choice of vehicle and mode of transport. Various courier partners would have to be explored to determine which value-added services you can make the most from.
Given that aggregators focus on fulfilling high volumes, the few courier partners they tie up with typically focus on delivery and not provision of value-added services. This is fine in the short run, but in the long run, it could be detrimental to your business's bottom line.
6. Limited root-cause analysis capability
While using aggregators, you would have very limited control over your logistics. This means that it would be near impossible to measure in-depth performance parameters like Courier-wise SLA adherence, percentage of delayed orders and other important metrics. Consequently, you would not be able to pick up improvement initiatives because you wouldn't be able to identify the root cause of problems.
These can be manoeuvred more steadily when done with individual courier partners, because you would be able to get a transparent view of the status and location of every shipment with all couriers. You would then be able to build strong analytics on top of it.
Further, negotiating prices with carriers becomes easier when volumes are greater than 2000 per month. Lower prices for shipping can increase your profit margin or allow you to reduce prices of products and increase customer satisfaction. Similarly, coordinating directly with a carrier can improve delivery speeds and simplify NDR and RTO management.
7. No Relationship Growth With carriers
Relationships are built on a foundation of trust and loyalty, and there are few relationships more vital to an online business than that between a company and its couriers. Because of the broker-role played by aggregators, the limited flexibility and two-tiered communication system place a firm block between carriers and e-commerce companies.
Aggregators are there to ensure you and your carriers find each other, meet each other's expectations and have a base foundation for establishing a relationship. But eventually, when the wedding is scheduled - I mean when your raised GMV has been successfully fulfilled and managed, these relationships need to be sculpted and determined independently.
At some point, Sima Taparia needs to take a step back and let the couples do their thing! That's the only way to make it last! Especially when we're talking about one of those rare happy polygamous marriages - the ones that I'm guessing didn't make it on the show.
In total seriousness, consider all those KPIs that we discussed in the previous sections, the numerous indicators that show you the trajectory of growth for your business. They cannot be successfully addressed until you and your many courier partners have strong professional bonds that allow you to share innovations and resources that could revolutionize the eCommerce logistics industry.
8. Limited monitoring of Carrier Performance
At the end of the day, every business recognizes its main duty is to serve customers and clients. This industry is knowledge-based because the more you know about your services (even the ones being handled by a 3PL partner), the more you can improve them. In case of aggregators that create long-term relationships with courier partners, their priorities will always lean in the direction of the carriers they are tied with.
On the other hand, your top priority is ensuring that end-users are satisfied with the products, delivery services and follow-up so that they keep coming back for more. That means you'll need to get more out of your shipping partners as time passes. This is a task made easy in the early stages by aggregators but difficult later on.
Given the limited interaction between courier partners and companies when operating through an aggregator, it can be difficult to ascertain the cause of regular delays, address the same and continue monitoring to see if there is an improvement in customer experience.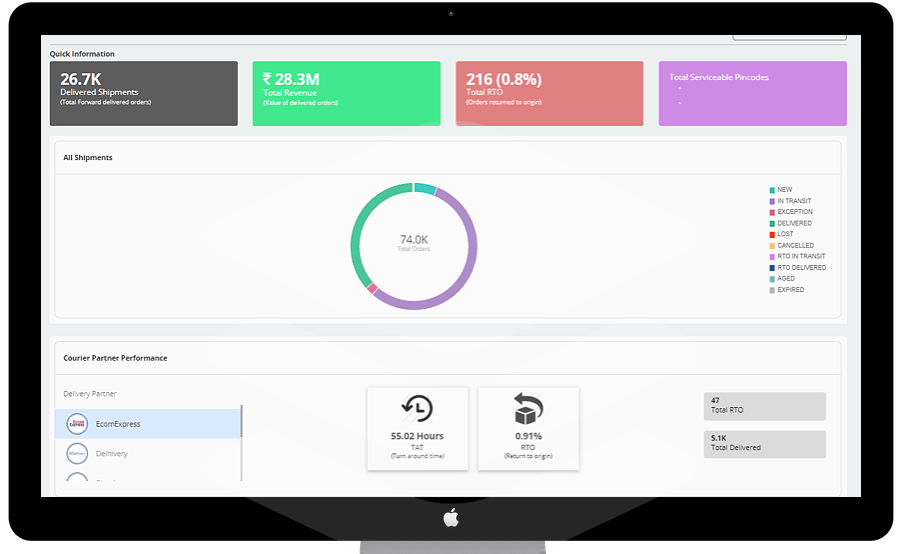 Over time, more visible issues like delivery speed may be effectively addressed. However, niche challenges may begin to present themselves over time that an aggregator's tracking mechanism will likely be unable to monitor in clear terms. Like the causation behind NDRs, NDRs delivered successfully, RTOs, and customer-initiated returns.
To address these issues, you could tie up with an integration platform like ClickPost to monitor predetermined SLA breaches and then directly negotiate with the carriers you are tied with to deal with specific KPIs. As you start to paint the picture of your e-business, you'll find that there's a clear method to creating its colorful madness. You start with a thick paintbrush and apply bold strokes with different primary colors, creating a nice background or foundation.
This is your initial functionality, the early days of your company when the task at hand is to bring in more customers. You then switch to two or three differently sized brushes and begin carving out the subject of your painting, buildings in the distance, trees and people, whatever it is you want the viewer to see.
Of course, by brushes, I mean courier partners, and aggregators act as a nice little water glass to rest them in. This combo is there to get you through the bulkiest parts of handling growth when the fulfillment of incoming orders is on its own a herculean task. Now your painting almost looks like a real work of art.
Final Words
And at last, you pick up the thinnest and slimmest of brushes, adding every stunning detail you wouldn't think the average eye would pick up but it does. Imagine Van Gogh's Starry Night with fewer stars. Totally different painting, right? As your business grows, so will the number of competitors you're up against.
And customers absolutely notice the minute details, like a grocery vendor that delivered slightly damaged products on more than one occasion because their vehicle wasn't refrigerated. Or an e-tailer that promises customers delivery on one date, but instead delivers it earlier or later, much to the inconvenience of the customer. In fact, most customers value the right to choose their optimal delivery date and time.