Shipping services
Domestic Express deliveries

Doorstep Compliance Services

Biometric Verification of Delivery
Special services
Ecom Express Fulfilment Services

Collect on delivery Payment option

Delivery Intimation Services
Technology services
Shipment Tracking Service

Exchange Facilitation

Returns Management
About

Ecom Express
Ecom Express is a logistics company from India that was established in 2012. It has its headquarters in Gurugram and has pan-India operations. It was founded by T.A. Krishnan, Manju Dhawan, K. Satyanarayana and Late. Sanjeev Saxena to provide logistics and distribution solutions to businesses in India. It has one of the most popular choices for shipping solutions in the country and is a leading eCommerce fulfillment facilitator in the country. Ecom Express is a large shipping company with presence in 29 states in the country. It has spread its operations to more than 2400 cities, towns and villages across India and serves more than 27,000 pin codes in the country. It provides businesses with access to 10,786 destinations in India. It also provides a so-called 'full-state coverage' facility to businesses in 20 states where the company claims to reach every doorstep in every village in a state.
Ecom Express operates a total of 2932 facilities throughout the country to manage its operations. Ecom Express operates an integrated network of transportation services through 185 long-haul and 730 short-haul runs. It also provides businesses with access to its 1 million+ square feet of fulfillment center space. Ecom employs more than 45,000 personnel to manage its services round the clock. Ecom Express is a dedicated eCommerce logistics service provider providing shipping, fulfillment and compliance solutions along with a host of value-added services.
It allows businesses to deliver their products from warehouses or directly from the seller and track the orders. It also offers cash-on-delivery services and last mast deliveries. It also offers dedicated ground services for the transportation of heavy goods and sensitive items. It fulfills online orders for e-tailers through its network of fulfillment centers and also facilitates reverse logistics. It also provides value added services to businesses from specific industries such as try-and-buy facilities to businesses from the fashion industry or specialized shipping services for valuable items. Ecom Express is a major player in the eCommerce logistics industry in India counts some of the biggest names such as Flipkart, Myntra and Jabong as its clients.
It has gained such popularity among the eCommerce platform due to its commendable track record and high-quality service for which the company has received various accolades. Since the company is solely engaged in facilitating eCommerce fulfillment and logistics, it offers integrations to help businesses leverage its capabilities. Ecom Express' API integrations can be used to track orders, manage shipments, handle returns and more. ClickPost is a leading logistics intelligence platform based in India. It has a courier API integration with Ecom Express and allows the eCommerce business to go live with this company in just a single business day.
FAQs about

Ecom Express
1) Does Ecom Express offer timely services?
Ecom Express has time-guaranteed benefits for courier delivery as well as COD remittance. You will receive the COD remittance according to the terms in the SLA, and the courier delivery can be expected anywhere between 24-72 hours from the time of dispatch.
2) What is the delivery range of Ecom Express?
Ecom Express has one of the most extensive delivery networks in India. The carrier has centers in about 2650+ towns and cities in India and can deliver orders to the doorstep in over 27,000+ pin codes. The carrier has over 2900+ facility centers across the country.
3) Is it easy to use Ecom Express's services?
The services of Ecom Express have been designed to make the life of the ecommerce merchants easier. The carrier has digitized its entire supply chain to facilitate better control and management. Everything can be done remotely and digitally, from electronic proof of delivery to scheduling a pickup, allowing ecommerce merchants to have the comfort and ease while handling their delivery operations.
| | |
| --- | --- |
| API | Description |
| Manifestation and shipping label generation API: | Create an order with Ecom Express to initiate the shipping process |
| Track Shipment API: | Get an update on the current status of the parcel |
| Cancellation API | Cancel the shipping request created with the carrier |
| EDD API: | Calculate and display the delivery date on the product page |
| NDR Action update: | Initiate and manage the NDR actions and update the business regarding the status of the delivery |
| Return Web-hooks: | Manifest a reverse logistics request with Ecom Express |
VIEW API DOCUMENTATION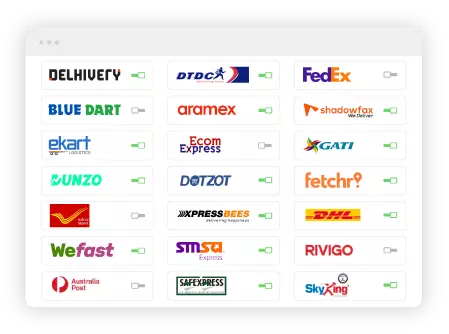 Step 1 - Select The Courier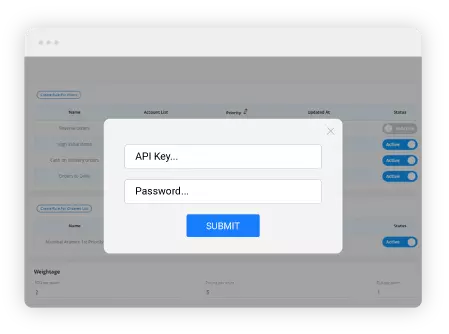 Step 2 - Enter API Key