1) Everything About eCommerce Customer Services
The new-normal needs eCommerce customer service to become smarter and more proactive at playing their part in a shopper's post-purchase experience.
Every time a customer calls your support team to ask where the order is, you lose about $5 per agent that handles these requests.

If left unaddressed, these costs can add up really quickly, increasing your support overheads due to an uncontrollable number of WISMO calls coming in.

Mismanagement of WISMO calls can lead to compromised purchase experiences and an increase in negative customer reviews.
As competition for consumer attention increases, relationship marketing and customer loyalty have become an integral part of growth for eCommerce businesses.
It's no longer just about the deals and discounts you can offer. It's about the experience you deliver and that's not restricted to a consumer's journey to making a purchase. It goes a few steps further into ensuring a post-purchase experience that makes them want to come back for more.
And recommend your brand in their network.
In this blog, we're not talking about the on-site purchase experience. We're talking about the importance of customer service and how it needs to evolve into "customer success" to truly deliver a post-purchase experience that's worth talking about.
But let's start with what eCommerce customer experience is.
2) What is eCommerce customer experience?
eCommerce customer experience is all about how a consumer perceives a brand based on their interaction across the customer lifecycle. It is made up of the smallest of experiences that lead to them choosing a brand to make a purchase from them and the constant flow of communication between them and the business. Therefore, it includes pre-and post-sale impressions that include both online and offline experiences during the customer journey.
Did you know that 60% of consumers are willing to pay more for a better experience?
Now that's where the next section of our blog comes in or should we say, the one way to ensure a great customer experience - customer service.
3) What is eCommerce customer service and why is it important?
You'll find thousands of definitions online. So we'll skip the part and tell you where and how you've experienced customer service - good or bad.
When you were looking for a size guide

When you had a query about the product quality and availability

When you needed assistance completing the purchase of the product
But most probably (and importantly),
When you wanted information about the order status

When you wanted to track your order to coordinate delivery
While most eCommerce businesses cover all grounds to ensure great service for the former three points, a lot miss out on the importance of the latter two.
The reason? Because it's the first three that lead to making a successful sale. That's where the revenue lies.
Offering post-purchase customer service is inconsequential, right? WRONG.
A great product, a good deal can get you sales.
But a bad post-purchase experience gets you a bad name.
54% of people share bad experiences with more than five people

90% of people make a purchase decision based on these shared experiences
So not ensuring a great post-purchase experience and only focusing on making a sale, is guaranteeing that new customers don't trust your brand.
Wait, there's something worse.
Acquiring a new customer is 5X costlier than retaining a new one But if you do focus on the post-purchase experience

as well, here's what you can leverage:
33% of people share good experiences with more than five people

Improving post-purchase experience increases retention by 23%
5% increase in retention can result in a 25% to 95% increase in profits
4) How is customer service a part of your customer experience strategy?
Let's give you an example to tide over this part quickly.
When you are shopping online, what are your typical touch points with a brand?
Social media

Live chat

Email address

Phone number
Each of which is handled by the customer service teams.
If they reply in time with the information you need, you have a positive experience with the brand. But if they are not able to guide you well or reply in a timely manner, you're already talking about the bad experience to your family and friends before even receiving the order you placed.
That's how customer service and the overall purchase experience of a customer are tied together.
While queries such as size guides, shipping cost calculations, product availability and others are often tackled with smart automations and a library of easily accessible (and shareable) documents, the post-purchase queries are often not taken into account.
That's because it usually requires the customer service team coordinating with multiple logistics partners for information. But there's a smarter way out!
5) Enabling your customer service teams to deliver a delightful post-purchase experience
5.1) Introduce a logistics aggregator into the process for greater visibility on orders
If you're like us, you've probably reached out to stores you buy from to know your order status. Either on email, social media or a direct call to the customer service team.
In most cases, you've probably heard these answers:
Please give us 24 hours and we'll get back to you with information on your order status

Please hold while we get in touch with our courier partner to get you the right information
Either way, you're not happy with the response. You're being made to wait when you're already anxious about your order status.
But customer service/ care teams usually do not have complete visibility over the logistics. So they often tend to reach out to their logistics teams, who then reach out to the courier partner to rally that information back to you. That's a long cycle and oftentimes, it takes multiple emails or calls between the two sides to resolve an issue.
Here's an example of a WISMO email conversation: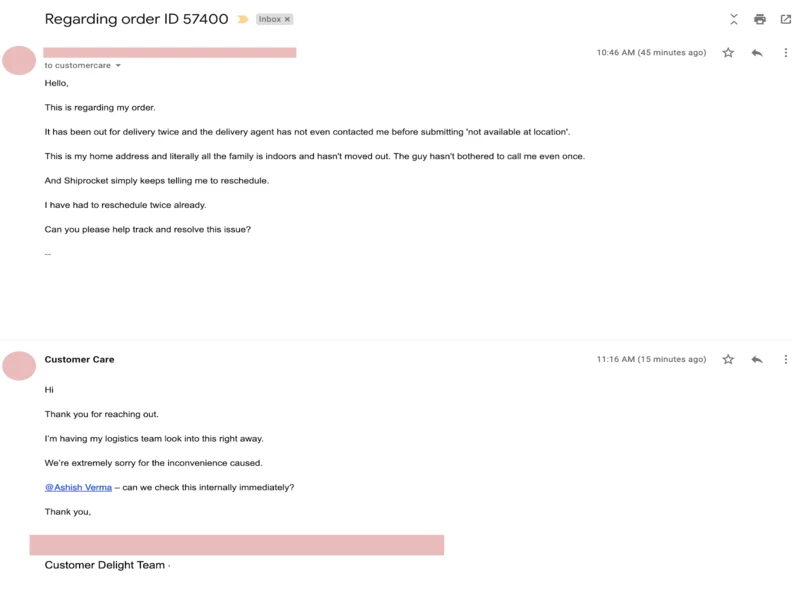 You can imagine the same on phone calls too.
What's a better solution?
Greater visibility for the customer service teams into the logistics of the orders placed on your store.
With logistics aggregators like ClickPost, you can enable your customer service teams to get more visibility on order status.
Right from order IDs, registered accounts, the courier partner assigned to an order, their contact information, deliverability performance data, order status with the partner and more, introducing your team to a logistics aggregator gives them a 360-degree view of everything they need to resolve post-purchase queries and ensure a quick turn around time on them.
Now instead of looping in multiple members from different teams, they can resolve a query all on their own.
In minutes.
The lesser time it takes to resolve a post-purchase query. Lesser resources spent on addressing the query.
Reduced purchase regret on the customer front.
To know how the ClickPost logistics aggregator can work with your helpdesk for customer service, contact us for a demo.
5.2) Reduce WISMO calls and queries with a branded tracking page
Did you know that more than 50% of consumers choose to track their order on their own, before reaching out to a customer service team?
It's only when they can't find the right information, don't know about the courier partner or are not happy with what they see, do they reach out to a brand.
So to enable your customer service teams to continue delivering a great purchase experience to shoppers, you need to find an effective way to reduce the number of WISMO calls and queries upfront. This will help them focus on conversations that require human interaction to develop stronger bonds with customers first!
You can do this by setting up a branded tracking page on your store.
A branded tracking page is where a shopper, at any given point in time, visit to know where their order has reached. The same space can also be used to engage this shopper with upsell and cross-sell campaigns based on their interests and preferences, giving them lesser room to regret the purchase they made and increasing the probability of a re-converting.
Here's an example from a beauty and cosmetics store, Nykaa:
5.3) Automate order status updates to keep customers informed
Every time a customer calls your support team to ask where the order is, you lose about $5 per agent that handles these requests. If left unaddressed, these costs can add up really quickly, increasing your support overheads due to an uncontrollable number of WISMO calls coming in.
In addition to that, not being able to handle these calls in a timely manner results in a bad post-purchase experience that leads to an increase in negative reviews.
Now a lot of online stores have a staple, automated order confirmation email and SMS. While that's all good, what happens between when the order is confirmed and actually delivered to the customer?
70% of online shoppers actually want to receive updates on their order in-transit. It keeps them informed on their 'actual' order status and removes order anxiety around when their purchase would be delivered to the doorstep.
The solution here is to implement a system that can help you seamlessly keep track of the order status with a courier partner, and proactively communicate with the customer at different stages in the customer journey:
Order placed

Order confirmation

Order packed

Order shipped

Order in transit (with estimated delivery date)

Order out for delivery

Order delivered

Order delays
Here's an example from Pepperfry: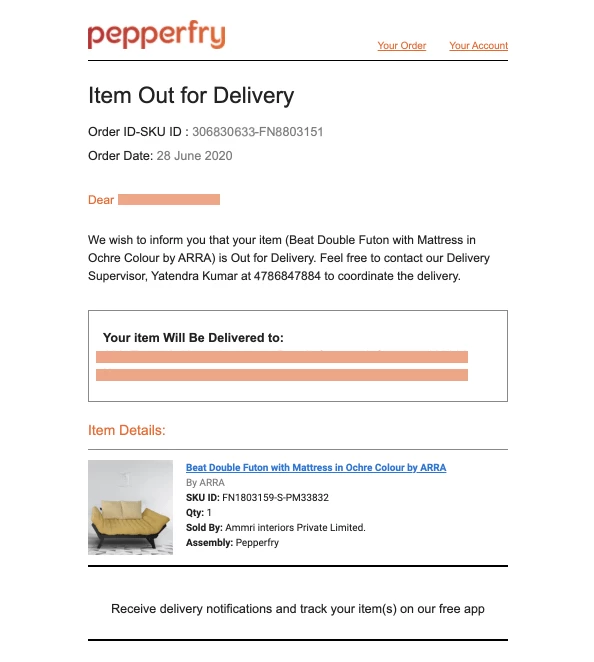 By keeping your customers in the loop with timely order status and delivery updates, you can reduce your WISMO calls by up to 60%. In addition, it improves the customer experience and also increases the confidence the customer has on your brand, making them more likely to come back for more purchases.
All while your customer service team continues to focus on being a champ at queries that require more involvement.
5.4) Address common queries with a FAQs section
If you've been noticing a set pattern of questions around different products, make your answers publicly available. Put together a Frequently Asked Questions section on your store to address the common queries your customer service team tends to get the most. The idea is to reduce the number of calls or emails your customers need to make in order to get answers that help them make an informed purchase decision.
Another good idea here is to start addressing questions regarding specific products in the product descriptions itself.
5.5) Automate customer engagement campaigns to drive repeat purchases
Making one sale isn't the end of the rainbow. If you thought your job's done and now your customers will keep coming back for more on their own, you're wrong. You need to bring them back by continually reminding them of what you offer (not spam, though).
This means you need to automate the communication you have with customers across all touchpoints they choose to use to interact with your brand. Be it on email, web push notifications, Facebook Messenger or SMS!
Plan out your weekly/bi-weekly/monthly campaigns in such a way that you keep both your customers and subscribers engaged. The best way to do this is to segment your customers based on their previous interactions and purchases and use the data to personalize your campaigns for maximum engagement and conversions.
6) Is it really important to focus on enhancing the customer service you offer post-purchase?
Unless you want customers walking away to newer brands or seek alternatives to the products you offer, the answer is YES.
How can you turn post-purchase concerns and WISMO calls into an opportunity to build customer relationships? The answer lies in the eCommerce customer service you offer.